The Future of Online Art Fairs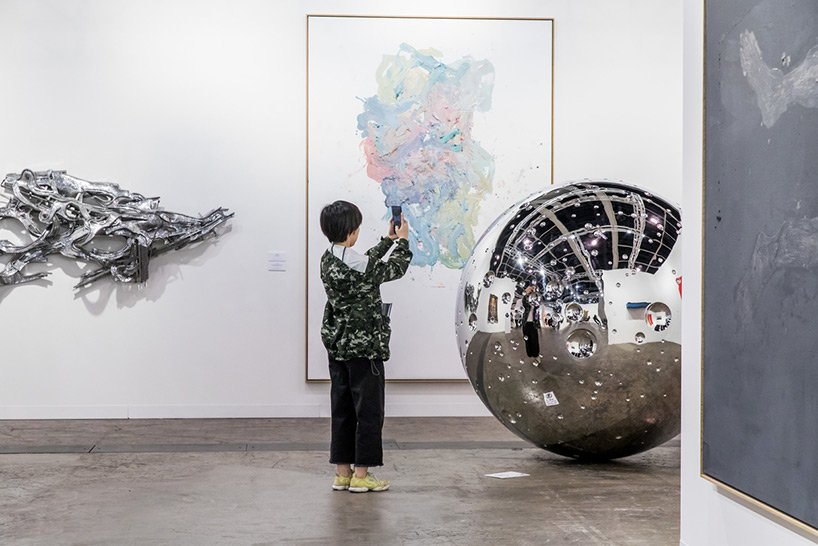 Installation view of Galerie Thaddeus Ropac's booth at Art Basel Hong Kong 2018, Image Courtesy of Art Basel
Art Basel Hong Kong was the first major initiative to announce its move online this March, and since then all major fairs have followed suit. In comparison to its predecessor Art Basel Miami Beach, which brought to the world Cattelan's famous banana, a site-specific work tackling climate issues and the eating of said banana, Art Basel's online viewing rooms seemed somewhat uneventful. Albeit completely functional and executed in an extremely short turnover, the immediate response to the initiative was generally one of ambivalence. 
Despite this response, the COVID-19 crisis gave art fairs and exhibitions no option but to also embark on comparable online ventures. The turning point was undoubtedly marked by TEFAF Maastricht's early closure after an exhibiter tested positive for coronavirus. This ultimately kicked off the mass movement of all global art fairs, galleries and institutions towards launching their online versions.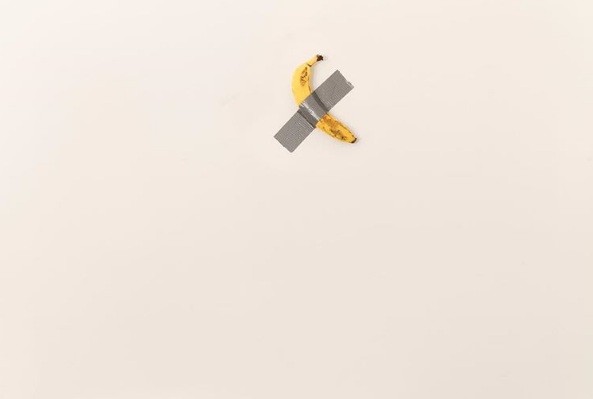 Maurizio Cattelan's new sculpture Comedian at Art Basel Miami Beach 2019, (www.instagram.com/galerieperrotin/File), Image Courtesy of Galerie Perrotin
Frieze New York 2020
The decision of Frieze New York was met with high anticipation, with the potential to set the standard for all future fairs and exhibitions during the times of crisis. In April, they announced that they would present over 200 galleries in a virtual fair space, a digital replacement for what is usually one of the most high-profile and sales-generating US fairs in the calendar year. The digital platform had initially been built to supplement the physical fair, yet ended up replacing it entirely. Frieze New York was believed to serve as a barometer for how long this concept could sustain galleries before large-scale in-person events are possible again.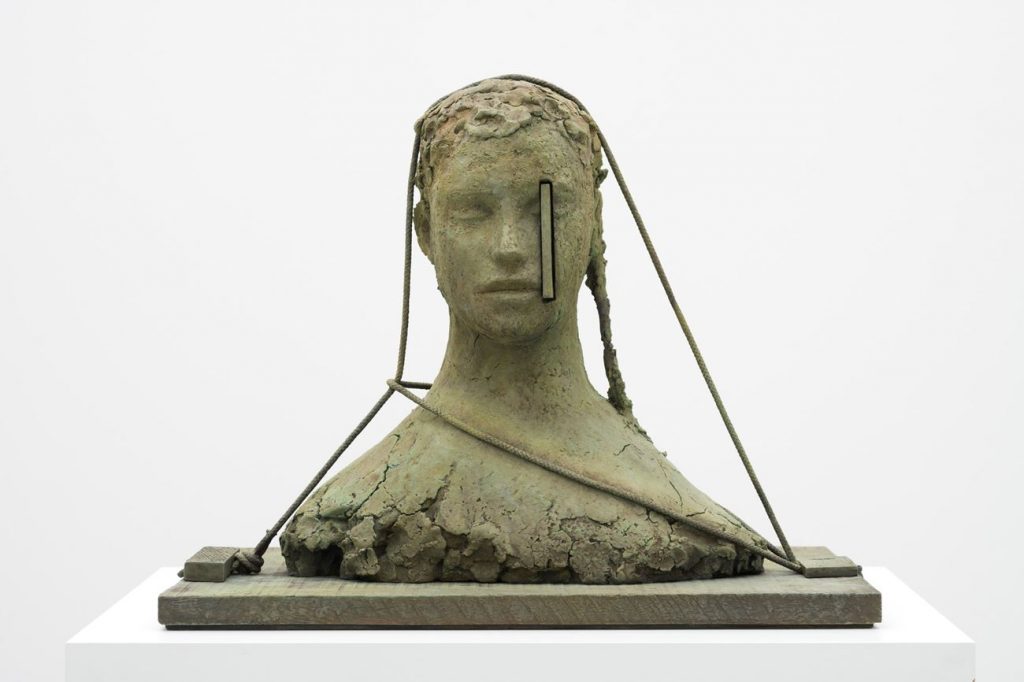 Mark Manders, Composition with Two Robes, 2019-20, Image Courtesy of Zeno X Gallery
Artvisor's director, Nico Epstein, ran a virtual tour of Frieze through Zoom for 20 guests, highlighting some of his favourite artists and galleries. He was particularly interested in the fair's ability to convey the three-dimensionality and the materiality of sculpture through a screen, looking at the work of Mark Manders from Tanya Bonakdar Gallery and Yuji Agematsu from Miguel Abreu Gallery. The fragility and intimacy of these works is difficult to recreate to the same extent digitally, meaning that a potential buyer would likely already be familiar with these artists. 
Artnet argued that the galleries that most benefited from this format were the ones which already had sophisticated technologies and digital platforms in place, their Frieze sales assumed to be with clients they already had long-standing relations with. They reported that major galleries such as David Zwirner welcomed more sales directly from their own websites than via the Frieze platform, putting the role of the art fair as a mediator into question in this new age of art dealing and collecting. [Artnet]
Alternative models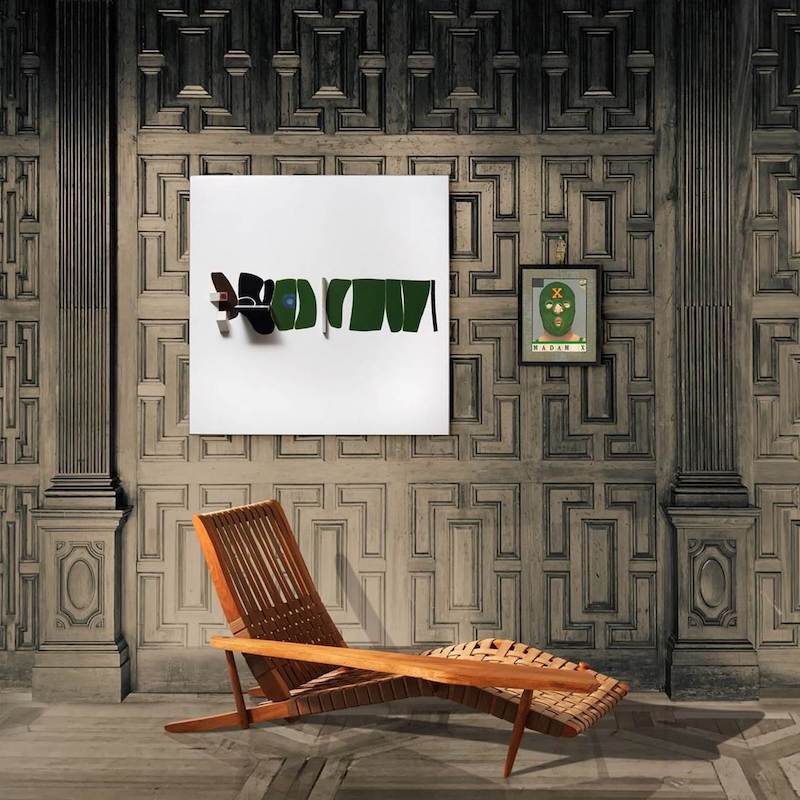 A Viewing Room at Eye of the Collector (depicting Victor Pasmore, Points of Contact, Green Development, 1966; Peter Blake, Madam X, 2002 and George Nakashima, Lounge Chair, 1960), Image Courtesy of Mayfair Times
The Eye of the Collector, an alternative and newcomer fair to the London art scene, also held a virtual substitute in May. Founded and organised by Nazy Vassegh, this "creatively-driven selling exhibition" aimed to appeal to new and creative collectors by adopting a fresh take on the traditional 'viewing room' layout [Artnet]. The online version of the fair displayed works from different periods and genres together, in order to replicate the viewing experience in a collector's own domestic space. This allowed for new dialogues, initiating a step away from the standard white-box background.
Masterpiece, the latest to the online game, is looking to go beyond what is currently available with their summer edition. The chief executive, Lucie Kitchener, has made her online version "more social", by encouraging guests "to grab a glass of wine with five of their friends", more possible than before given the steady loosening of lockdown measures [FT].
The longevity of the art fair
One can only guess when art fairs will be able to restart again. Many have come to accept that it is the end of the art fair as we know it, the idea of thousands of people coming from all over the world to an indoor and crowded space seeming very alien, even unimaginable at this point in time. Most fairs have offered free participation, implying that the online version is not one that is planned to be implemented long term. Will the online versions remain a model of permanency, and one worth investing in, or as a temporary means of keeping up the reputation and visibility of the fair in the time before fairs can re-open in person again?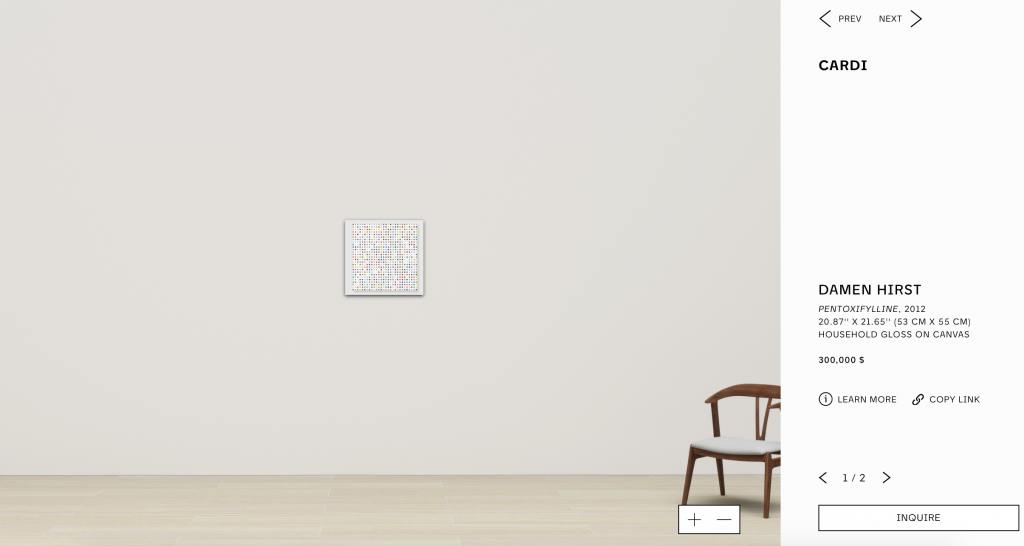 Screenshot of Cardi Gallery's viewing room at Frieze New York 2020, Image Courtesy of Frieze
It's worth considering that the COVID-19 crisis also coincided with the questioning of art fairs' harmful impact on climate change, with their international nature attracting exhibitors and collectors to fly in from all over the world. Some large-scale events in Hong Kong were also suspended late in 2019 due to political unrest. In a time of increasing unpredictability and change, perhaps the online fair is the most reliable model to invest in and move forward with after all. The coronavirus pandemic might be the final factor to highlight the multifarious risks of travelling for these arguably 'non-essential' events, perhaps bringing them to an indefinite close, in a time when we are getting more and more used to living, working and buying through a screen. The art market will therefore need to adapt and re-model accordingly, and with it bring the re-scaling and re-defining of a new international art market.
Artvisor's founder Piero Tomassoni and Nico Epstein hosted virtual tour on Zoom of Art Basel's online viewing rooms earlier this week, and we'll be posting a list of their favourite works tomorrow.