Best Restaurants in London for Art Lovers 2022
To celebrate the recent makeover of the Gallery at Sketch, which replaced David Shrigley's illustrations with screen prints of African masks by Yinka Shonibare, Artvisor brings you a guide to the best restaurants in London for art lovers.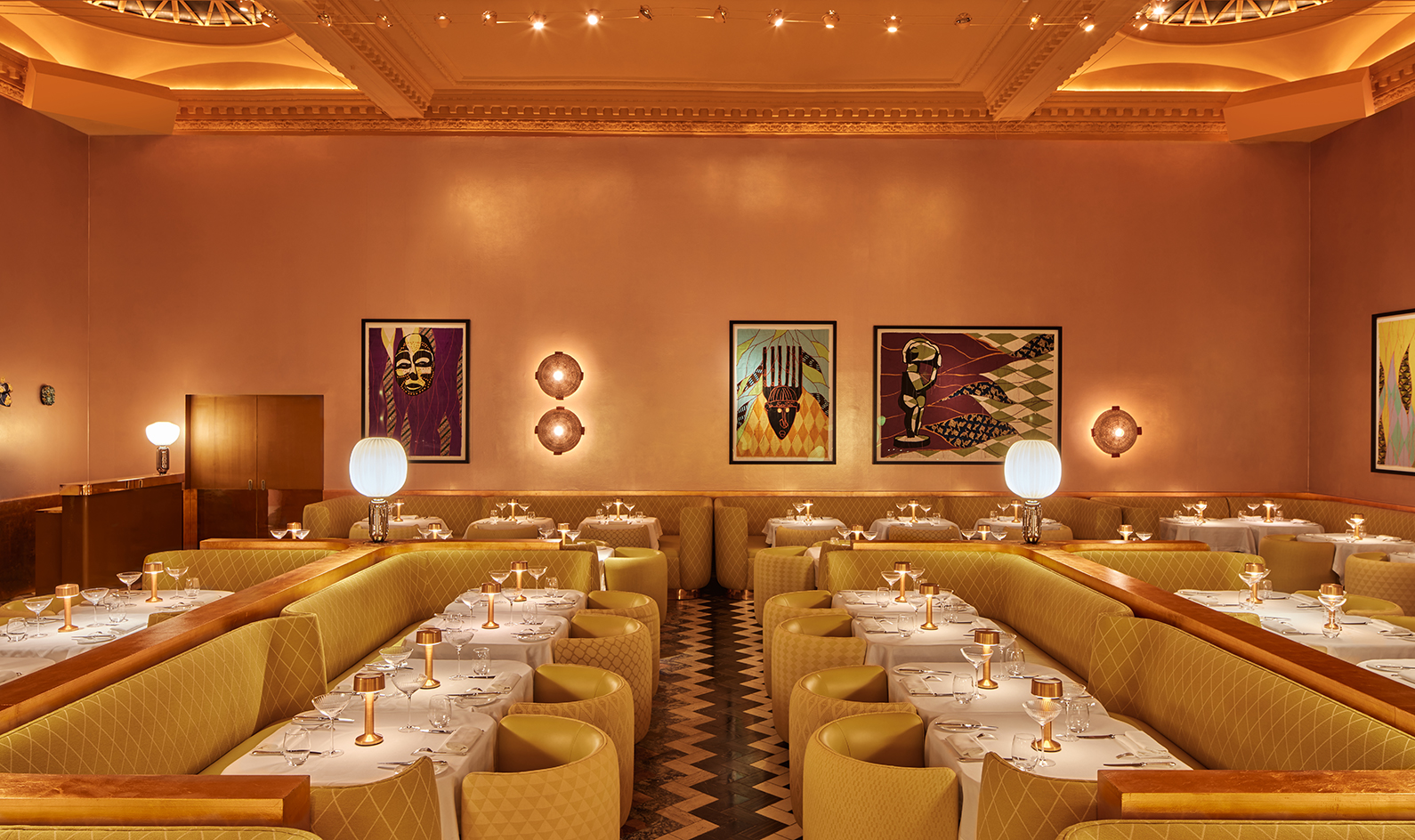 1. Sketch Gallery
Those familiar with British artist David Shrigley's art in Sketch London's The Gallery should return for a second time to see the Gallery's redesigned room featuring works by British-Nigerian artist, Yinka Shonibare. Aptly named The Gallery, the once 'pink room' that was lined with Shrigley's illustrated artworks has been reimagined with copper-color fabrics and golden hues. Launched on 3 March 2022, the room features works by Shonibare, including hand-painted wooden masks and framed embroidery. Titled Modern Magic, the exhibit comprises studies of Picasso's collection of African masks. The work in the room is envisioned to encourage cultural exchange while guests are able to enjoy afternoon tea or dinner Monday through Sunday on Mayfair's Conduit street.
---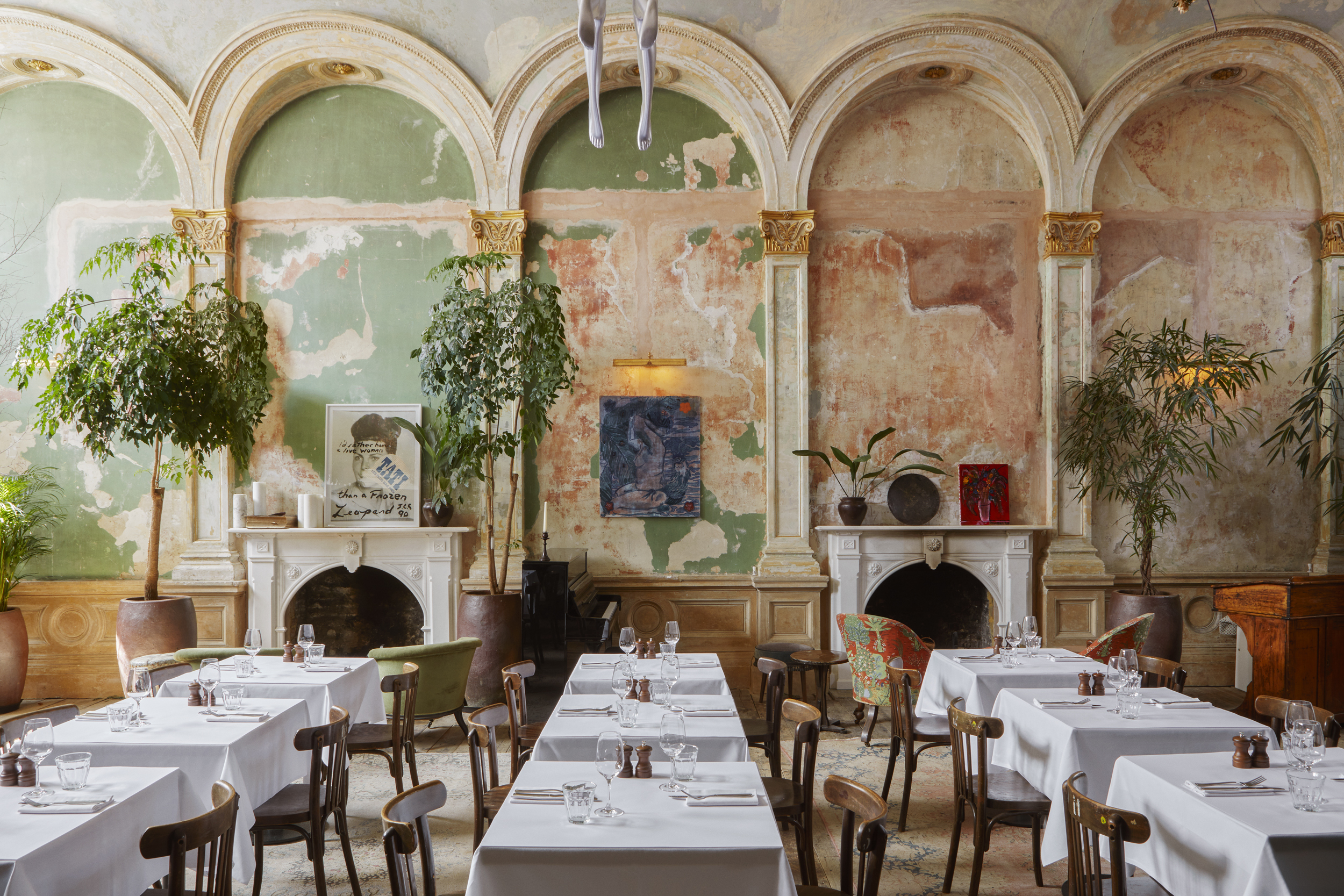 2. Sessions Arts Club
Sessions Arts Club is a restaurant that occupies the old judges' dining room on the fourth floor of the Old Sessions House in Clerkenwell. Its location inside a former 18th-century courthouse boasts remnants of regency-era style. Pastel-green paint peels off the walls and a series of painted white arches attached to pilasters frame paintings on rotation. Beautiful, open arched windows shine light throughout the space, providing a serene setting with which to view the modern art on display, and occasionally to listen to live music while eating. The Arts Club is open Wednesday to Saturday for lunch and dinner to all guests 18 years of age or older. After eating at the self-proclaimed "urban sanctuary", check out the roof terrace in the same building.
---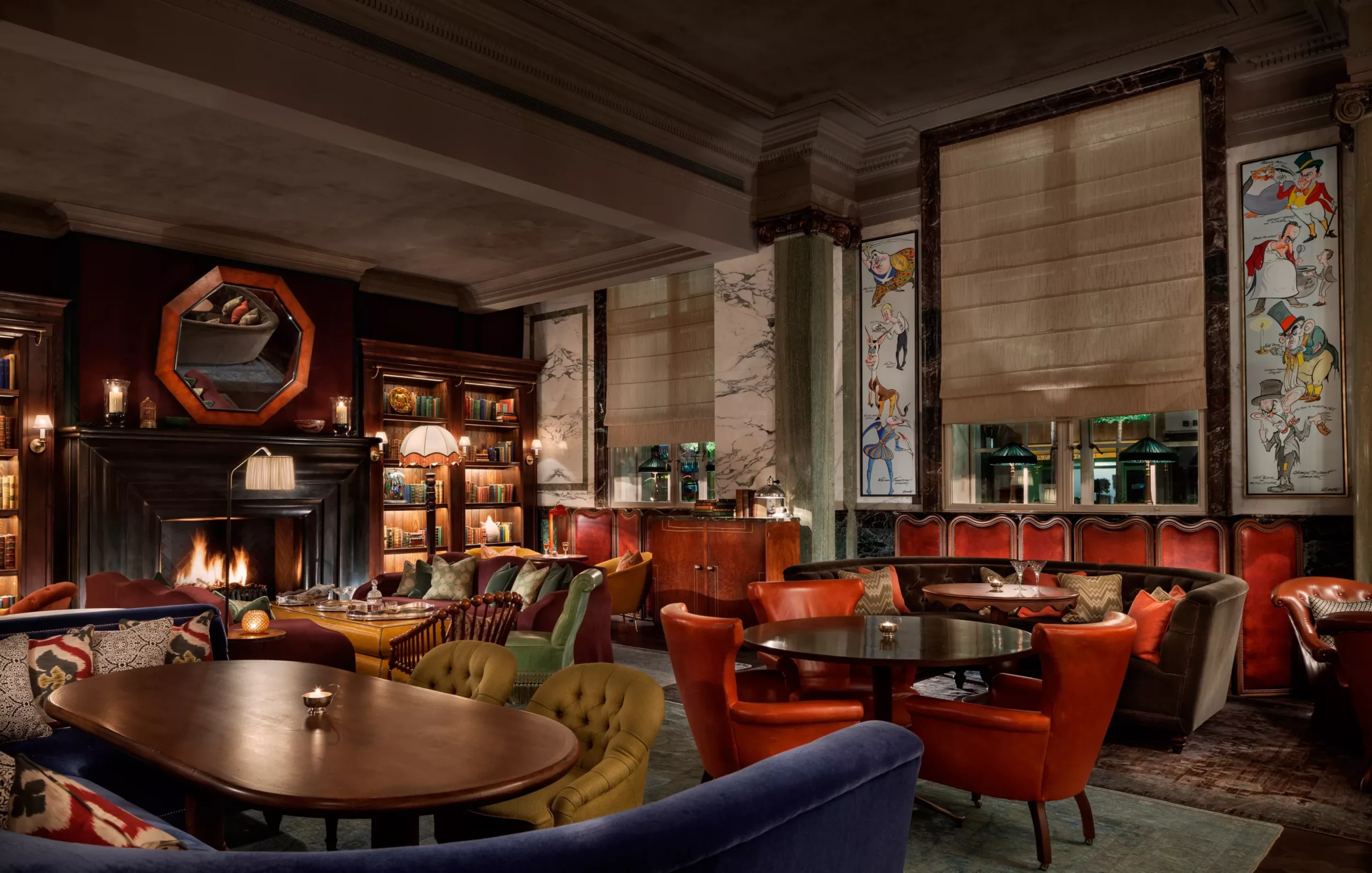 3. Scarfes Bar
Scarfes Bar in the Rosewood Hotel is an iconic venue offering quirky cocktails, whiskies, and food in an interior complemented by dark wooden bookshelves, velvet chairs, and a roaring fireplace. Named after and inspired by the British artist, Gerald Scarfe, the bar is complete with his paintings of caricatures that line the marble walls that flow seamlessly with the Victorian-era inspired furnishings. Listen to live jazz any day of the week, catch a cabaret show or simply swing by to enjoy drinks on a cozy night out with some friends at this establishment, which was ranked number 31 on Top 500 Bars's 2021 list of top bars in the world.
---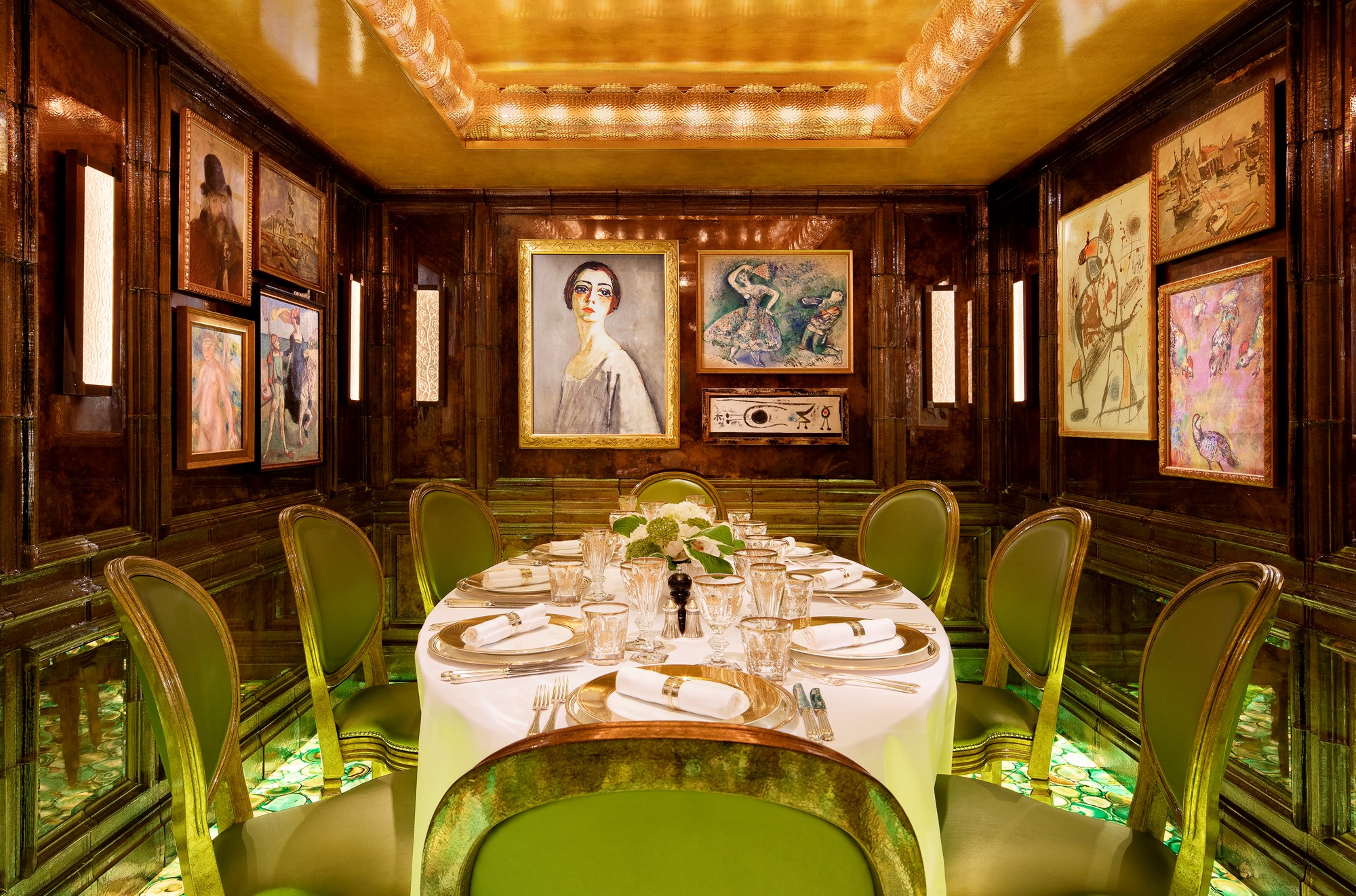 4. Scott's Seafood Mayfair
The Platinum Arowana Room is a private space tucked behind Scott's, the famous restaurant in Mayfair. The private dining space is a new addition to Scott's, which originated as a seafood establishment in the late 19th century before moving to its current location on Mount street in 1967. The private dining room seats parties of six to eight and features an á la carte menu with dishes not available in the main restaurant. The room is furnished with green chairs to match a green agate floor. The most impressive part is the selection of artworks chosen by Scott's owner, Richard Caring, including artworks by artists such as Renoir, Chagall, and Pisarro. A dinner in the Platinum Arowana Room, whose artworks cost more than six million pounds, is sure to excite any art history aficionado.
---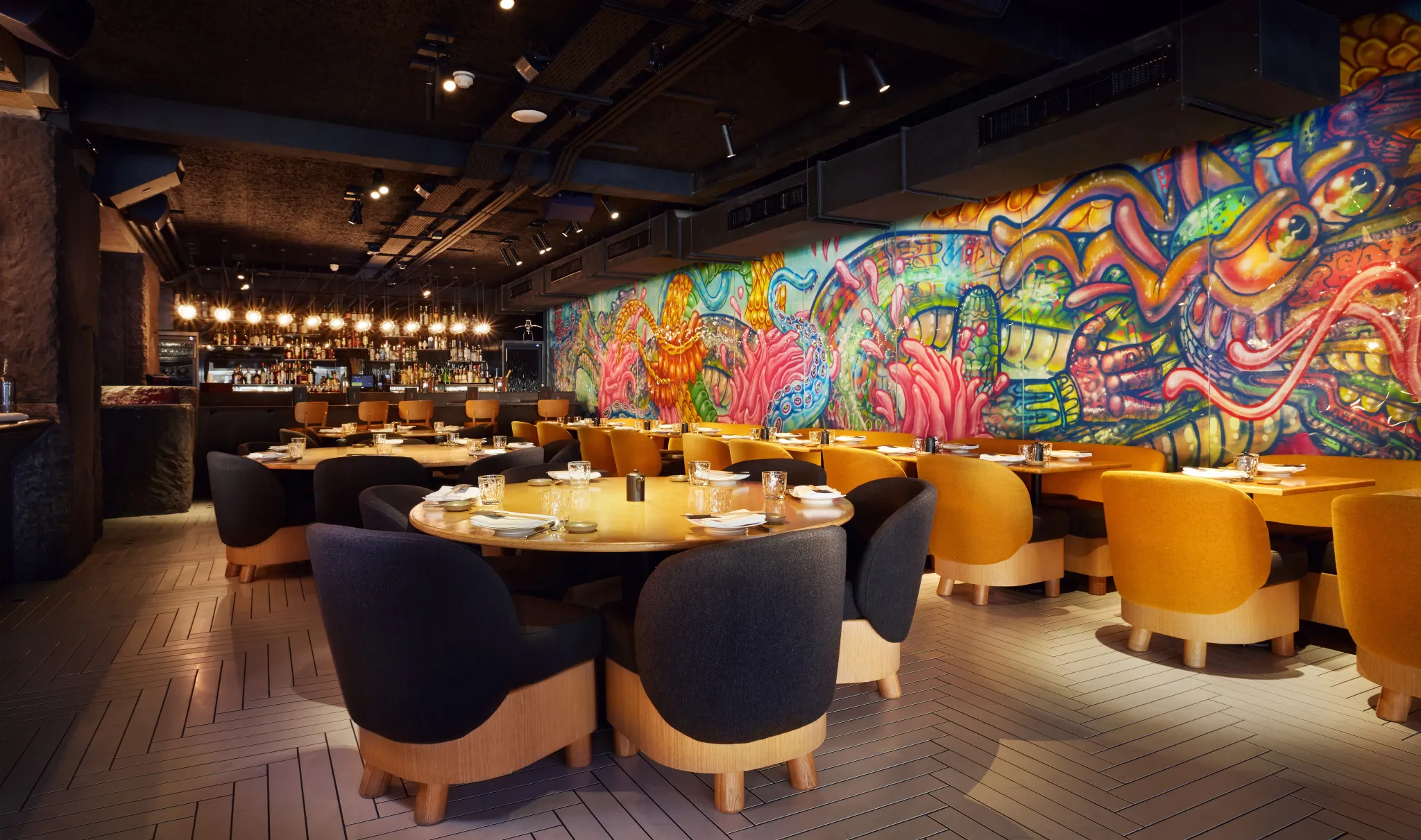 5. Chotto Matte
Chotto Matte in Soho is a restaurant for graffiti and food lovers alike, stimulating all five senses. The three floor Japanese and Peruvian fusion restaurant features site-specific art on the walls. The large-scale graphics of Houxo Que, a Tokyo-based artist, are illuminated by ultraviolet light, aligning with the creative nature of the space. Graffiti artist Tom Blackford's murals also adorn the walls in the restaurant, the colors illuminated against a darkly-lit room. While this restaurant might not be for everyone, for those who can handle sensory overload the artwork provides an interesting backdrop to eating sushi and tostadas.
---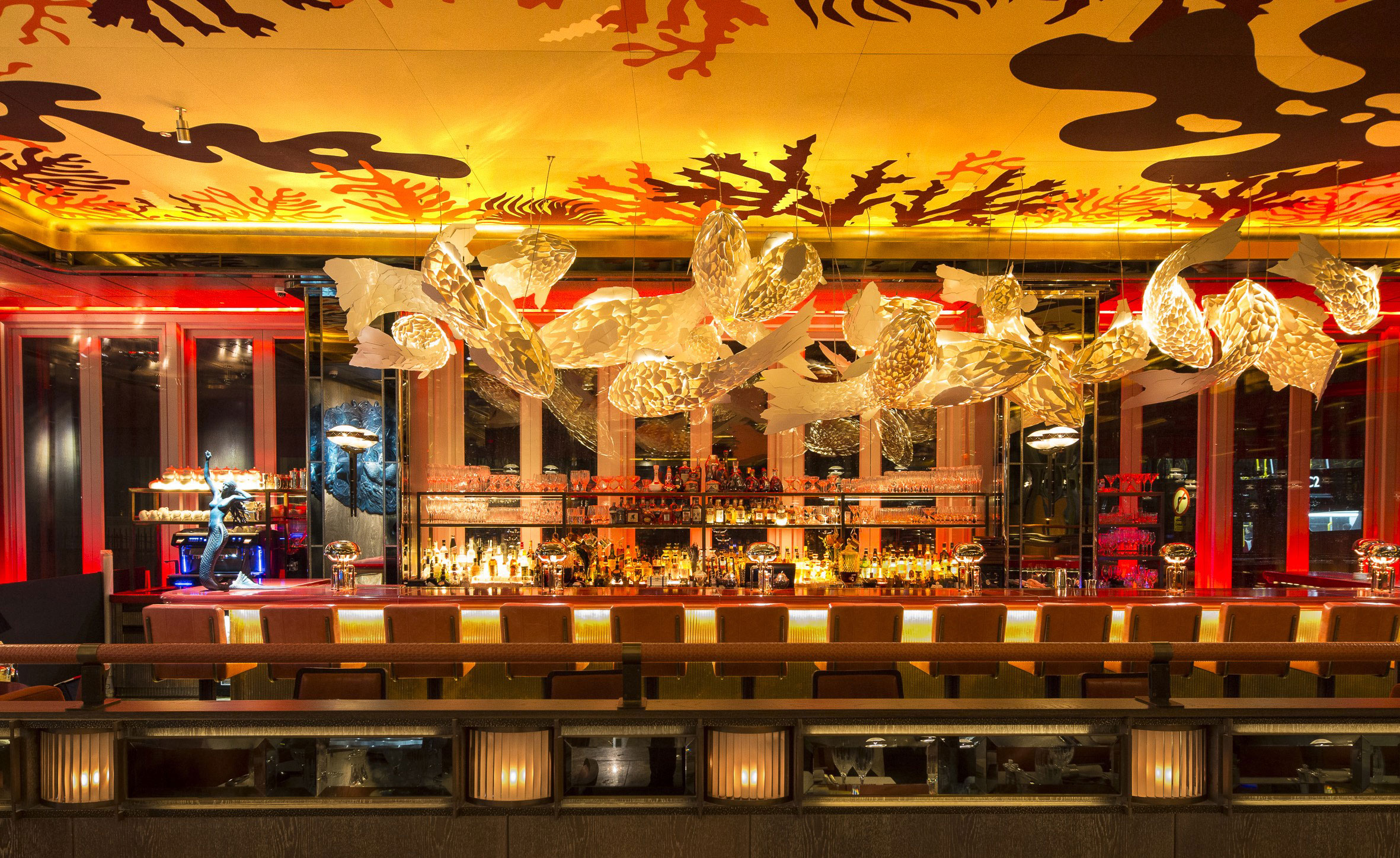 6. Sexyfish
Another restaurant on this list owned by Richard Caring, Sexyfish contains artwork by notable contemporary artists. The restaurant, which opened in 2015, has established itself as one of the hottest restaurants in London to eat seafood. For fans of the Young British Artists, Sexyfish boasts pieces by none other than Damien Hirst. Two bronze mermaid sculptures as well as a large bronze relief panel by Hirst are highlights of the restaurant's interior. Other aquatic pieces inside include Frank Gehry's fish lights, large-sale golden structures that swim above, hanging from the ceiling. Perhaps one of the most striking pieces in the space is Gehry's 13-ft crocodile made of glossy black silicone that reflects the warm light from the fish fixtures. Enjoy food items from a raw bar in this energetic space, perfect to go to before a night out.
---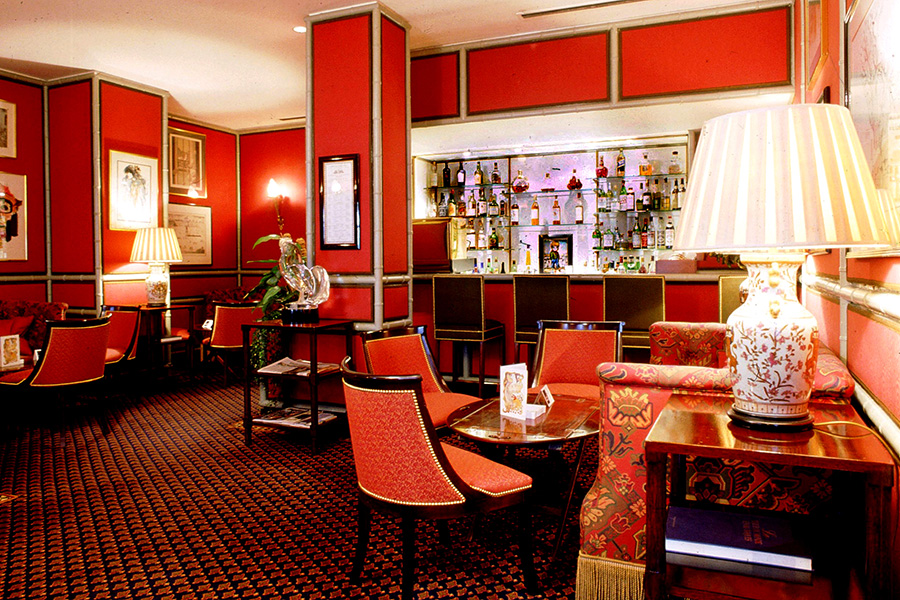 7. Le Gavroche
The esteemed Michelin-starred French restaurant, Le Gavroche, is as notable for its extensive art collection as it is for its food. Opened in 1967 by Albert and Michel Roux Sr., it was first located in Chelsea before moving to its current location on Upper Brook Street in Mayfair in 1981. The restaurant's walls are lined with artworks from some of the most notable 19th and 20th-century artists, such as Chagall, Miro, Picasso, Dali, Bewick, and Meyer. The current owner, celebrity chef Michel Roux Jr., has expanded the art collection in recent years. These paintings hang in a space with a rich interior; lavish fabrics of deep green and red provide a rich ambience in which to enjoy the artworks and classic French dishes.
If you love art and enjoyed reading this article, here is a list of best art hotels around the world.