Piero Tomassoni discusses Italy's Contemporary Art Scene in the Swiss Press
Piero Tomassoni spoke to the Swiss magazine Prestige about the state of contemporary art in Italy today.
Italian Spring – a Breeze of Fresh Air for Contemporary Art
Anyone who has ever travelled through Italy can confirm that cultural treasures of overwhelming beauty can be discovered almost everywhere. In the blistering summer heat, the Stendhal-Syndrome-stricken tourist staggers from antiquity, to the Renaissance, to the Baroque. But if you ask the traveller about his impressions of contemporary art, he usually shrugs his shoulders or, at best, refers to the Venice Art Biennale and the Fondazione Prada in Milan. While New York, Paris, London and Berlin are firmly established on the contemporary art market, large Italian cities have so far remained rather discreet. But what is the state of affairs in contemporary art in the country where the lemon trees bloom?
…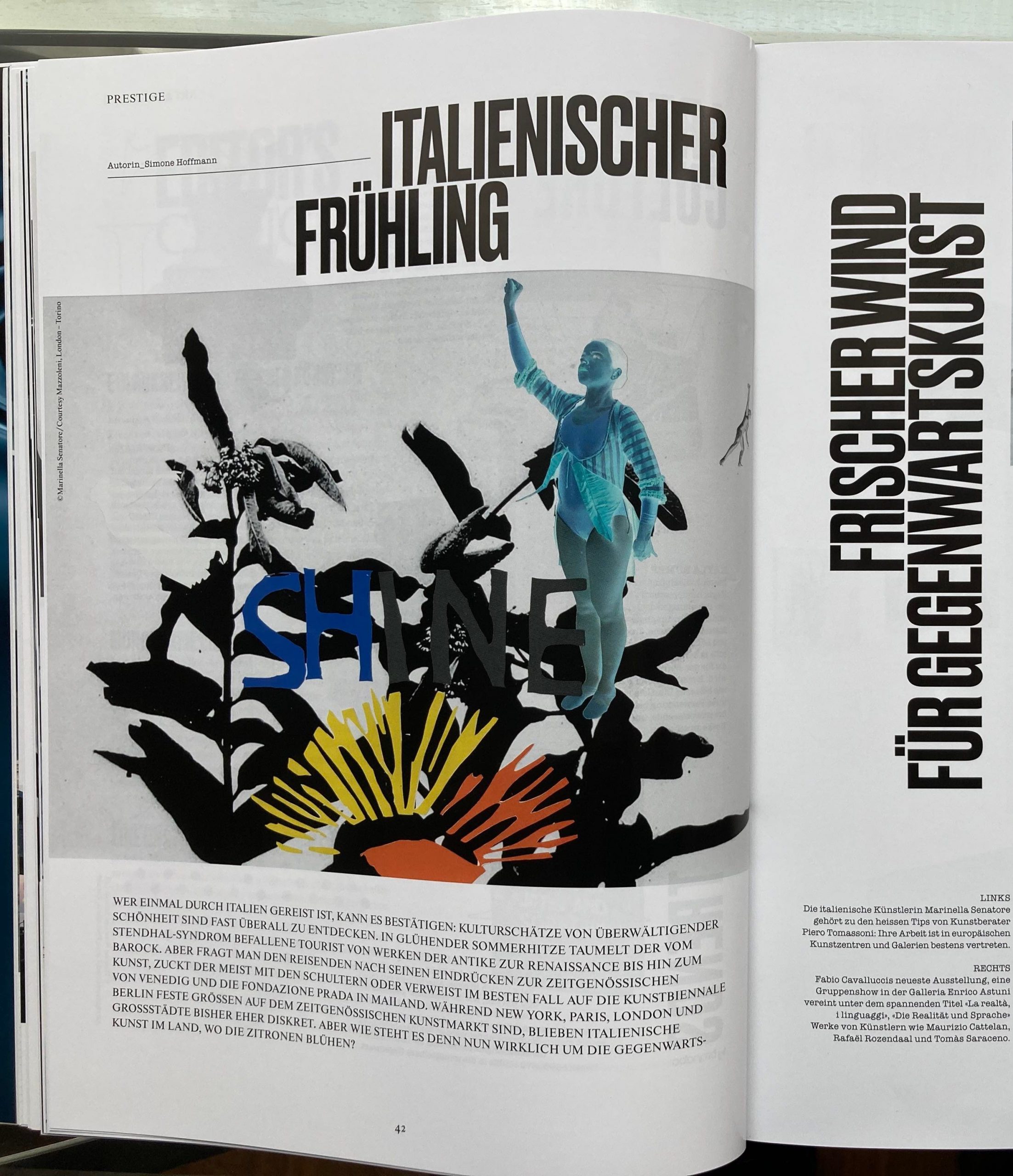 When it comes to Italian artists, most of the galleries play it safe and put artworks from the 1960s or 1970s on display, even when they are labelled as contemporary art galleries. Works from the Arte Povera movement, including Italian artists such as Mario Merz, Michelangelo Pistoletto, or Giuseppe Penone, are internationally famous. Today these artists hang in the most important museums worldwide and fetch record prices at auctions. It is indeed a glorious epoch in modern Italian art history. But what if Italy's cultural heritage were a hindrance to Italian contemporary art?
Piero Tomassoni has been dealing with this question for a long time. His art advisory and curatorial firm Artvisor is based in London, but for art he commutes back and forth between the British capital and the Continent. In Italy, the art connoisseur is a member of the board of various institutions and curates exhibitions. "The perception of contemporary art in Italy has above all to do with culture: Italy is a country of traditions […] rather cautious about new trends," explains Tomassoni, "This leads to paradoxical situations, like artists who are already mid-career having usually a better reception abroad, as in Italy even aged 50, they are still considered to be 'young artists'." This is why Tomassoni has made it one of his tasks to support Italian artists in his work abroad and at home.
…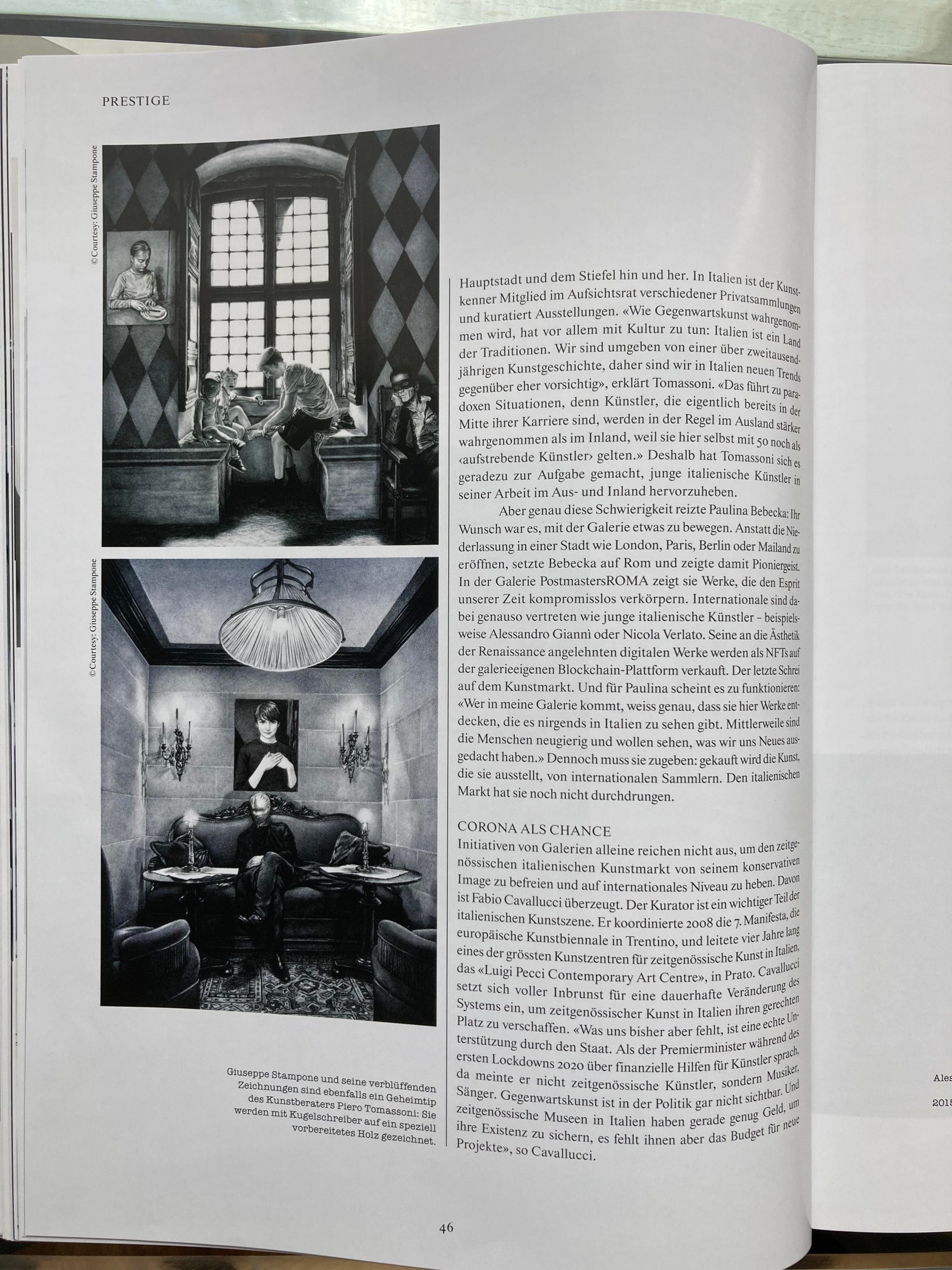 Tomassoni feels we might be at a turning point: "One of the signs that something is really moving is the choice of the artist who will represent Italy at this year's Venice Biennale: it's Gian Maria Tosatti. In itself, this choice is already a revolution: unlike in other countries, the Italian Pavilion has never been given to one single artist. What's even more important, Gian Maria Tosatti is in his early 40s, so he truly represents a generation of young contemporary Italian artists.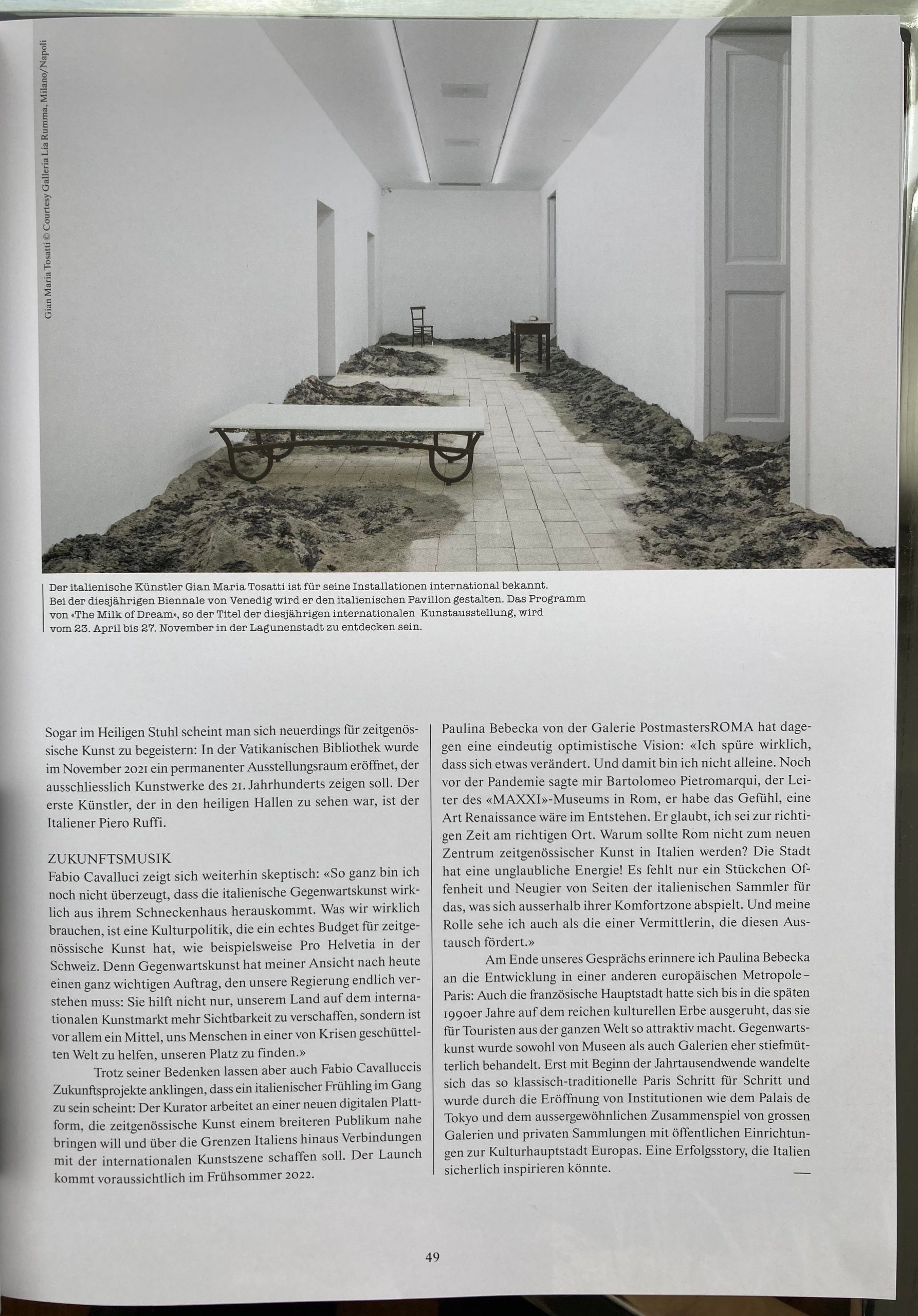 You can read the full article by purchasing the latest issue of Prestige Magazin, Volume 62 Auszug.