Artvisor's Review of FIAC Online Viewing Rooms 2021
FIAC Online Viewing Rooms, running from 4-7 March, celebrates contemporary and modern art, with over 2000 artworks represented by more than 210 galleries. The Artvisor team selects their top six on display…
Thu Van Tran at Meessen De Clercq and Almine Rech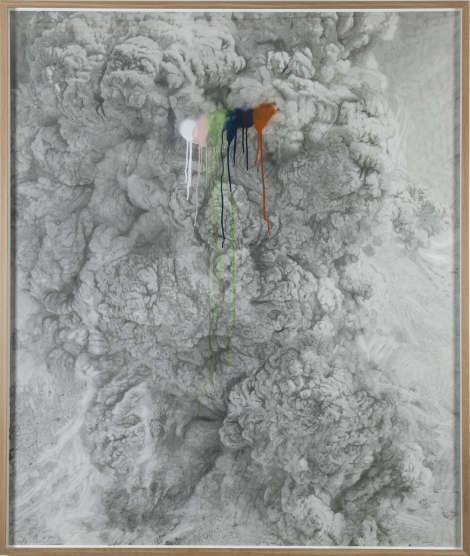 At Almine Rech and the Meessen De Clerq, Thu Van Tran's Rainbow Herbicides series catches our attention for its rigorous detail and dramatic portrayal of dark clouds and avalanches. The nearly perfect monochromatic setting is disturbed by the marks of spray paint trickling over it. Named after a group of chemicals used by the US Military in its heavily-criticised herbicide warfare campaigns in Southeast Asia during the Vietnam War, Tran's work demonstrates environmental contamination as a form of colonisation.
Born in Vietnam, Tran arrived in France as a refugee; she continues to explore themes that look at the history of colonialism and its influence on the displacement of people and culture. Rainbow Herbicides was selected by Guggenheim's Assistant Curator X Zhu-Nowell in the curated collection of artworks for FIAC's inaugural "Through the Eyes Of" programme, where leading curators from different backgrounds were invited to present an ensemble of some of the best works from this year's edition.
Anne Imhof at Galerie Buchholz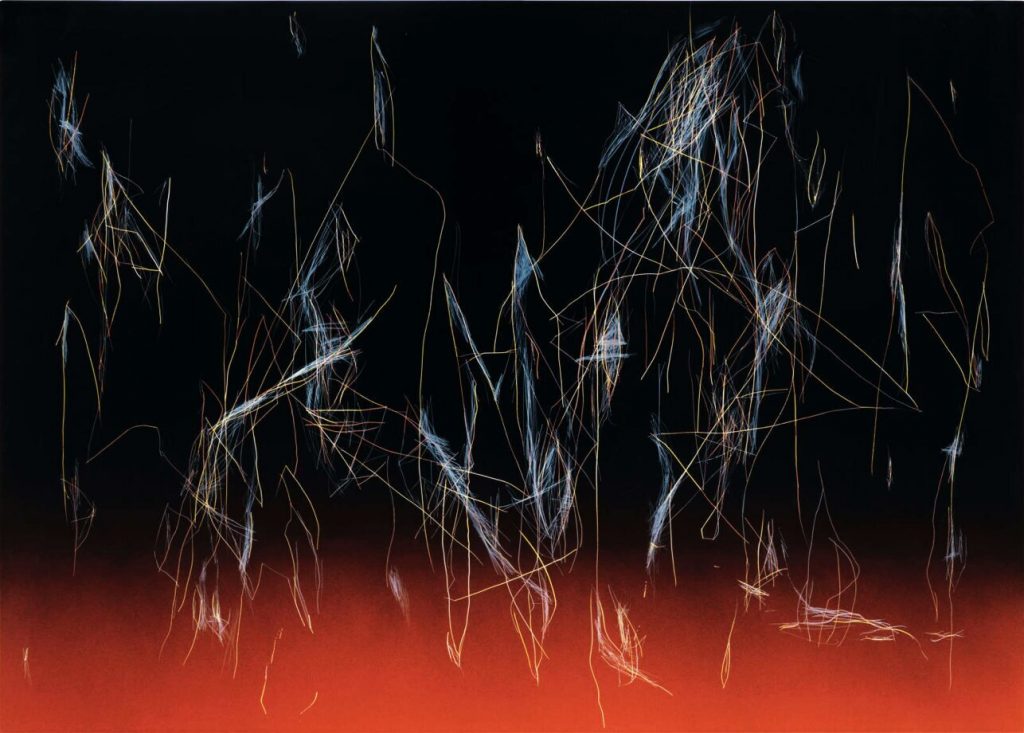 Contemporary German artist Anne Imhof is best known as a choreographer and performance artist, whose works involve complex, intimate studies in movement, gesture and action. Primarily confronting power dynamics, her emotional and often explicit works often result in unease for the viewer. Here, the artist experiments with a different medium, using unexpected materials such as acrylic and aluminium to form an active, illuminating vision.
Untitled sees bright, radiant lines stretch out across an intense black background, sinking down into a blood red fog. Imhof's luminous compositions are being increasingly recognised on an international scale, with her Untitled (SEX), 2020 featured on the Spring cover of Flash Art Magazine. Picked up by multiple curators of the new "Selected By" programme, Imhof is certainly one to watch.
Dayanita Singh at Frith Street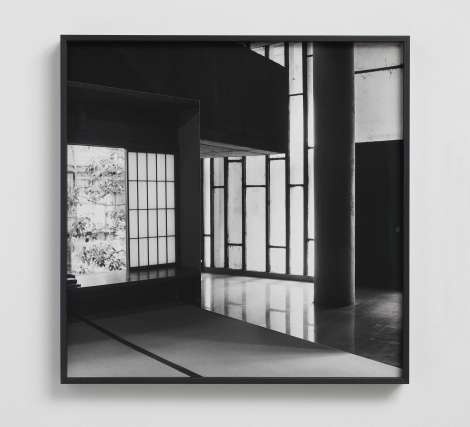 Dayanita Singh's ceaseless excavation of archival material has taken on new meaning with a recent series of collages. Singh is an Indian artist whose explorational use of the photographic medium veers from photobooks to large scale installations that consist of varied interactive filing systems. The representation of paperwork, bureaucracy and the leftovers of office life form an integral part of her practice.
Montage XII takes us in a new direction, where what could be an office building is seamlessly melded together with the entryway of a Japanese residence. The separation between one of its component images and the other is indistinguishable, creating a new, blended interior that is both uncanny and ethereal in its composition.
"If I could describe a photograph entirely in words, why bother making it" – Singh
Having previously worked as a photo-journalist before transitioning to art on a full time basis, it is likely that these images were initially taken with a different use in mind, being repurposed here in this new poetic dreamscape.
Flora Yukhnovich at Victoria Miro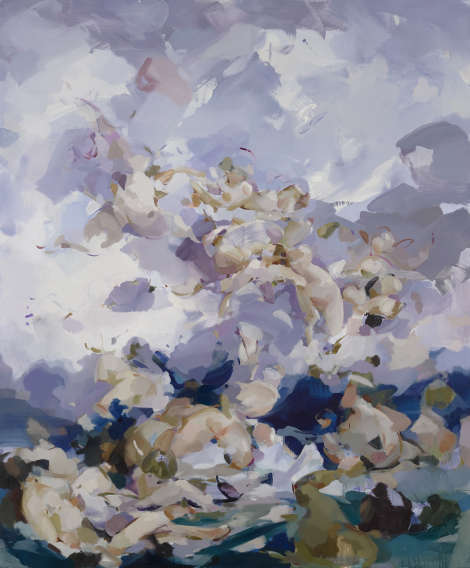 London-based painter Flora Yukhnovich fluidly presents the language of Rococo through a contemporary lens, reimagining the dynamism of works by eighteenth-century artists such as François Boucher, Nicolas Lancret and Jean-Antoine Watteau. Belonging to a suite of new works created especially for FIAC OVR, Tall Glass of Water is part of a collection of paintings based on 18th century depictions of the birth of Venus. Boucher's Triumph of Venus, 1740, serves as the initial source of inspiration, which sees Venus seated in a seashell, surrounded by sea creatures and representations of love, such as dolphins, tritons, naiads and cupids. Yukhnovich departs from the figurative source, championing a more gestural, abstract new vision, exuding ambiguity and openness.
"The idea of fluidity of form feels like a very painterly concept to me" – Yukhnovich
Tall Glass of Water allows body and water to unite in a palette of coastal blues and pinks, as loose, light brush marks are freed from describing the human form. Not only appealing to the eye, Yukhnovich's work fantastically captures that unique sense of freedom and lightness associated with the sea.
Massimo Vitali at Mazzoleni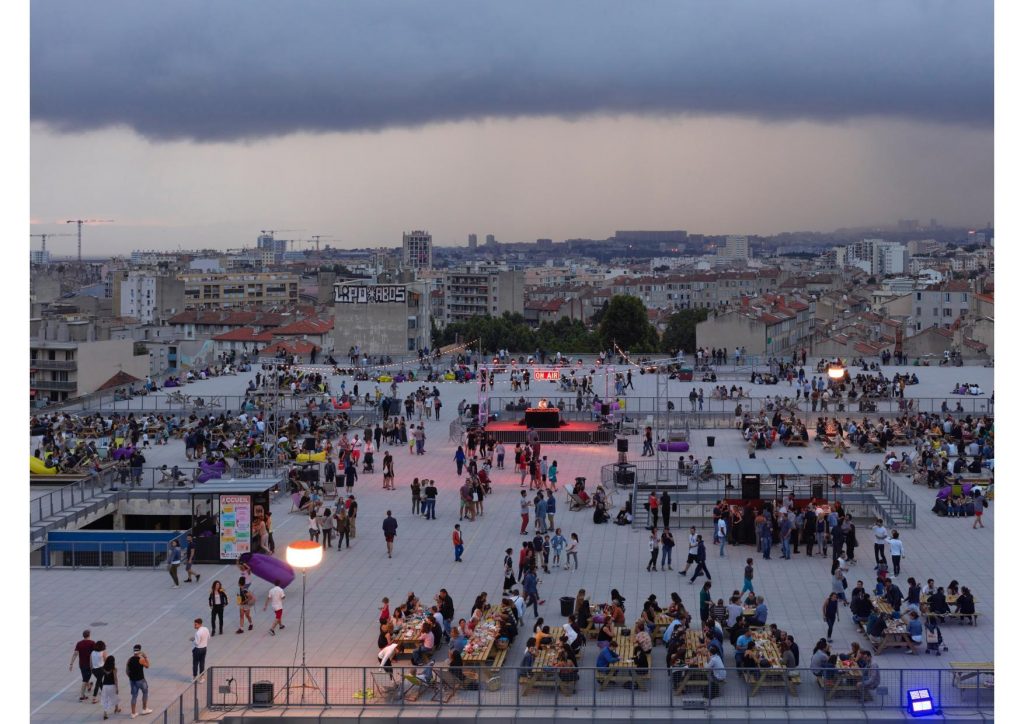 Italian photographer with an international vision, Massimo Vitali draws upon the historical artistic canon in the formation of his contemporary aesthetic vision. While ceaselessly attentive to global trends and the evolution of the avant-garde, the extremely static and crystallized world displayed in his photographs remains suspended, as if in a cinematic still. Friche de la Belle de Mai On Air belongs to Vitali's Costellazioni Umane (Human Constellations), exhibiting at Museo Ettore Fico, Turin.
His work immortalises places and people beyond their geographical, landscape or atmospheric interest, capturing them in all their identity and physicality with precise attention to detail. His eye takes in every feature, transferring it to the photographic paper in a highly defined and realistic way.
"We need to be more specific and make people understand that photography is also our own society, the connections between us, things which people tend to forget" – Vitali
Captured here is La Friche, a lively hotspot for culture and performing arts located in the Belle de Mai neighbourhood of Marseille. It provides a creative space where artists perform in residence, and visitors can view upcoming projects and exhibitions. Artificial illumination under a dark, thick cloud, where people appear as if directed, obeying predefined dictations in an obviously unconscious way. The overlap between contemporary society and historical tradition is a recurring attribute within Vitali's work, placing him amongst the greatest artists of our time.
Alberto Biasi at Cardi Gallery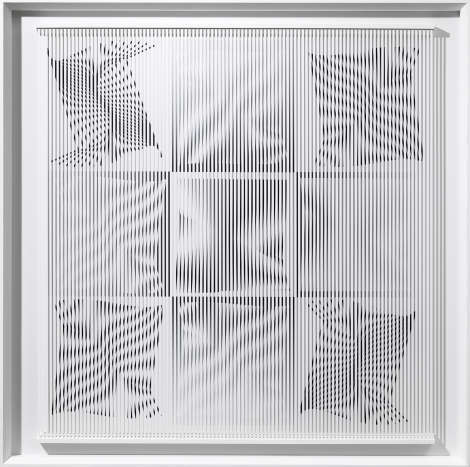 Italian pioneer of Kinetic art, Alberto Biasi was among the first to explore the possibilities of optical illusions in painting and sculpture. Since co-founding the avant-garde Gruppo N in his early twenties, his art has constantly evolved within the field of perceptual investigation, both lyrical and scientific.
Untitled is an example of the typical kinetic technique associated with the artist's oeuvre. The stimulating geometry of his work is realised through mathematical precision and elaborate symmetry, offering the illusory sensation of movement when the work remains perfectly still. The immobile strips become roused when the viewer engages with the art, as movement creates entrancing shapes, captivating the eye.
"I am a kind of musical instrument manufacturer, the viewer is the musician, and the artwork is co-created by the artist and viewer" – Biasi
His work challenges the conventional idea that art is restricted in what we see, prompting consideration upon the collaborative nature of an artwork. Biasi considers the influence of kinetic art in the progression of a 'new vanguard': with the premature acceleration of the digital age due to the current pandemic, his comment that 'the electronic art age will eventually take over' is relevant now more than ever.