Once Twice Exhibition Review: Ry David Bradley and Hanna Hansdotter at The Hole NY
Displayed at The Hole in New York, Ry David Bradley and Hanna Hansdotter take centre stage in the exhibition Once Twice, open until March 28th. The show presents the unification between two contrasting modes of artistic creation: Hansdotter's vibrant hand-blown glass sculptures and Bradley's striking acrylic tapestries.
Bradley raises significant questions about traditional methods of art-making through his dependency on the digital world. His work displayed at Once Twice challenges notions of materiality, tangibility, and authorship in our present digital era. From a distance, the tapestries appear to use a simple greyscale colour palette. However, the artist incorporates primary-coloured thread which is woven together using a jacquard loom to create portraits of real people. The explicitly unhidden distortion of faces comments on the manipulation of images through photoshop and filters of today's media, interrogating the idea of picture-perfect beauty in the art industry. His distinct aesthetic joins the common 20th-century art practice of distorted faces with the digital world in his pieces displayed at the Hole.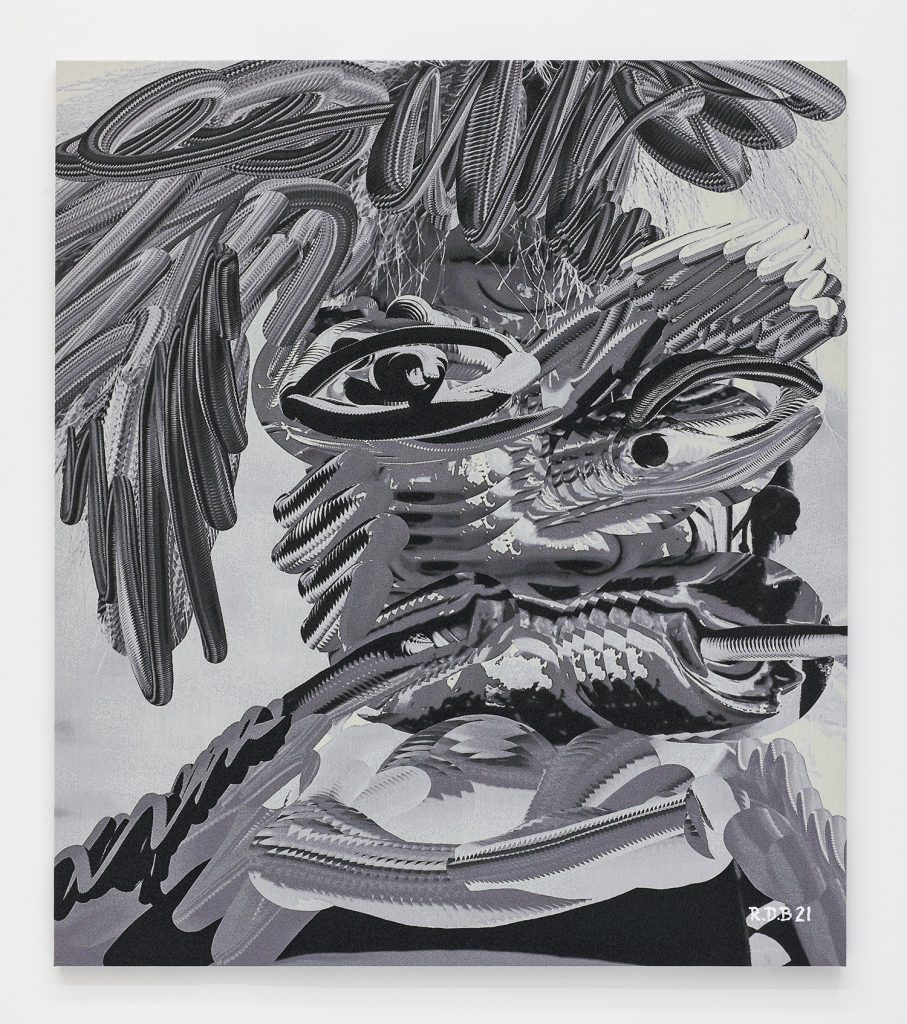 The digital existence of Bradley's work confronts the idea of "original" and "copy." His artworks are available for sale as physical pieces and as unique, digitally-encrypted files via Superare as non-fungible tokens. They can be purchased in US dollars as well as using the cryptocurrency Ethereum.
The NFT Space
The blockchain platform has created a space for using a range of digital tokens, one of which will be imperative to the art world, the non-fungible token (NFT). There is a slight difference between NFTs and more familiar cryptos, such as Bitcoin. Like Bitcoin or Ethereum, fungible digital assets can be substituted and exchanged for other digital assets in their class as their respective values are the same. On the contrary, NFTs are different as their value cannot be substituted since they each have a unique set of characteristics and are therefore distinct from all other assets of their type. A primary example of the usage of NFTs is the popular digital collectibles movement of CryptoPunks and CryptoKitties. Both are traded on the Ethereum blockchain, however a CryptoKitty cannot be exchanged for a CryptoPunk as their tokens are non-fungible.
Certain features of an NFT continue to build our trust in the system, some of which are particularly important for the art market's success in particular. The "token" in NFT refers to a particular digital certificate stored on the blockchain, making it a publicly verifiable and authenticated digital asset. This way, we can ensure our tokens cannot be destroyed or replicated and that there is only one single owner at a time. Notice how this concept is different from purchasing other digital goods online. For instance, if a customer buys an online video game, they have only paid for a copy that several others may buy as well. However, its original makers still own the online video game. On the contrary, if a collector chooses to purchase the NFT edition of Bradley's work, they can be assured that their ownership will be encrypted onto a blockchain ledger, proving that they are the sole owner.
Artist Biography
Ry David Bradley (b. 1979 Melbourne, Australia) graduated from Victorian College of the Arts, Melbourne University with an MFA in 2013. The artist has been widely exhibited at galleries and museums in Australia and globally including New York, Paris, Berlin, Los Angeles, and Milan. He currently lives and works in London and is constantly exploring the digital feild in today's media-centric world through different modes of painting styles.