Exhibition Review of Mimmo Paladino's I Dormienti at Cardi Gallery, Milan
From 22nd February to 30th April, 2021, Mimmo Paladino's I Dormienti (The Sleepers) are on view at Cardi Gallery, Corso di Porta Nuova 38, Milan.
I Dormienti made their first appearance in Poggibonsi, Italy, on the occasion of the Arte all'Arte exhibition in 1998. They were exhibited again in London in 1999 as part of an installation in the undercroft of the Roundhouse, a performing arts venue, accompanied by a hypnotic montage of sounds conceived in collaboration with British musician Brian Eno. In 2000, Paladino cast I Dormienti in bronze for permanent installation inside the Fonte delle Fate, a public fountain in Poggibonsi, Siena.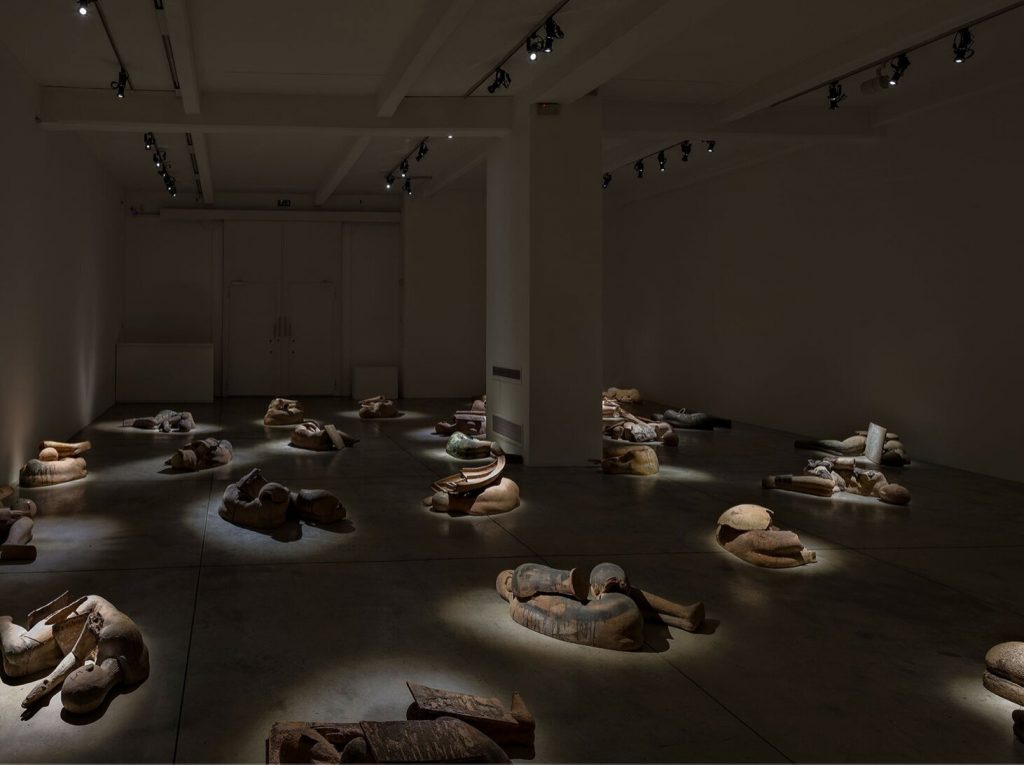 Twenty years on, Paladino's continued mastery of evocative and mysterious expression resurfaces in a new and entirely unique arrangement. Curated by the artist himself, a serene concreteness floods the space, re-modulating the tone of his previous installations. 32 immobile terracotta figures lie silenced beneath dim lights; undisturbed, eternal bodies, unique in colour and composition, yet firmly united in a collective solemnity.
Eno's overpowering musical compositions come to life, invading the space, undermining the sense of quietude and freeing the dormant figures from the heaviness of sleep once more. Through casual repetition, sound and sculpture blend seamlessly into one, assuming a tangible yet unnatural temporal dimension; somewhat reflective of the shared approach of the two artists, who each apply repeated elements in random combinations. The viewer becomes absorbed as a consequence, sinking naturally into the entrancing atmosphere of the space.
"The idea of assembling shapes as if they were modules recurs in Paladino" states Demetrio Paparoni, author of the volume accompanying the exhibition. "It should not be forgotten that the artist has on several occasions manifested an aptitude for creating works conceived as a set of fragments archived in his visual imagination. It is this attitude that led him to create artworks together with Sol Le Witt, Alighiero Boetti, and, last but not least, Brian Eno, artists who have always worked with a different concept of module and repetition".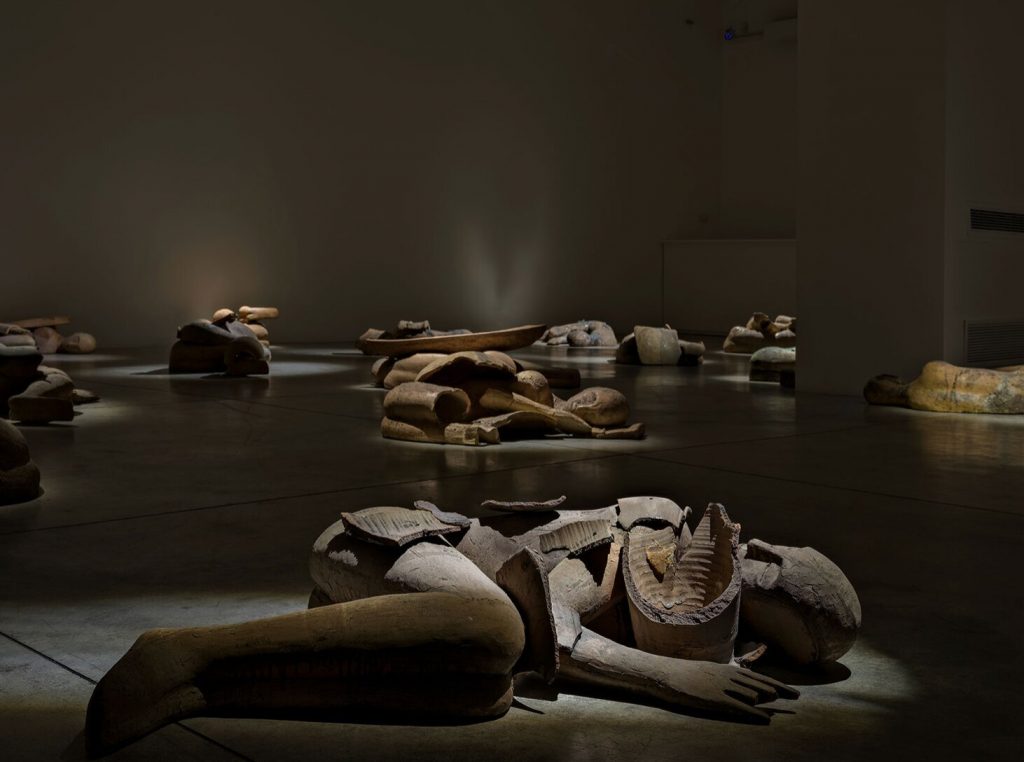 Paladino is a leading member of the Transavanguardia movement, an Italian version of Neo-expressionism which emerged in the late 1970s. Transavanguardia departed from the overriding conceptualism of that era, marking a return to figuration and mythical imagery, as Paladino and his peers aimed to revive the traditional act of painting and sculpture.
In the development of his allegorical style, the artist notoriously draws on imagery from Christian and Classical mythology, as well as ancient Egyptian and tribal art. His enigmatic archaic figures are often exemplary of his preoccupation with themes of death and sacrifice.
Reminiscent of the iconic remains of the inhabitants of Pompeii and Herculaneum preserved under the ashes, I Dormienti are also a homage to Henry Moore's drawings of British war shelters during World War II. Today, these sleeping figures can be considered an ambiguous encapsulation of a myriad of past influences, as the artist continues to look back in the construction of his contemporary work.
Paladino's unwavering connection to the past becomes even more apparent in the second section of the exhibition on the first floor of the gallery, where his great previously unseen work Sunday Morning Comin' Down is displayed. Composed of 100 drawings made during 2020, this work, like I Dormienti, is emblematic of the artist's working style. A puzzle in which fragments piece together to produce a monumental entity; a "picture window" which looks out onto the collective memory of Mimmo Paladino.

Visit Cardi Gallery for more information.