Artvisor's Review of Art Basel Online Viewing Rooms 2021
Art Basel Online Viewing Rooms, running from 24-27 March, focuses on trailblazing practices, dedicated to artists who have broken new aesthetic, conceptual, or socio-political ground. 'OVR: Pioneers' features 100 galleries, over 260 artists and nearly 800 works, spanning across countless mediums, periods and territories.
'This online-only event not only celebrates how artists have pushed the boundaries of artistic production in the modern period but also revisits this conversation in the context of the present moment through myriads of perspectives, geographies and mediums.' – Noah Horowitz, Art Basel
Through virtual walkthroughs and other parallel programming such as guided tours, talks and debates, Art Basel looks at the greatest pioneers of the 20th and 21stcentury; leading lights of their own eras and movements. Arte Povera, Korean modernism, Parisian avant-garde and beyond, exhibitors present tightly curated solo or group exhibitions, showing up to eight works at a time.
Here are our favourite works from Art Basel OVR: Pioneers 2021.
Jac Leirner at Fortes D'Aloia & Gabriel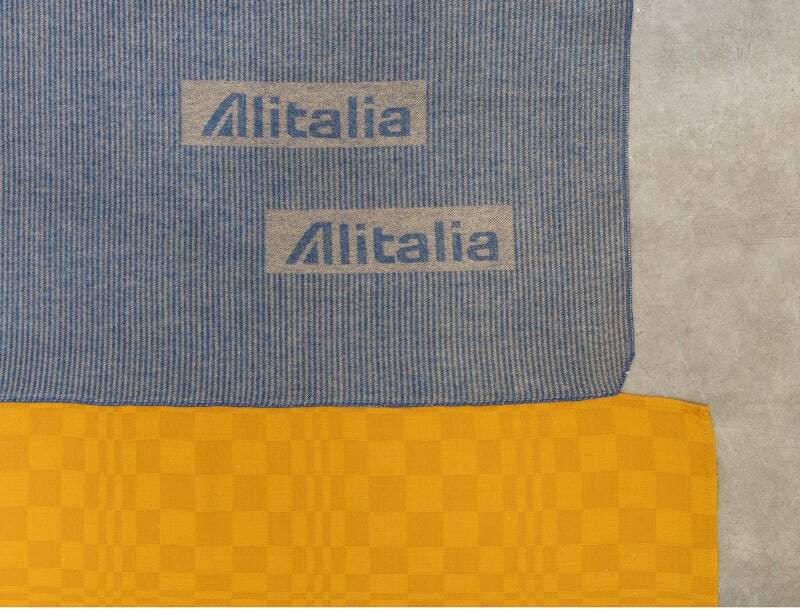 The faded logo of Alitalia airlines provides an ironic sense of nostalgia as we indulge in the dream of an Italian getaway this spring. Brazilian artist Jac Leirner is best known for her installations and sculptures that she creates from everyday objects, such as bank notes, cigarettes, shopping bags and, in this case, airplane blankets. Living and working in São Paulo, she was the first Latin-American artist to be awarded the 25th Museum Ludwig's Wolfgang Hahn Prize in 2019.
Over the span of her artistic career to date, Leirner has crafted a unique, ordered post-minimalist aesthetic which prompts the viewer to expand on their understanding of installation work, and to question the value of artistic production in our consumerist society. In an exploration of what she calls 'the infinity of materials', the artist carefully arranges a selection of worn out blankets into minimalist patterns, intended to change how the viewer understands them and their role in the world.
Alighiero Boetti at Ben Brown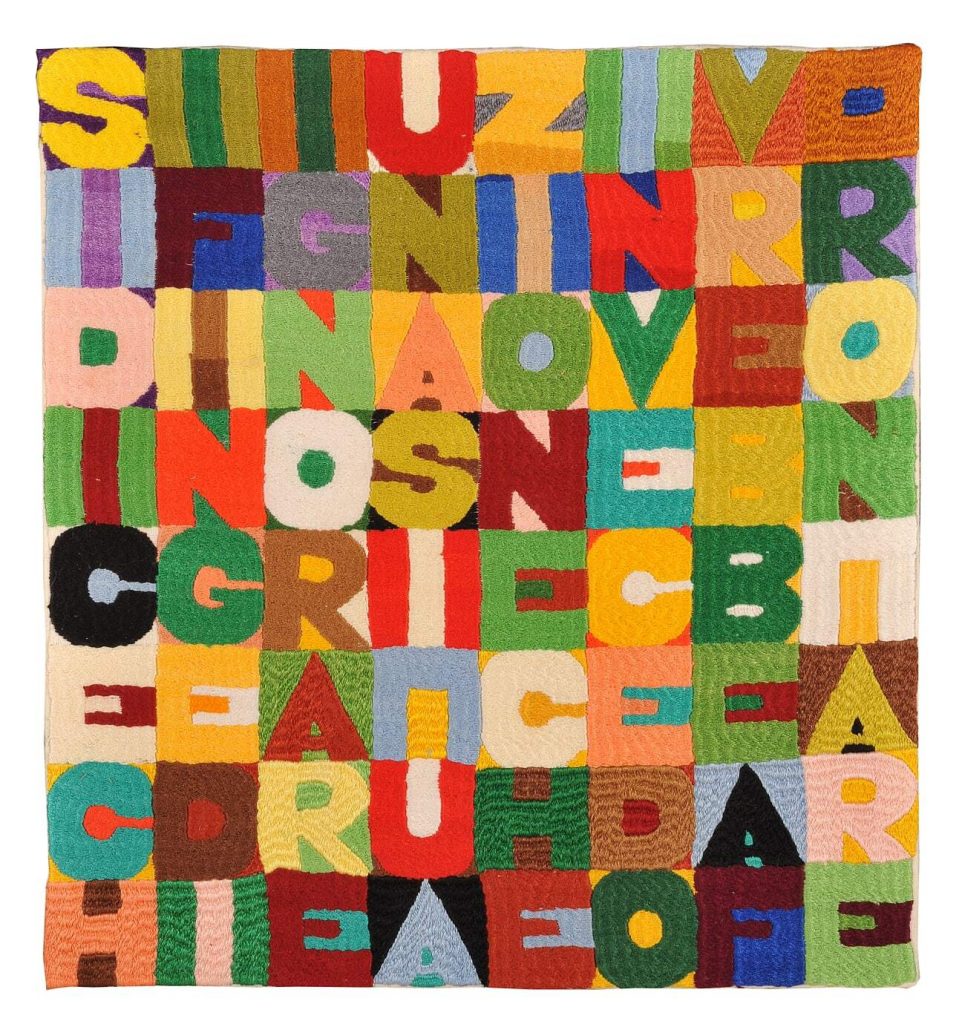 Italian conceptual artist Alighiero Boetti is best known for his embroidered tapestries – Arazzi, Mappe and Tutto – enchanting collaborations that express the many concepts he explored during his life, from pictorial language and wordplay, to chance elements achieved through the collective process. The artist became fascinated with the cultural landscape of Afghanistan during his travels in 1971, commissioning mosaic-like word grids and geopolitical maps to be embroidered by local craftswomen. Boetti would provide the outline for these works, leaving the colours and other chance additions to the embroiderers.

Made up of vivid letters embroidered in coloured grids, this tapestry highlights his devotion for games and wordplay. The letters can be read to reveal short phrases in Italian, in this case Si Dice chi Finge di Ignorare una Situazione che Invece Dovrebbe Affrontare. The artist's employment of language is both playful and cerebral; exposing dualities, oppositional forces and hidden meanings in every aspect of his work.
Roman Ondak at gb agency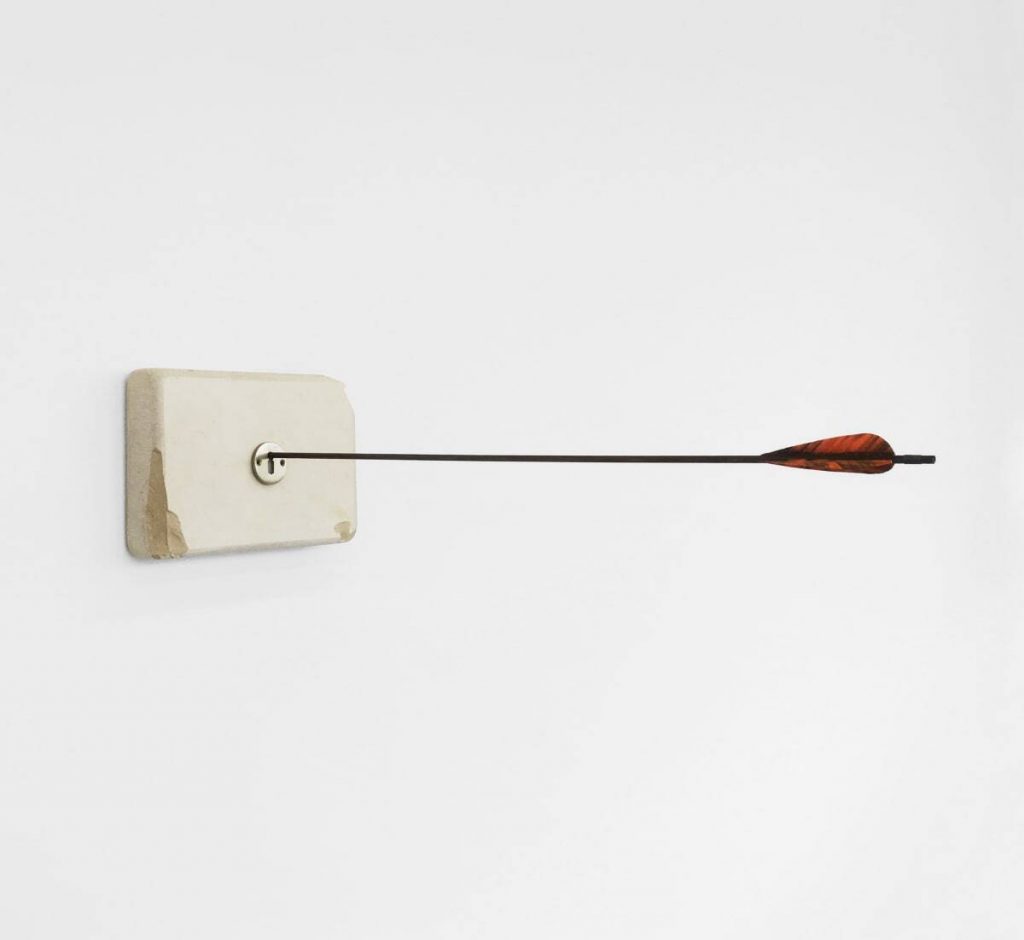 Slovak conceptual artist Roman Ondak plays with ideas of relocation, representation, and the duplication of experience, shifting and sharpening the viewer's attention to everyday life. Raised under the communist regime of former Czechoslovakia, the artist became alert to the systems that ordered this society. Questioning the failure of the communist structure in his work, Ondak explores the potential for different orders—new patterns of behavior and alternative social and political possibilities.
His work, like Keyword, is often quite subtle, permeating the viewer's surroundings in quiet ways to suggest a reconsideration of reality. Applying an almost anthropological approach, he recombines aspects of the banal with sharp artistic wit, prompting us to challenge the rules of contemporary society through poetic alteration.
Hermann Nitsch at Galerie Krinzinger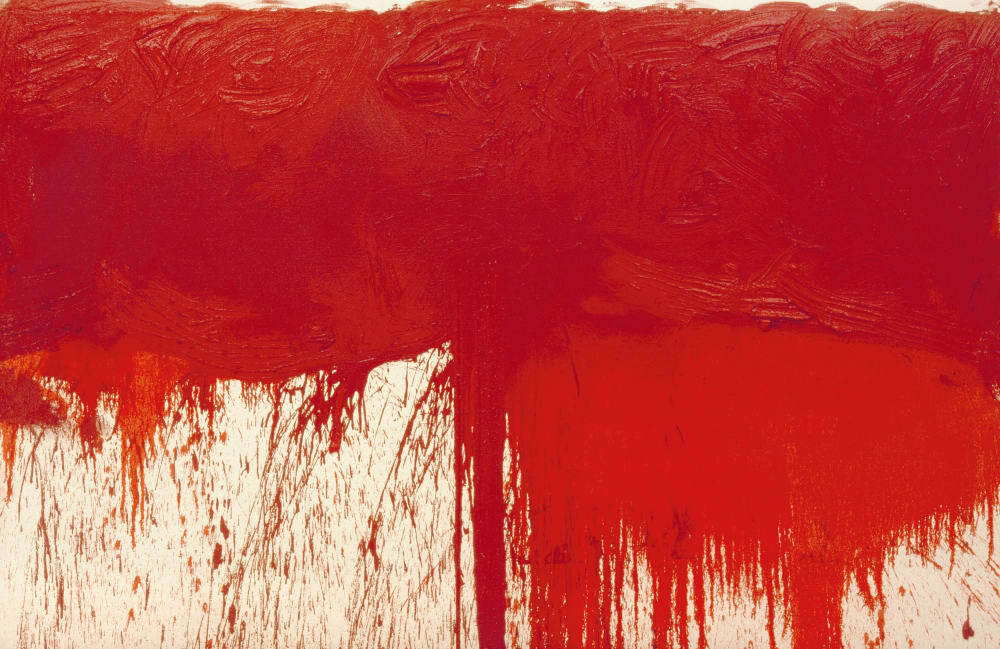 Austrian avant-garde artist Hermann Nitsch has worked with radically experimental and multimedia methods throughout his career. Hailed by many as the key founder of Viennese Actionism, he is regarded as one of the most versatile contemporary artists of the twentieth century. Shunning the confines of traditional painting, he reformed the face of art in the sixties, restructructuring it through corporeal and violent terms.
His colourful paintings, such as Schüttbild, surpass typical dimensions, conquering walls in an all-over manner. Splattering, spraying or smearing with his bare hands and feed, his blood red canvases draw parallels between religion and the ritualistic spiritualism of creativity. Heavily concerned with ancient philosophy and Christian theology, Nitsch's work seeks catharsis in pain and compassion, undertaking a rigorous pursuit for enlightenment through the embracement of primal instinct.
Sarah Sze at Tanya Bonakdar Gallery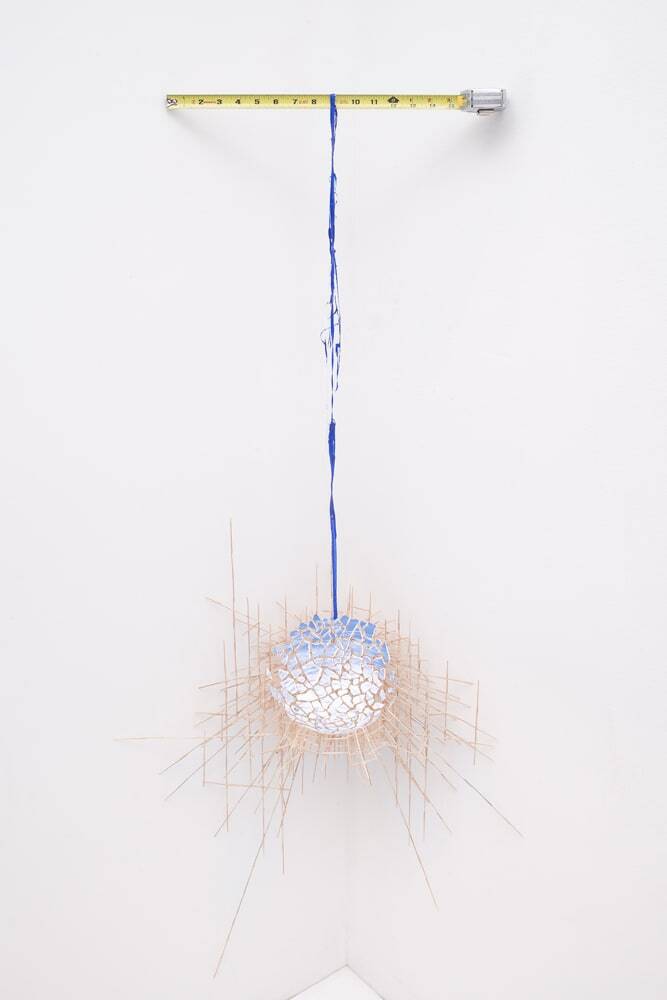 American artist Sarah Sze is best known for her sculpture and installation works which employ quotidian objects in the creation of multimedia landscapes. Her artistic approach leads us in an exploration of the role of technology, data and information in contemporary life. Her intricate us of familiar objects challenges traditional notions of sculpture, freeing it from its confines as finite shapes, geometries and content.
In this case, tape measures and toothpicks come together in a delicate balance which occupies the space between two and three dimensionality. Sze continues in her investigation of experimental mediums as Three Foot Drop combines digital print outs and strips of paint as sculptural material; ever pushing the boundaries beyond our expectations.
Jan Dibbets at Konrad Fischer Galerie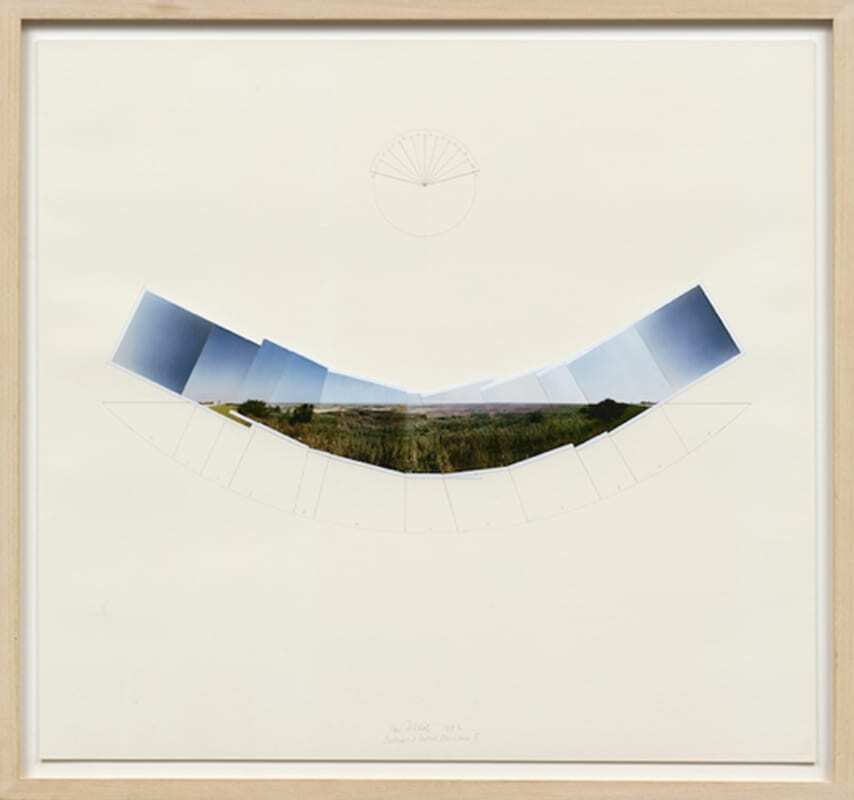 Dutch artist Jan Dibbets implements the technique of photo collage in the production of works heavily influenced by geometric and mathematical forms. His novel approach, which shifts towards a more conceptual style, signals a fundamental turn in the history of photography; parallel to developments in Minimal and Conceptual Art.
During the early 19070s, Dibbets focused on the issues of perception and optical illusion in his work. This is apparent here in Collapsed Dutch mountain – land, where coloured landscape photographs are placed in a geometrical composition, the artist explores the inconsistencies in our conception of reality and its construction in the field of contemporary photography.
Trevor Paglen at Altman Siegel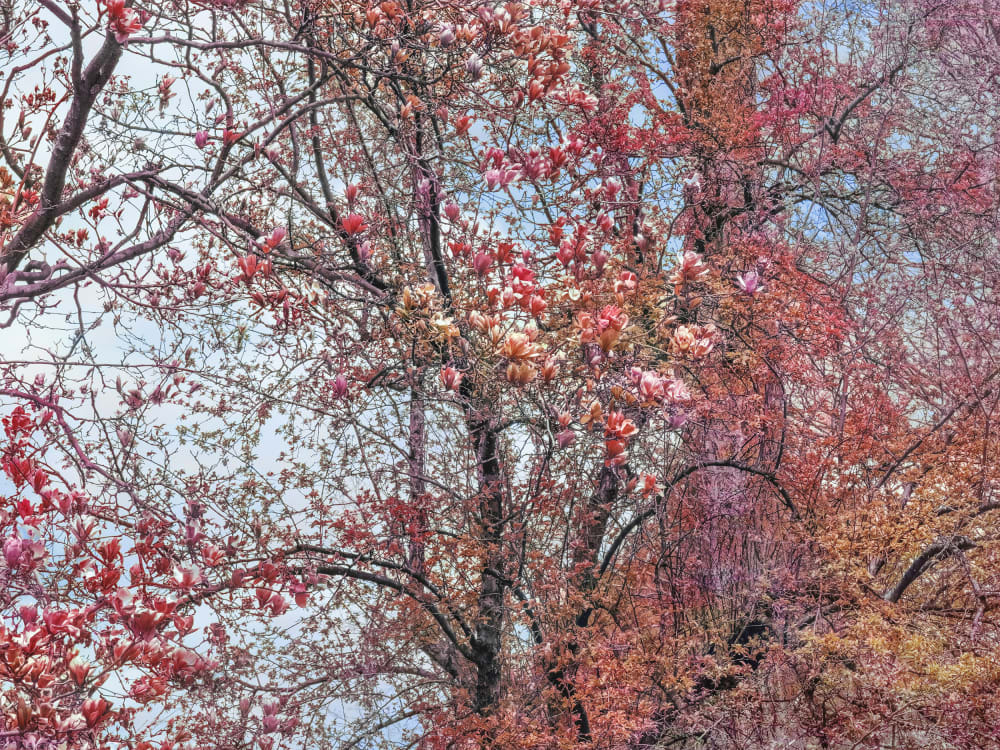 American artist Trevor Paglen presents us with the rosy bloom of spring through the eyes of Artificial Intelligence. In other words, an AI system is looking for the "deep saliency" in the image, attempting to determine the different parts; from shapes and objects, to textures and tones.
Demonstrating the advanced progress in the history of image-making, Paglen's vibrant colours represent the different self-similar regions that the AI detects. The colours are arbitrary – they don't represent reality so much as what the AI thinks the various parts of the image are. Bloom (#957c7e) offers a glimpse into the artist's provocative oeuvre, which lends itself to occupations at the intersection of photography, artificial intelligence and mass surveillance.
Joseph Kosuth at Lia Rumma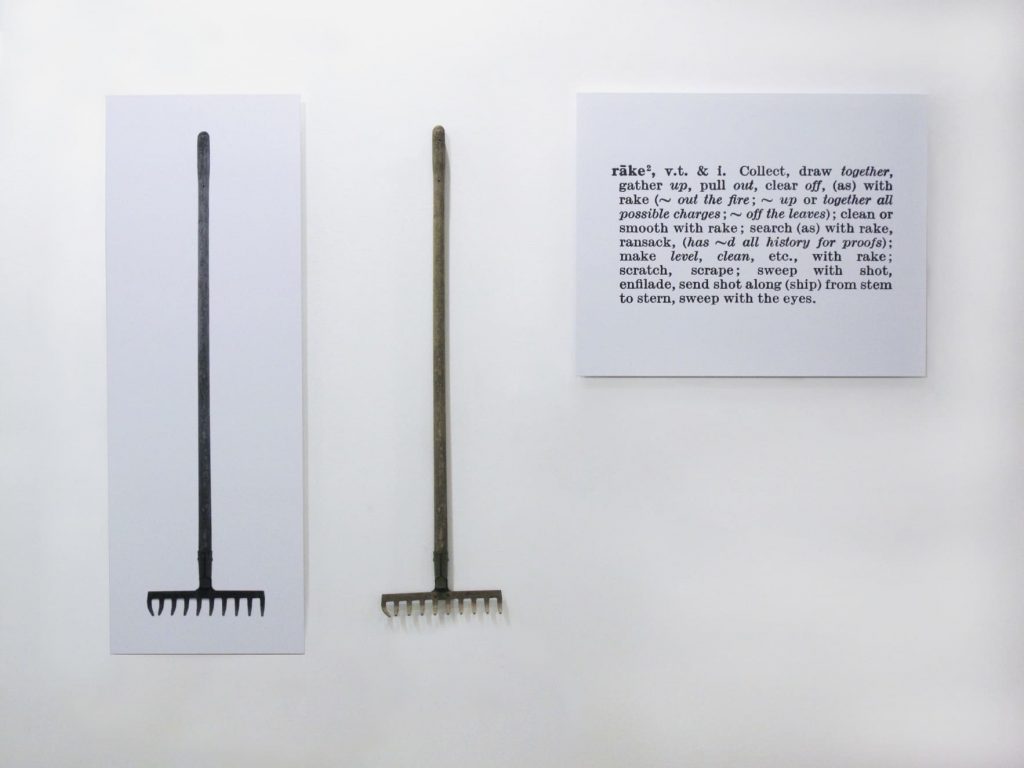 One of the most recognised figures of Conceptual art, American artist Joseph Kosuth is best known for his language based works and appropriation strategies during the 1960s. For over forty years, Kosuth has meticulously explored the role of words and their artistic interpretations. His signature style looks at the relation of language to art, from installations and exhibitions, to publications throughout the world.
As part of the iconic, innovative One and Three series, along with One and Three Chairs and One and Three Mirrors, One and Three Rakes is composed of a rake, a photograph of the rake, and a definition taken from a dictionary describing the term "rake" in all its various meanings, is one of his greatest innovations. By assembling an object alongside a photograph of that object and an enlarged definition of the object, Kosuth presents the viewer with the complexities of our linguistic system, albeit through an ironically simplified construction.
Sol LeWitt at Konrad Fischer Galerie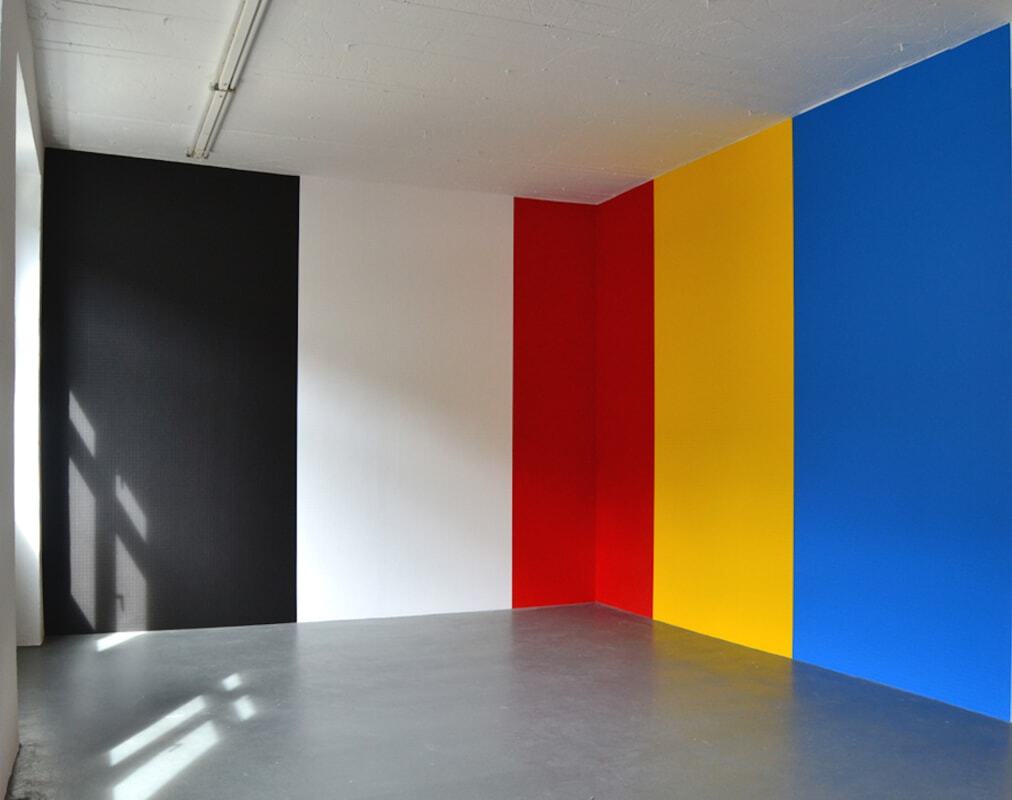 Sol LeWitt became internationally recognised in the late 1960s with his wall drawings, but experimented with a wide range of media throughout his career. By using repetition and basic three-dimensional geometrical shapes, his work's principal aim lies in the eradication of the inevitable illusionism of the painted surface.
A leading proponent of Minimalist, and one of the founding fathers of Conceptual Art, LeWitt developed his wall drawings as a means of working with the flat surface while avoiding the complications of traditional painting. Abandoning the physical support that usually lies between the exhibition wall and the works of art themselves, the artist places them in a new space; entirely their own. Wall Drawing #322 therefore serves as a model example of how he would escape the illusionism and expressiveness of traditional canvas painting, challenging the importance of authorship by leaving the comprehension of the work to each individual viewer.
Giulio Paolini at Tucci Russo Studio per l'Arte Contemporanea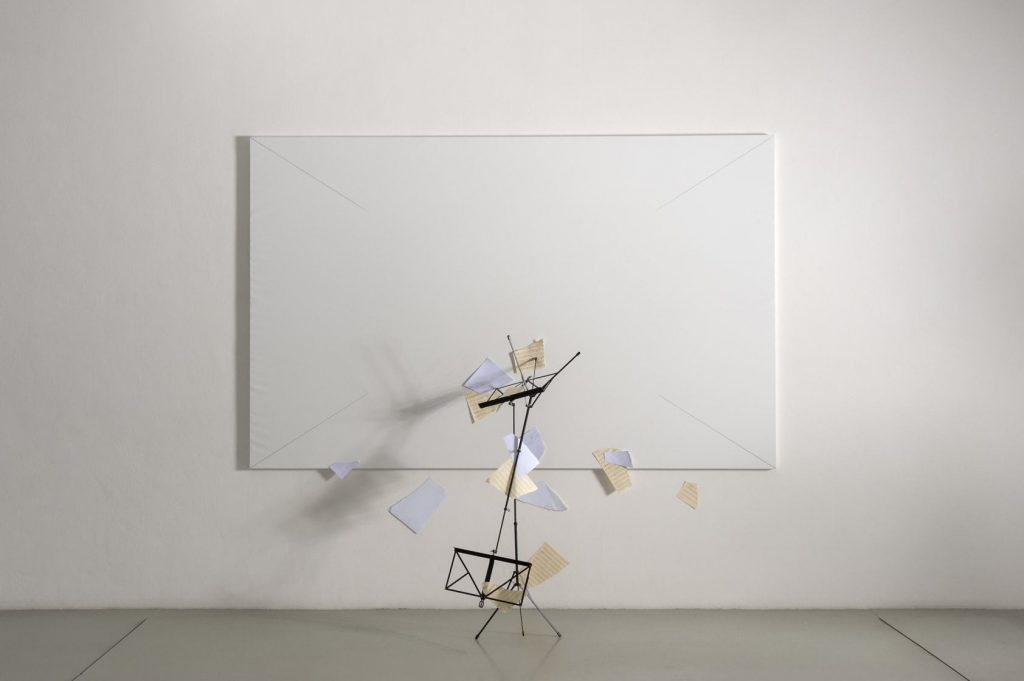 Initially associated with Arte Povera and Conceptual Art, Italian artist Giulio Paolini began his career in 1960 and came to prominence in the late 1960s as part of a generation of pioneering Italian artists including Michelangelo Pistoletto, Alighiero Boetti, Gino de Dominicis and Vettor Pisani. Sottosopra (Upside down), consists of two music stands, one upright, the other overturned. Placed in front of a large blank canvas, the feet of the overturned stand rest upon the canvas.
Two handwritten texts, one on a white sheet and the other on music paper, are torn apart into several pieces, some of which are held between the two stands, and others scattered on the canvas and the wall below. Four light, diagonal lines indicated at the four corners are penciled upon the canvas, providing a subtle yet satisfying geometry as a counterpart to the disorder of the scene before it.
From historical works that pushed the boundaries of early twentieth century painting, to artists operating at the forefront of socio-political issues and contemporary innovators working in new media and technology, this edition of Art Basel OVR brings together many exceptional artworks highlighting some of the fundamental turning points in contemporary art.