Getting Ready for the 2nd Edition of 1-54 Marrakech
The 54 countries of Africa are joining together once again at the luxury hotel La Mamounia for the second edition of 1-54 Marrakech. With 18 international galleries and over 64 emerging and established artists, 1-54 is back in town for an exciting program of events in collaboration with local institutions across the city. Iterations of the fair are held in Marrakech, London (in October) and New York (in May) every year. The Marrakech edition will have an invite-only preview from February 21 – 22 and will open to the general public from Feb 23 – 24.
At the helm of the 1-54 franchise is Touria El Glaoui, who founded it in 2013 with the intention to help grow the market for contemporary African art while giving visibility to artists from the continent. Touria was born and raised in Morocco. He grew up in an artistic household thanks to her father, the well-known Moroccan artist Hassan El Glaoui. While also working as  a wealth management consultant, she organised and co-curated some of his major exhibitions around the world, including Meetings in Marrakech at Leighton House in London (2012).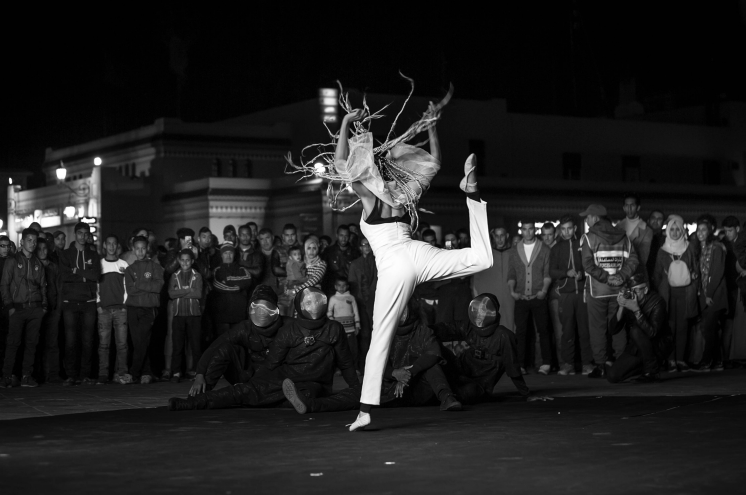 The participants

This year, seven African galleries will take part in 1-54: Galerie Cécile Fakhoury (Abidjan, Côte d'Ivoire / Dakar, Senegal), Goodman Gallery (Johannesburg and Cape Town, South Africa), L'Atelier 21 (Casablanca, Morocco), Loft Art Gallery (Casablanca), LouiSimone Guirandou Gallery (Abidjan, Côte d'Ivoire), Retro Africa (Abuja, Nigeria), and Siniya28 (Marrakech).

First time participants include: Galerie Poggi (Paris, France) In Situ – Fabienne Leclerc (Paris, France) and Siniya28 Gallery (Marrakech).

The fair has become increasingly international in scope, signposting the pervasive global influence of contemporary African art. In fact, galleries from Italy, Belgium, Germany, Denmark, the UK, France and New York are participating.

At the same time the fair includes a number of local Moroccan artists such as Mounir Fatmi, Mahi Binebine, Hicham Benohoud, Hassan Darsi, Safâa Erruas, Najia Mehadji, Fatiha Zemmouri, Ghizlane Sahli and Yassine Balbzioui.


Special projects, exhibitions and parallel events

Marrakech will come to life during 1-54 with a number of exciting events taking place throughout the city. Musée Yves Saint Laurent will host the first exhibition of the renowned American artist Brice Marden in Marrakech, bringing more than 60 works to a city that has always inspired him.

The novel site-specific installation by the Moroccan artist Amine El Gotaibi Perspective de Séduction displayed across Dar Moulay Ali's patio is another noteworthy special project. This new exhibition, commissioned by l'Institut Français de Marrakech, aims to interrogate the relationship between man/power and man/animal.
Nigerian artist Emeka Ogbob will occupy DADA with an exciting installation combining live and recorded sound composition in a new exhibition space devoted to contemporary art. The artist's interest in the history and infrastructures of cities led her to this project that scrutinizes the way in which soundscapes in an urban environment are affected by notions of neo-liberalism, globalisation and global immigration.

Montresso* Art Foundation, an art space and residency, will present a program entitled IN-DISCIPLINE #2 that focuses on the works of five artists from Côte d'Ivoire: Armand Boua, Gopal Dagnogo, Pascal Konan, Joachim Silué et Yeanzi.

Places for cultural exchange and dialogue such as Le Centre Culturel Le 18, Riad Yima will open its doors to the visitors during the weekend of the fair while galleries like Tindouf Marrakech will showcase works from the well-known photographer Lalla Essaydi in her show Beyond the Gaze.

The fair's programme of talks and panel discussions, 1-54 FORUM, will also be held at La Mamounia. This year's FORUM entitled Let's Play Something Let's Play Anything Let's Play*, is curated by the art historian and curator Karima Boudou, with the support of FORUM curatorial assistant Olivia Peterson.

As a first-time attendee to 1-54, I could not be more excited about the fair and its accompanying programme that goes from strength to strength, year after year.

If you will be in attendance and interested in meeting at the fair do not hesitate to reach out to office@artvisor.com

Next editions

1-54 New York
Industria, 3-5 May 2019

1-54 London
Somerset House, 3-6 October 2019