Review of William Kentridge at the Royal Academy, London
One of the Royal Academy's most impressive exhibitions in recent years, William Kentridge is a testament to his standing as one of the most important artists of our time. Throughout the show, the artist's versatility, breadth and insightful approach to every medium he works with shine through. More than six years in the making, this is Kentridge's largest exhibition in the UK. It continues a chronology of monumental single-artist retrospectives that the RA has held over the past few years, including those of Antony Gormley and Anselm Kiefer. It also coincides with the 35-year survey William Kentridge: In Praise of Shadows currently being held at the Broad in Los Angeles.
The exhibition draws out the artist's political acumen, or rather, his capacity to deftly handle political themes without being too heavy-handed or pedantic. This is in part indebted to his biography. Before pursuing a career in art, he studied political science and African studies. Sydney Kentridge, his father, defended Nelson Mandela as a lawyer when he was tried for treason in 1956. It is also owed to his way of handling material and subject matter in a way that brings attention to history – slave ships, agitprop-style graphic design, newspapers and books from yesteryear – without becoming journalistic. His work is inspired by and perpetuated through philosophy, opera, and film. This exhibition is an interrogation of both his artistic practice and his personal journey that, since the 1980s, has propelled him to the upper echelons of the global art scene.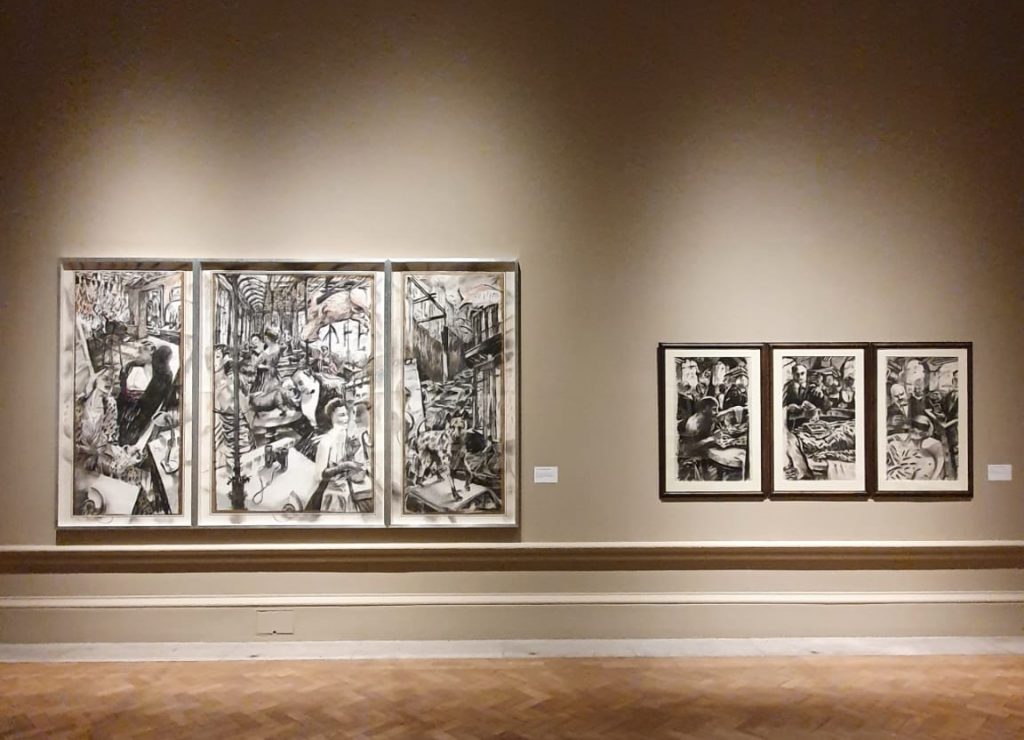 The exhibition opens by presenting early drawings which have the characteristic charcoal touch that's apparent throughout much of the show in one form or another. They harken back to themes and iconographies from the New Objectivity while referencing the harsh realities of South Africa under apartheid. Throughout the show, as it spans the entire career of the artist, we see an introspective look into life in South Africa moving from apartheid to its aftereffects – the deeply wounded society that ensued.
In the middle sections of the exhibition, these themes are manifested through Kentridge's filmic repertoire. Many of the moving image works are also centred around charcoal drawings and the act of making them. Characters are erased, redrawn, and photographed sequentially to convey a palimpsestic movement where the original traces of where they were are always left behind. Extending beyond the act of showing projections, Kentridge demonstrates an ability to integrate and contextualise his films; Ubu Tells the Truth (1997) is displayed alongside a site-specific wall mural, the most recent work made for the exhibition, and a body of related etchings that serve as studies as well as complete works in their own right.
Black Box / Chambre Noire (2005) is another standout installation which tells the story of the German military suppression of the Herrero and Nama peoples in what is now Namibia, with colonialism described through automatons participating in a mechanical theatre of war and reconciliation. As well as being technically sophisticated, it also shows Kentridge's deep understanding of how to develop operatic experiences. Indeed, the exhibition concludes with a monumental room dedicated to Waiting for the Sibyl, an opera written by Kentridge with music by Nhlanhla Mahlangu and Kyle Shepherd. The room contains props and set design elements that almost give the observer the impression of being part of the opera themselves.
Gallery Six, simply titled "Studio" is also worthy of mention. It does not replicate the artist's atelier in Johannesburg where the majority of Kentridge's practice stems from, but it shows the starting point for the variety of different works on display throughout the exhibition. This includes everything from maquettes, to sketches, sculptures, to stereoscopic viewing machines. It forms a capsule of the overall exhibition, developing our understanding of Kentridges' motifs and themes.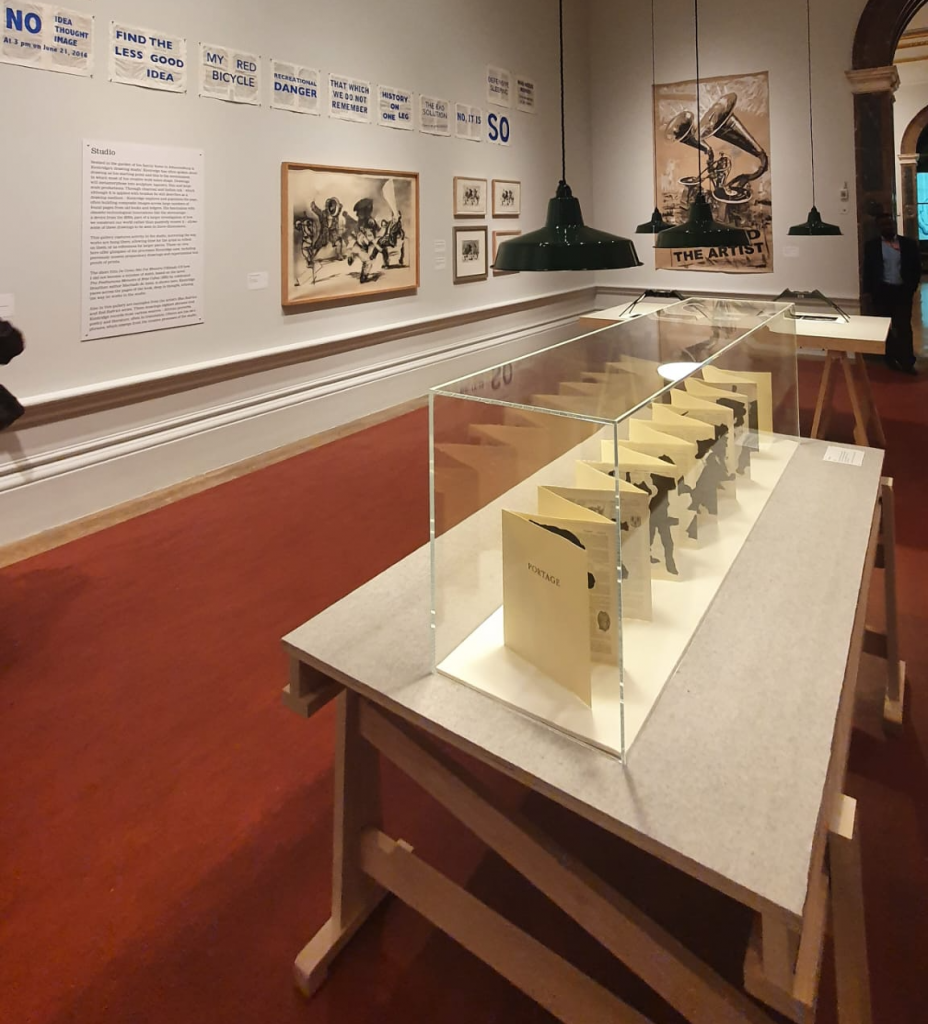 William Kentridge at the Royal Academy is certainly worth a visit, or multiple ones. What he is able to achieve not just with drawings but also through tapestry, film, and opera, puts the work of many other artists who are in the limelight today into perspective. More than just a retrospective, it celebrates art's ability to encourage political thinking, question oppression, and scrutinise certain aspects of Western culture. Unconstrained by media-specificity, Kentridge is a master storyteller who weaves narratives across the decades without ever losing sight of the central themes that permeate his practice.
In its final weeks, William Kentridge at the Royal Academy will remain on display until 11 December 2022.
Contact us for more information on William Kentridge and his work.