Nicole Coson: Exoskeleton at Silverlens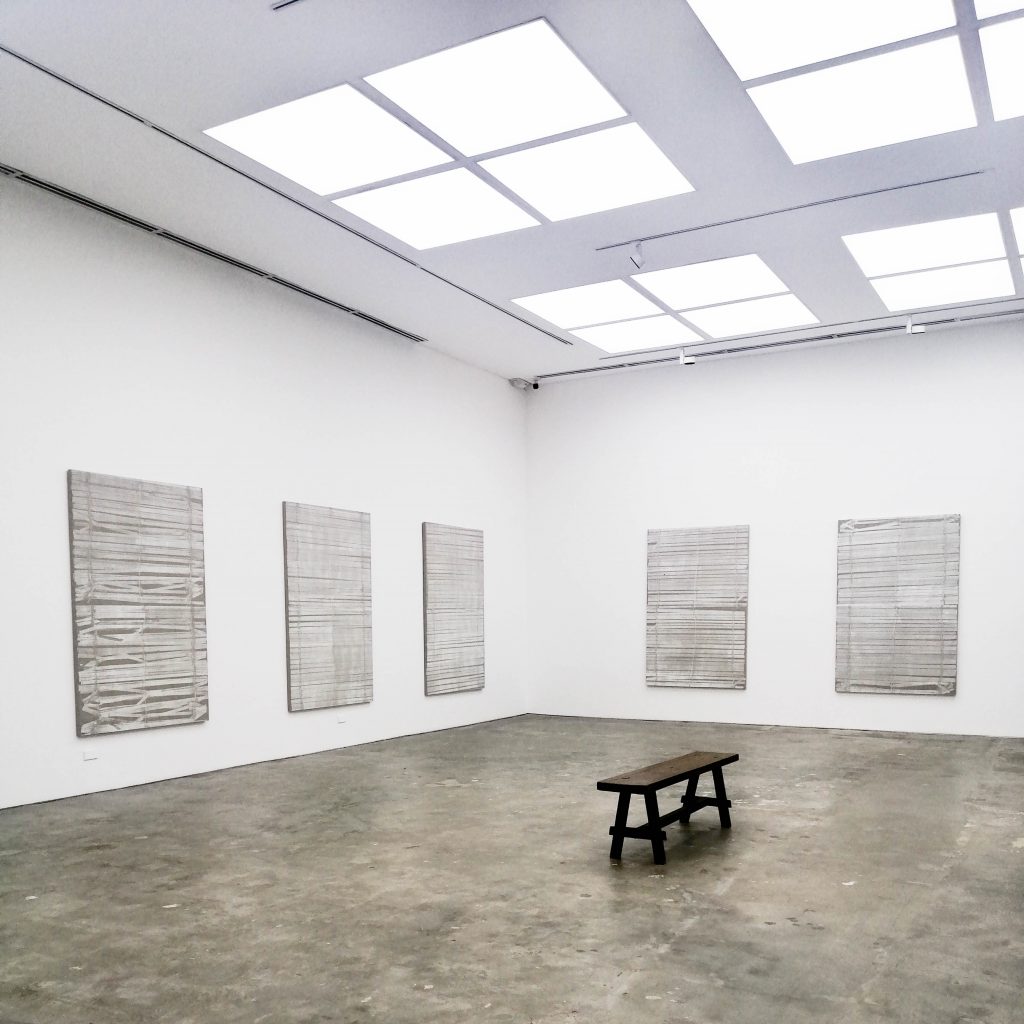 Nicole Coson's series of large-scale monotype prints draw out a meditative mood as one enters "Exoskeleton", her recent solo exhibition at Silverlens Galleries in Manila. With its context centred on the pandemic induced lockdown in the United Kingdom where she now lives, Coson examines domestic spaces as a primary stronghold against the virus, mainly focusing on the similarities between window blinds and external skeletons of animals. Both act as layers of protection between the body and the outside world. These contemplations are materialised through the rigorous and repeated process of dabbing paint variations onto horizontal slats as they are placed under the heavy pressure of a cylindrical etching press. The images are then transferred onto the canvas as distinct monochromatic marks, which chronicle the tension, rigidity, and stress of the blinds until these eventually break apart.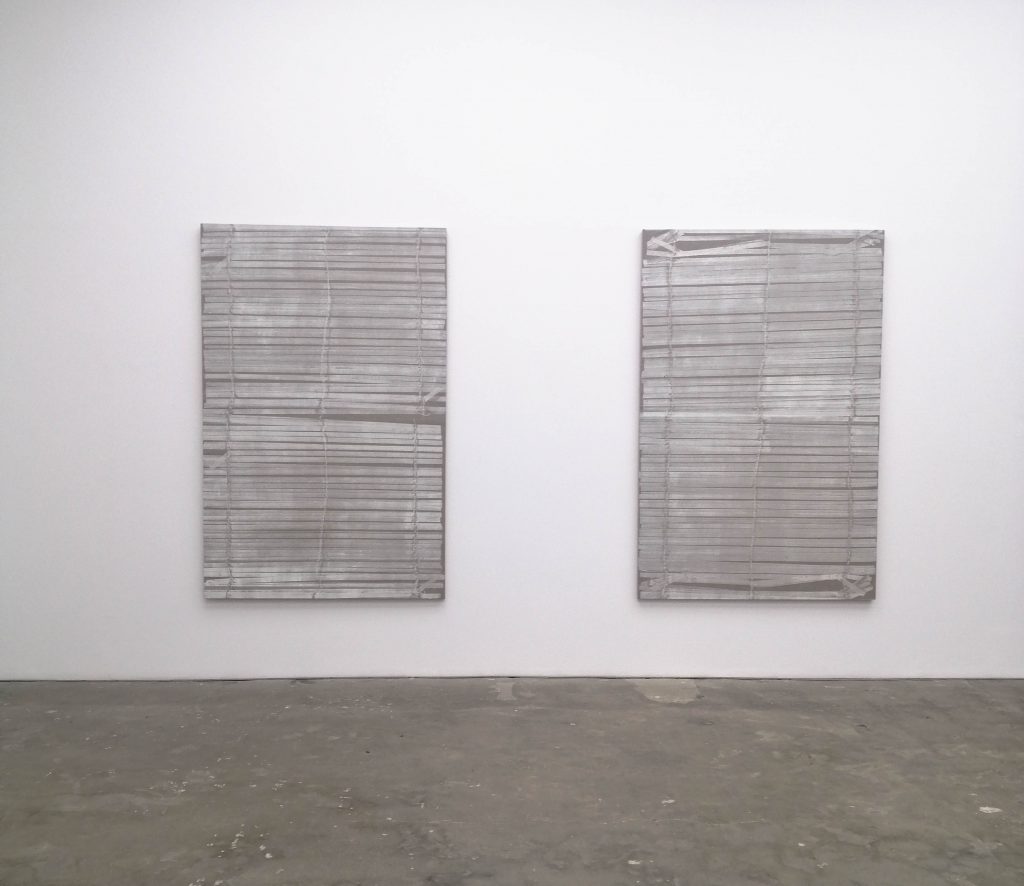 There's an urge to look into and peek through the gaps of the blinds in every canvas. However, one quickly discovers the truth. As the exhibition essay explains and with a quote from Gertrude Stein, "Paint reveals cloth which reveals nothing ultimately: there is no there there"; part of Coson's practice is the affinity towards concealment and the negotiating terms of visibility. The idea of a household furnishing mediating our right to privacy is ingenious and clever.  With the virus presenting itself as another form of invasion causing disruptions to our selected routines, the urgency to find a similar mode of defence to what Coson's "Exoskeleton" represents becomes direr.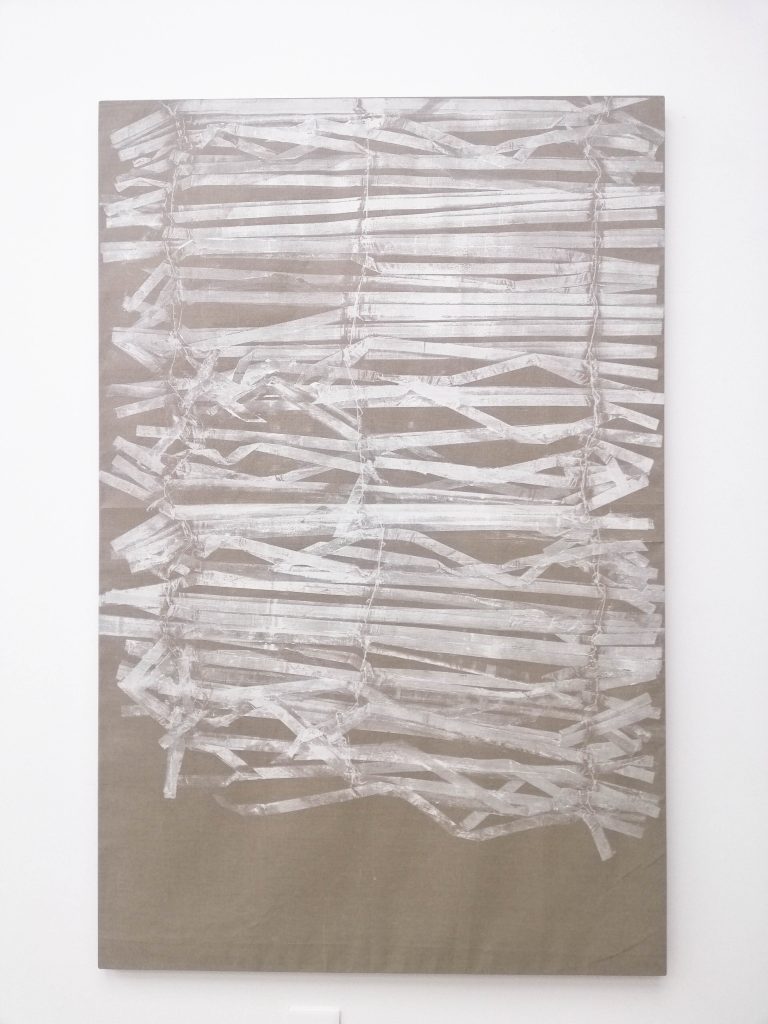 Coson deliberately uses and reuses materials in her art-making until they are at the point of breaking. This process is apparent in this exhibition: shifts and movements would emerge in the pattern as slight disturbances that increasingly become more aggressive as one reaches the end of the gallery. We could see this as a precursor to how our vulnerable bodies will hold in the future: broken and undeterred.
Nicole Coson (b. 1992, Manila) is a London-based Filipino artist whose works attempt to connect the viewer with something simultaneously familiar and alien. She employs painting and printmaking in equal measure, often using a cylindrical printing press. Coson graduated with a BA in Fine Art from Central Saint Martins with a first degree honours in 2014 and received her MFA from the Royal College of Art in 2020. She was nominated for the Saatchi New Sensations Award and selected for Bloomberg New Contemporaries 2020. Coson was also featured in Saatchi Gallery's London Grads Now exhibition last year.