Michelangelo Pistoletto at Lévy Gorvy
A major exhibition of works by the renowned Italian artist Michelangelo Pistoletto is currently on view at the Lévy Gorvy gallery in New York. Organised in collaboration with Galleria Continua, the show occupies three floors of the building and will run until the 9th of January.
A row of works that uses the artist's signature material, mirrors, is installed on the first floor. The ensemble is reminiscent of Pistoletto's retrospective at the 57th Venice Biennale, where the dramatisation of contrasts between the past and the present is manifested. One of the works, Viceversa (2017), is a sculpture comprised of a wooden easel, a gilded wood frame, and a flat orange surface that reveals a mirror on its rear. Its first iteration in 1971 included a frame sourced from the Turin studio of his father who was a painter and an art restorer. Viceversa is often regarded as Pistolleto's contemplation of his relationship with his father and the medium of painting.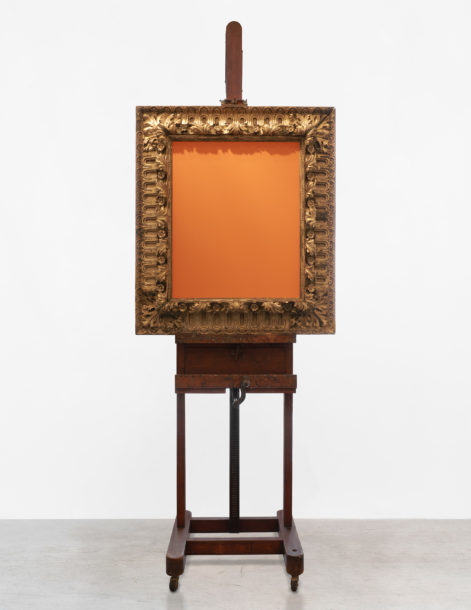 At the gallery's second floor, a large structure built with the letters "THE FREE SPACE" is from a work first conceived in 1976, Spazio Libero. However, the presented installation is informed by a project in 1999 when Pistoletto worked with prisoners from the San Vittore prison in Milan and concluded with a structure that symbolises a mental space while inside a place deprived of liberty. Pistoletto argues that the truest form of freedom is found in the concept of freedom of thought —an internal possession that cannot be taken away.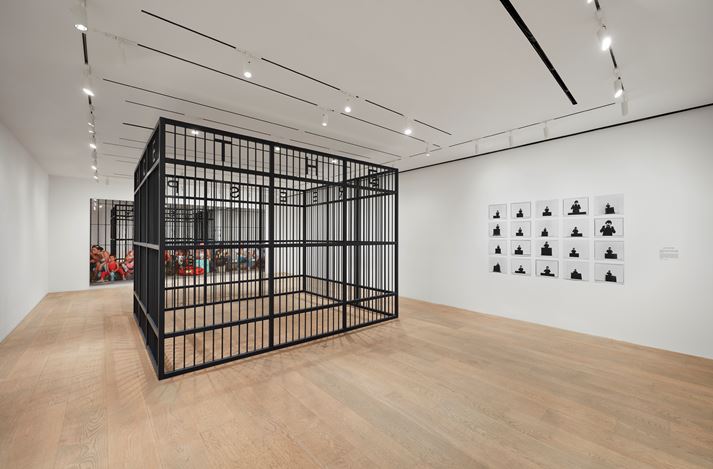 Next to it is La Conferenza (1975), which comprises twenty-one photographs that illustrate authoritarianism according to the artist. In this work, a group of people was gathered and provided with a camera. The audience photographed the speaker and vice versa. This resulted in twenty photographs of the same person, the lecturer, and only one photograph of the group from the speaker's camera. Pistoletto explains that this is how authoritarian power feels like: the one in control becomes the centre of all.
Much of the works presented highlight themes that the artist continues to explore spanning six decades of his career. The exhibition's top floor is dedicated to a labyrinth-like installation, Porte Uffizi (1994–2020). Open-timber architectural structures are built with the words Economy, Science, and Spirituality. They stand as portals where everyone has their keys and should assume responsibilities within their communities and the environment. This thinking relates to Pistolleto's initiatives at Cittadellarte – Fondazione Pistoletto, an old wool mill in his hometown. It was converted to become a place of experimentation where people can engage and experience art more directly and inwardly. The place is mainly funded by sales from Pistoletto's works and acts as a hub for many artists in their research while in a location that sets a balance between artifice and nature.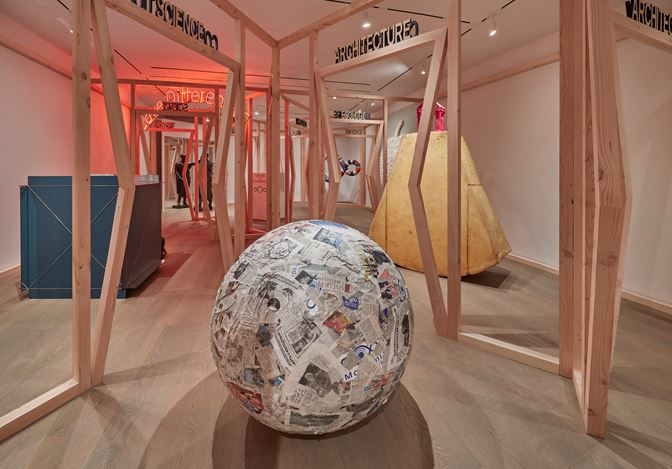 Michelangelo Pistolleto was born in 1933 in Biella, Italy, and has participated in four editions of Documenta in Kassel, Germany and in thirteen editions of the Venice Biennale where he was awarded the Golden Lion for Lifetime Achievement in 2003. He was one of the Arte Povera movement's key figures alongside Giovanni Anselmo, Alighiero Boetti, Enrico Castellani, Pier Paolo Calzolari, Luciano Fabro, Jannis Kounellis, Mario Merz, Marisa Merz, Giulio Paolini, Pino Pascali, Giuseppe Penone, Emilio Prini, and Gilberto Zorio. The movement pioneered the radical use of inexpensive materials found in everyday life and challenged the art world's traditional production and market systems.