Gian Maria Tosatti at Pirelli HangarBicocca and CIAC Foligno
The artist who represented Italy at the last Venice Biennale currently has two major exhibitions in Italy open through July 2023: NOw/here at Pirelli HangarBicocca in Milan and Spazio #09 – Mi Ricordo at Centro Italiano Arte Contemporanea in Foligno.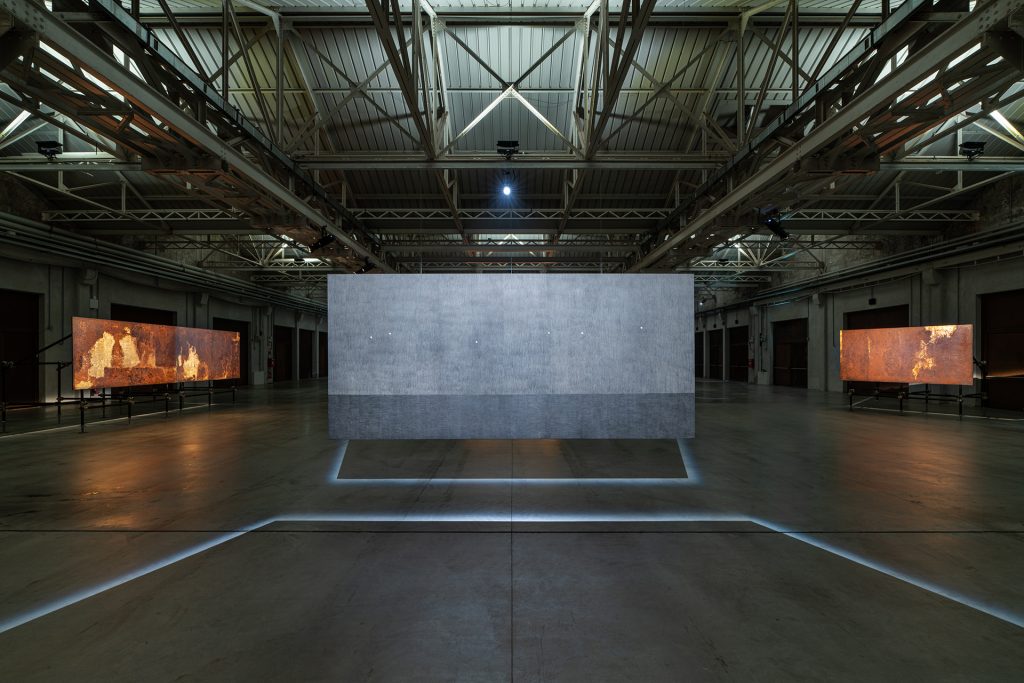 Installation view of Gian Maria Tosatti, NOw/here (2023), Courtesy of HangarBicocca.
NOw/here at Pierelli Hangar Bicocca in Milan is curated by Vicente Todolí and features the latest large-scale works by Gian Maria Tosatti, produced in relation to the site's architecture. The space was once a Pirelli factory now converted into a contemporary art space in 2012. Tosatti's Portraits feature gold and rust paintings on iron panels, assembled and installed on tube and clamp structures. Meanwhile, the NOw/here series takes the form of ten large fields of graphite and white charcoal on canvas suspended from the ceiling. Riddled throughout are small white circles that direct the eye on a linear course. The ensemble induces interactions between contrasting situations.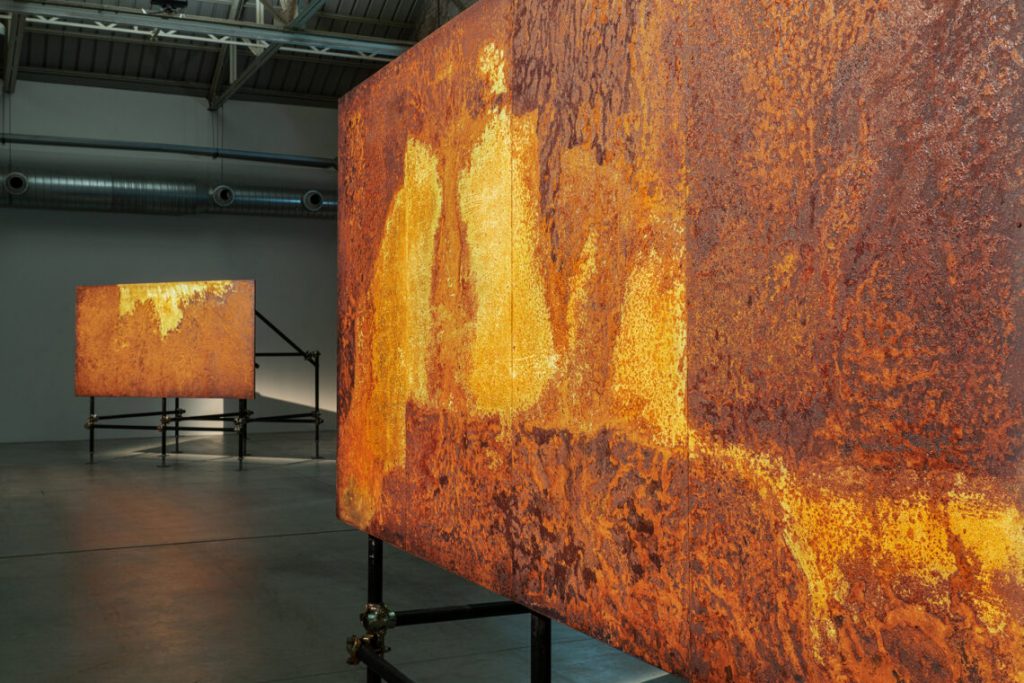 Installation view of Gian Maria Tosatti, NOw/here (2023), Courtesy of HangarBicocca.
Anchored in the artist's long-term research concerning the concept of identity from political and spiritual perspectives, this new body of work encapsulates recurring concepts seen in Tosatti's enquiries on the human condition and society's response when caught between periods of catastrophe and evolution. Thus, the works appear as mirrors that challenge and confront the viewers.
The exhibition surpasses the limits of an environmental installation. It remains closely tied to the architecture of the space yet establishes its own realm for perception, encounter, and interpretation of art as a means of transcendence, providing powerful social interactions for viewers.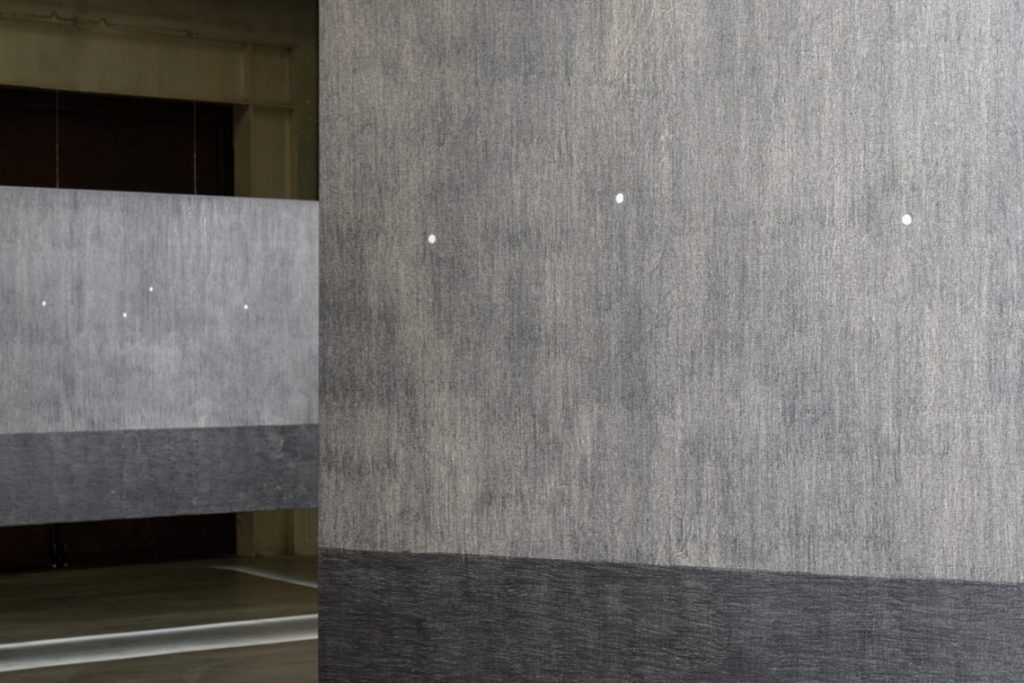 Installation view of Gian Maria Tosatti, NOw/here (2023), Courtesy of HangarBicocca.
Space #09 – I Remember is a single immaterial environmental intervention that fills with fog the spaces of the CIAC – Centro Italiano Arte Contemporanea, a contemporary art centre established in Umbria in 2009. The immersive space is disorienting and dotted with mysterious lights. These lights imply various personal interpretations that encourage the individual to reflect inwardly. This site-specific installation, curated by Italo Tomassoni, is comparable and connected to Tosatti's intervention at the 2022 Venice Biennale, of which the CIAC was a major donor.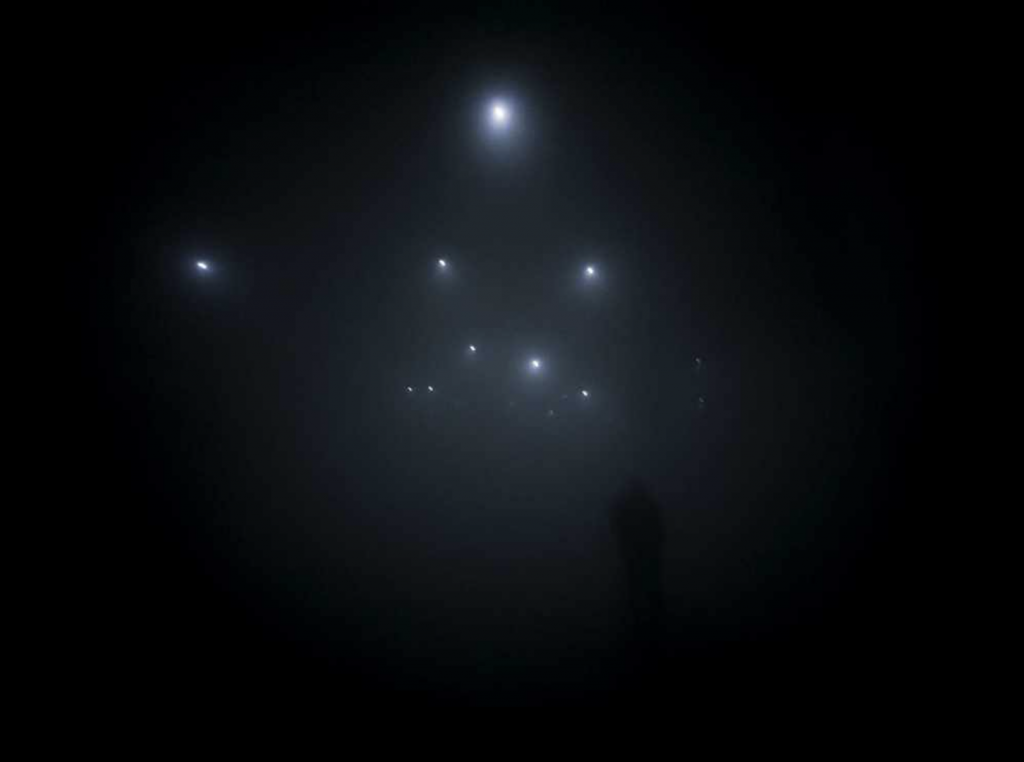 Installation view of Gian Maria Tosatti, Space #09 – I Remember, CIAC Foligno, photo by Anton Giulio Onofri
The title of the work is a reference to childhood, a time in life when the perception of physical and inner reality coincide and overlap, creating a poetic confusion. Art allows for a specific time and in a specific space – that is, the boundaries of a work – to experience the same rapture even in adulthood. The work is part of the project: The considerations on the intentions of my first communion remain a dead letter, a cycle of works that began in 2009 and follows the artist's path, collecting reflections on the relationship between humanity and its existential path.
Tosatti asserts, "This work can be a different experience for everyone and the possibility of an exit from the system in which each of us lives and a return to something greater that is within ourselves."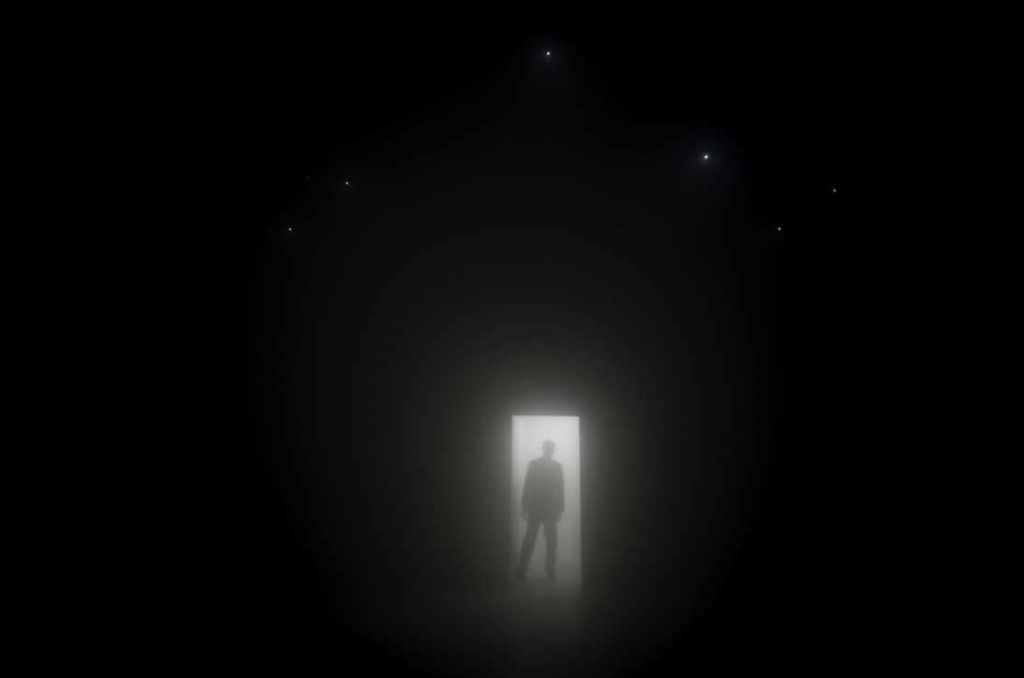 Installation view of Gian Maria Tosatti, Space #09 – I Remember, CIAC Foligno, photo by Anton Giulio Onofri.
Tosatti's oeuvre appears in cycles of production, between site-specific immersive environments and large-scale object-oriented works. A year after the artist's impressive installation for the 2022 Venice Biennale, Tosatti emerged with new paintings for NOw/here. The new body of work encapsulates the recurring themes explored in their research over the past two decades. Simultaneously, his work at CIAC evokes the same thematic experience of self-reflection in an immersive environment. The atmospheric installation is interactive and envelopes visitors within the mist, stimulating space for contemplation.
Another element to Tosatti's recurring theme is the incorporation of luminous white dots and glowing lights that serve as a visual connection through his recent works: History of the Night and Destiny of Comets from the Venice Biennale, NOw/here, and Space #09 – I Remember. They effectively punctuate the spaces, providing an element of intrigue and introspection for the viewers. In this regard, Tosatti's work invites the audience to delve into the complex interplay between history, time, and emotion. In his exploration, the artist challenges the interconnectedness of the mind, body, and soul.
About the Artist
Gian Maria Tosatti's works and site-specific installations have been presented internationally: Tarlabaşi district, Istanbul (2021); Kuyalnik Lake, Odessa (2020); A4 Arts Foundation, Cape Town (2019); Palazzo Biscari, Catania (2018); Museo Madre, Naples (2016); Castel Sant'Elmo, Naples; Museo Archeologico, Salerno; CCS Bard – Hessel Museum, New York (2014). In 2022, Tosatti represented Italy at the 59th Venice Biennale.
His works have also been included in major exhibitions such as Manifesta 12, Palermo (2018), or in group shows such as the exhibitions at the Italian Cultural Institute, New York (2019); Galleria Nazionale, Rome; Petah Tikva Museum of Art, Israel (2017); Fabbrica del Vapore, Milan; Museo Osvaldo Licini, Ascoli Piceno (2014); Mole Vanvitelliana, Ancona (2013); Lower Manhattan Cultural Council, New York (2011).
Tosatti was awarded the Frescobaldi Prize (2020), the New York Prize (2017), the Ettore Fico Foundation Prize (2016) and the Terna Prize (2008).
Gian Maria Tosatti is also a writer and journalist: he collaborates with several newspapers and has published a number of essays, including "Esperienza e realtà" (2021) and "New Men's Land: Storia e Destino della Jungle di Calais" (2017).