Exhibition Review of Ed Fornieles' 'Association Works' at Carlos Ishikawa Gallery, London
From 17th April to 22nd May 2021, Ed Fornieles' Associations is exhibiting at Carlos Ishikawa, 88 Mile End Road, London.
Born in England in 1983, the multimedia artist uses film, social media, sculpture, installation and performance to express the interaction of people and popular culture of the twenty-first century; often involving cultural, social, and infrastructural production in his work.
Produced by Malevich, and curated by its co-founder Svetlana Marich, Fornieles' latest series uses a process of free association to create chains of images through which patterns emerge, mutate and shift in quick sequences.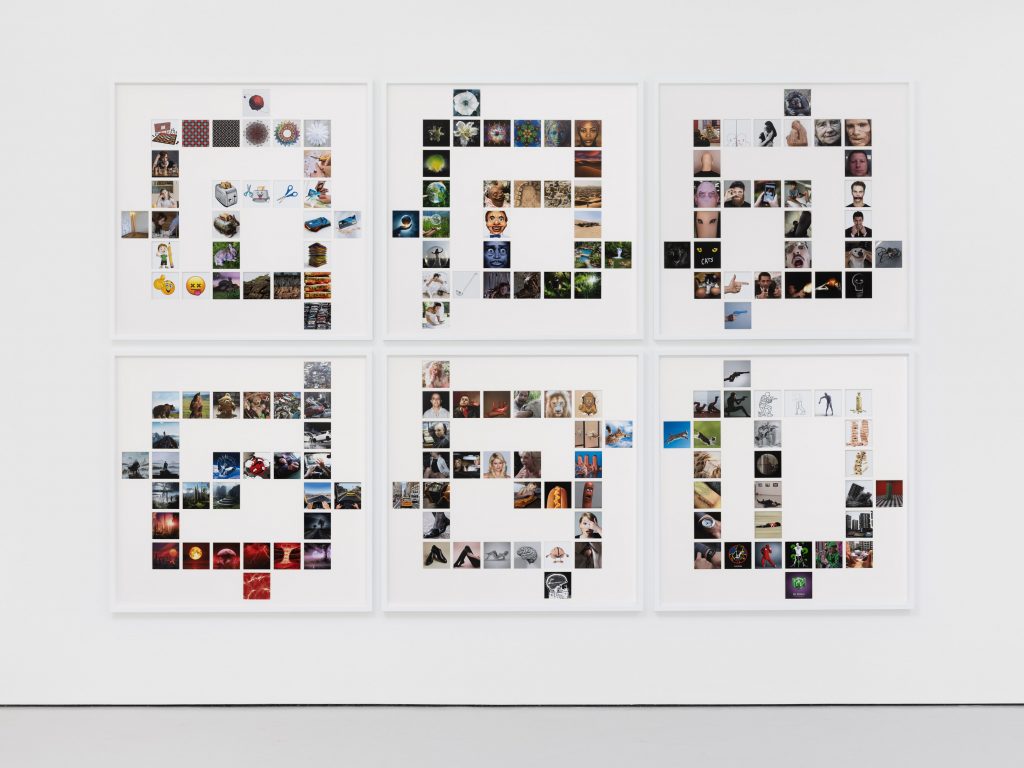 Personal and cultural themes become apparent as you move from image to image, guiding you through a map which looks at the interconnections between personal obsession and a shared cultural space. It provides a thought-provoking experience that challenges how we as individuals look, process and absorb the images around us, using real-time news and social media to explore contemporary power structures, all with the underlying satire so typical of Fornieles' work.
In collaboration with Ben Burbridge, Fornieles has made a booklet to accompany the works. Its essay provides multiple intellectual frameworks by which to scrutinise the images meticulously spread across the white walls of the gallery. While the subjects within the images are quite ruthlessly removed from their original contexts, the text provides useful guidance, immediately prompting the viewer to reconsider previous notions, which they may have subconsciously linked to certain images at first glance.
Under one sub-heading, Seeing, we read "One image is followed by another until a chain is formed. The shift from one image to the next is an easy one – an aesthetic or conceptual similarity make for a frictionless experience. I have fallen into a hole. Time goes by but I'm not totally sure how much. I remember a sense of movement, but I can't remember a specific destination, or specific anything for that matter. I seem caught in between things."
The viewer, too, inevitably falls into a hole upon observing these works. The closer you look, and the more attention you pay to the 'associations' between images, however big or small, obvious or subtle, they may be; it is impossible not to become absorbed into the mesmerising chain of images, losing yourself within the maze Fornieles immaculately sets out across the space.
The pure variety and complexity of influences, topics, cultures and territories covered throughout the exhibition are astonishing, as the artist seamlessly collapses the established distinctions between online and offline worlds once more.
Fornieles has exhibited in a wide range of institutions, including New Museum, New York, Palais de Tokyo, Paris, Serpentine Gallery, London and Carl Kostyal, Stockholm.
Click here for more information about the show.