Carlos Bunga: Something Necessary and Useful
 Applying his artistic interests to the Whitechapel's individual history and sensibilities, Carlos Bunga (b. 1976) creates a hybrid 'structure within a structure' through a reimagining of paint, cardboard, and domestic furniture in this current exhibition.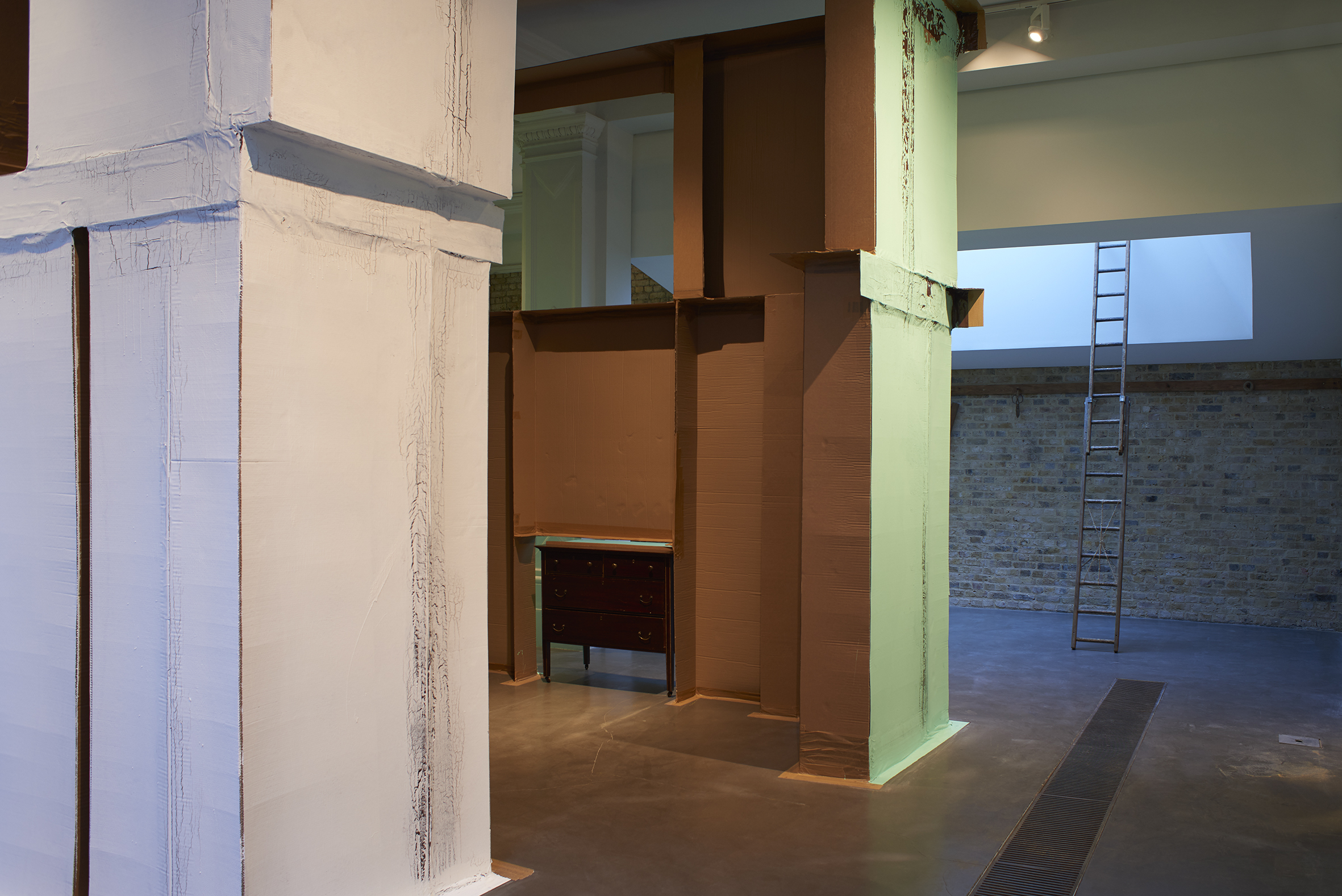 Carlos Bunga: Something Necessary and Useful, 2020, Installation View. Photo: Nick Seaton, Courtesy of Whitechapel Gallery.
On first impression, the installation strikes us with a series of parallels: fragility and strength, intimacy and discomfort, homeliness and unfamiliarity. Although vaguely reminiscent of Freud's definition of the 'uncanny', Bunga instead creates a sense of temporality through the staging of these opposites – like the nature of the commission itself. This removes the installation from its immediate context and connects it to multiple and broader reference points.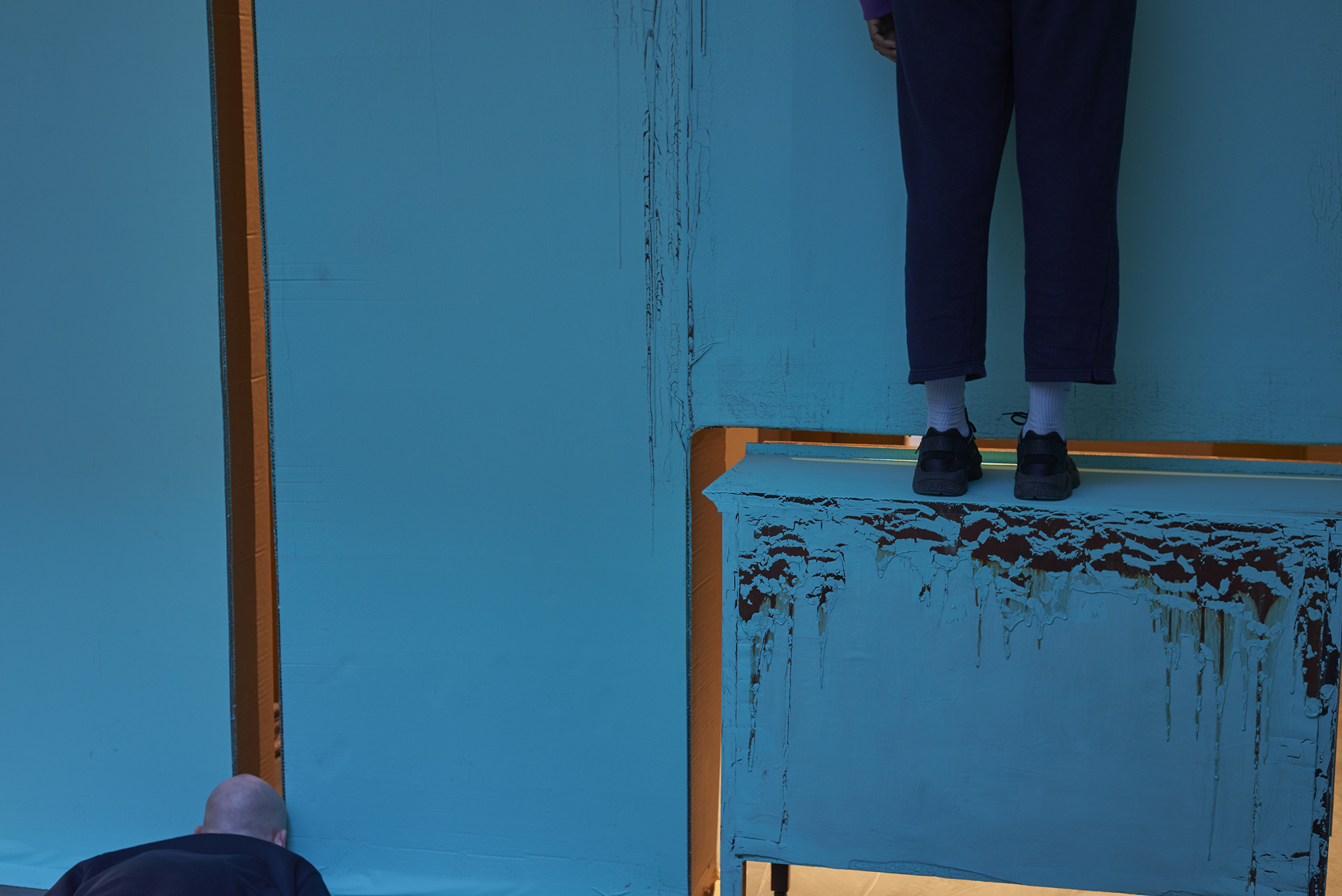 Dance rehearsals led by Joe Moran in the exhibition Carlos Bunga: Something Necessary and Useful. Courtesy of Whitechapel Gallery. Dancers: Temitope Ajose-Cutting and Eve Stainton. Photo: Nick Seaton.
His extensive use of pale green paint is a nod to his native southern Mediterranean country, which involved a series of travels and conflict for the artist's childhood. The 'home' is understood as a controversial space – both with reference to his personal life and to the wider global context of immigration, discord, and exile.
The experience of this installation is different for each visitor. There are various directions to start immersing oneself into the building and the different openings, surfaces and areas make it a wholly personal trajectory. The inclusion of domestic furnishings convinces us to use these objects according to how we would in our own spaces; they are not primed to a 'museum' standard and instead would remind us of being in a more private setting. We are caught by surprise at the way we find ourselves linking these various components of the installation to moments from our own lives.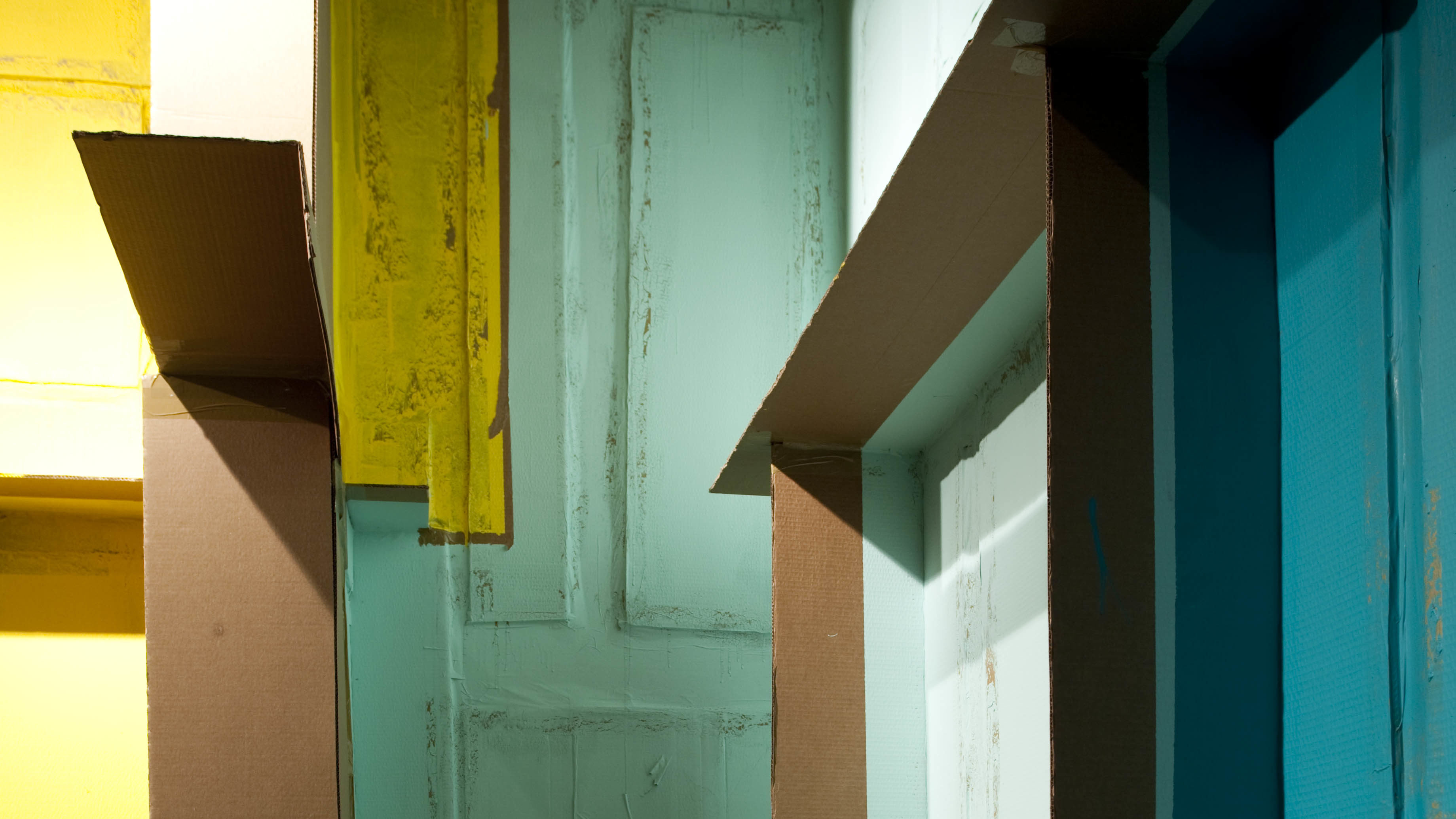 Detail of Bunga's Something Useful and Necessary, 2020, Installation View. Courtesy of Whitechapel Gallery.
The philosophy and rituals of the American Shaker Movement was a primary influence for Bunga. They were a 19th-century community that celebrated tools, craft and making as a form of prayer, and above all, followed the principles of unity and simplicity. Referencing the movement through sporadically-placed equipment through the space, Bunga offers an optimistic message to his contemporary audience: one about each person's ability to create their destiny through available means and resources.
For example, Bunga has given the modest medium of cardboard the potency to transform into a robust, monumental and lucrative material, comparable to the likes of marble and concrete.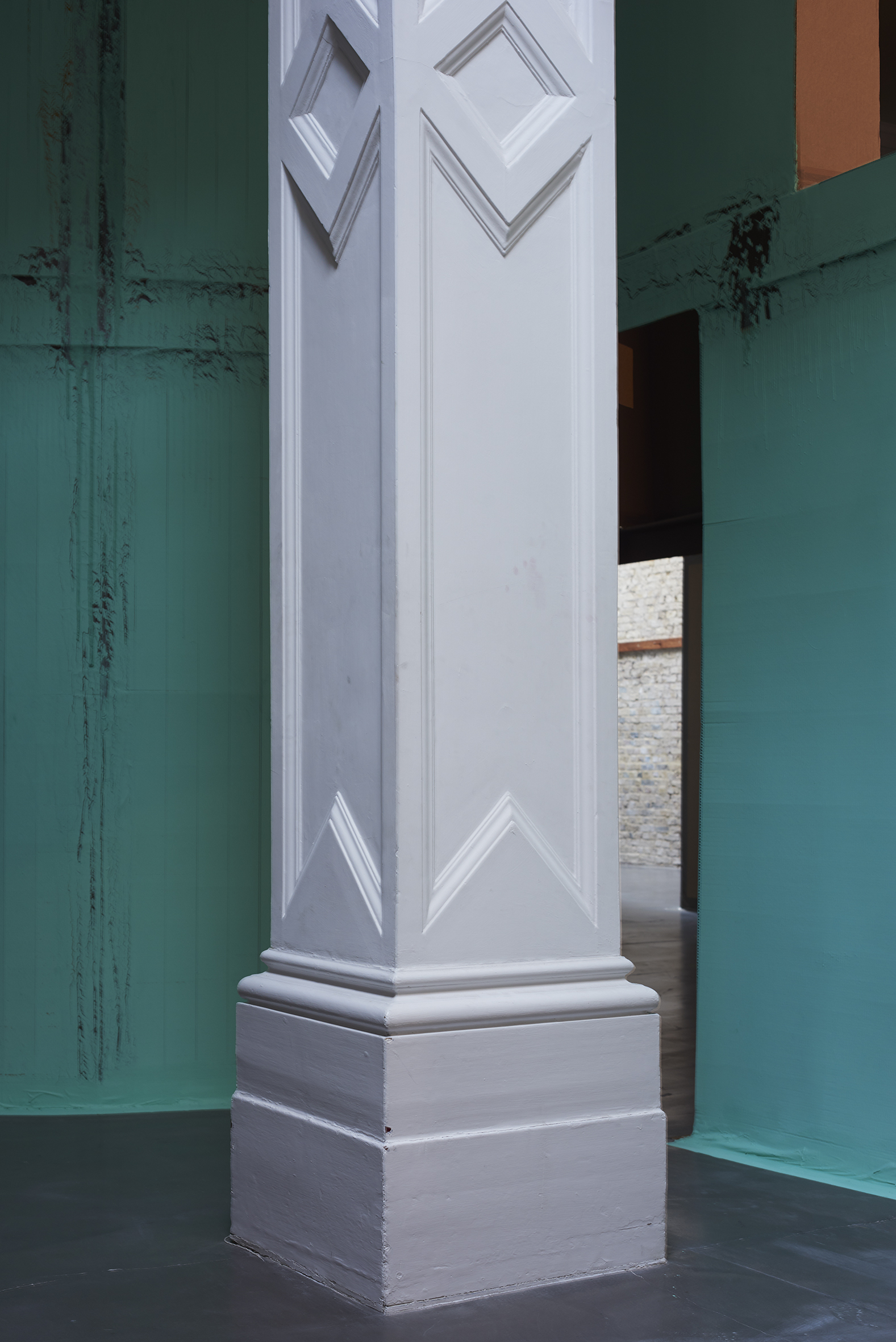 Carlos Bunga: Something Necessary and Useful, 2020, Installation View. Photo: Nick Seaton. Courtesy of Whitechapel Gallery
Bunga has a different take on the act of leaving homes behind and having to settle in temporary ones – a nuanced approach to dealing with painful memories. He instead sees it as an unavoidable aspect of contemporary living, and also one which can birth new beginnings. During this ongoing work, Bunga will continue to intercept, change, move and cut different parts – both alone and with other artists. It demonstrates that we must all now learn to adapt to unpredictable situations – particularly in such an unprecedented one as the present. 
Bunga received his BFA from the Escola Superior de Artes e Design (ESAD) in 2003. Since then, he has been showing internationally. From 2015 onwards, he has had solo exhibitions at Museu d'Art Contemporani de Barcelona (MACBA), Museo de Arte de la Universidad Nacional de Colombia in Bogotá, Museum Haus Konstruktiv in Zurich, Galería Elba Benítez in Madrid, and Christopher Grimes in Santa Monica.
Carlos Bunga: Something Necessary and Useful is open until 06 September 2020. Booking required.