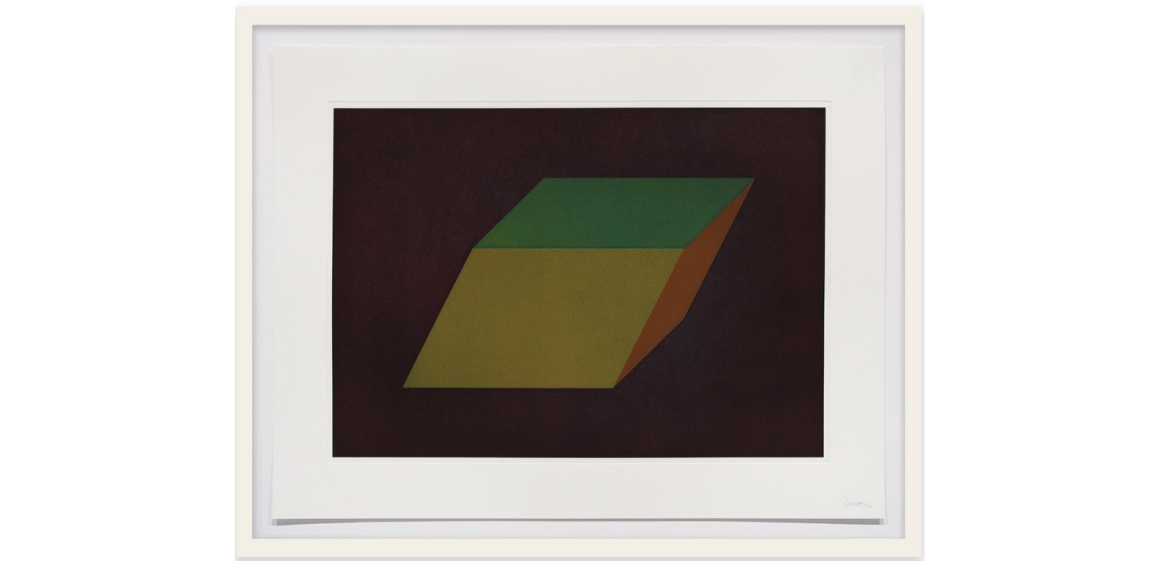 Sol LeWitt (1928 – 2007, USA) was a leading figure in Minimalism and was known for redefining the radical aesthetic of the 1960s by exploring ideas rather than conventional aesthetics in artistic productions; he distilled art to its essentials. After completing a bachelor's degree in Fine Art at Syracuse University in 1949, he worked as a graphic designer for I.M. Pei's architecture office in New York. In 1960, LeWitt accepted a job at the Museum of Modern Art in New York at the book counter, where his co-workers included Robert Ryman, Dan Flavin and Robert Mangold, situating him amid young artists searching for a new direction in art.
During this time, LeWitt worked on paintings and reliefs before concentrating on cubes in the mid-1960s. His methods were mathematical, using precise measured formats, grids and modules to develop his aesthetic. In the second half of the 1960s, LeWitt began exhibiting alongside other artists associated with Minimalism. He taught at New York University and the School of Visual Arts during these years. LeWitt is considered the founder of Minimalism and Conceptual art. He wrote extensively on his practice: 'Paragraphs on Conceptual Art' (1967) and 'Sentences on Conceptual Art' (1969).
In 1968, he began making drawings directly onto walls. Through his sculpture, LeWitt mapped out more than 122 permutations of the cube with one or more sides missing in Variations of Incomplete Open Cubes (1974). Evident in LeWitt's work is an interest in seriality. This led him to produce a book titled Autobiography (1980), compiled of photographs of his possessions in his Manhattan home. In 1976, along with Lucy Lippard, LeWitt founded Printed Matter, a publishing house for artists' books. In 1980, Sol LeWitt moved to Spoleto in Italy, where Lewitt was taken in by a network of supportive gallerists, curators, and artists, including Alberto Boetti and Jannis Kounellis.
LeWitt continued to produce work up until his death in 2007. A major retrospective of Lewitt's work was organised by the San Francisco Museum of Art in 2000 and travelled across the States to the Museum of Contemporary Art, Chicago, IL, USA and the Whitney Museum of American Art, New York, NY, USA.
Selected Exhibitions
Pace Gallery, Florida, USA (2023); Perrotin, Paris, France (2023); Gagosian, Paris, France (2020); Perrotin, Shanghai, China (2019); Hauser and Wirth, Hong Kong, SAR (2018); Pace Gallery, Geneva, Switzerland (2018); OMR, Mexico City, Mexico (2017); Cardi Gallery, Milan, Italy (2016); Kavi Gupta, Chicago, USA (2015); David Zwirner, New York, USA (2009); MASS Moca, Massachusetts, USA (2008); The Whitney Museum of American Art, New York, NY, USA (2000); Museum of Contemporary Art, Chicago, IL, USA (2000).
Selected Collections
Tate Collection, London, UK; Van Abbemuseum, Eindhoven, The Netherlands; Musee National d'Art Moderne, Paris, France; Centre Georges Pompidou, Paris, France; Australian National Gallery, Canberra, Australia; Guggenheim Museum, New York, NY, USA; MoMA, New York, NY, USA; Dia: Beacon, NY, USA; National Gallery of Art, Washington DC, USA; and the Hirshhorn Museum and Sculpture Garden, Washington DC, USA.
Interested in Sol LeWitt's work?