Dreams, Fantasies, Nightmares: Raqib Shaw, Lu Song and Kenny Scharf
The narratives of dreams and nightmares have long been represented in art. Whether biblical, fantasies of folklore or fictionalised, artists have for centuries depicted surreal visions. Recent works by the three artists Raqib Shaw, Lu Song and Kenny Scharf all provide interpretation of dreamscapes that linger in your mind long after your first encounter with them.
Dreamscapes
Raqib Shaw's large canvases are as beautiful as they can be overwhelming. His iridescent works represent imagined landscapes in meticulous detail. Self-Portrait in Kashmir Landscape draws the viewer into a cascading view of a landscape, presumably Kashmir in its titular reference.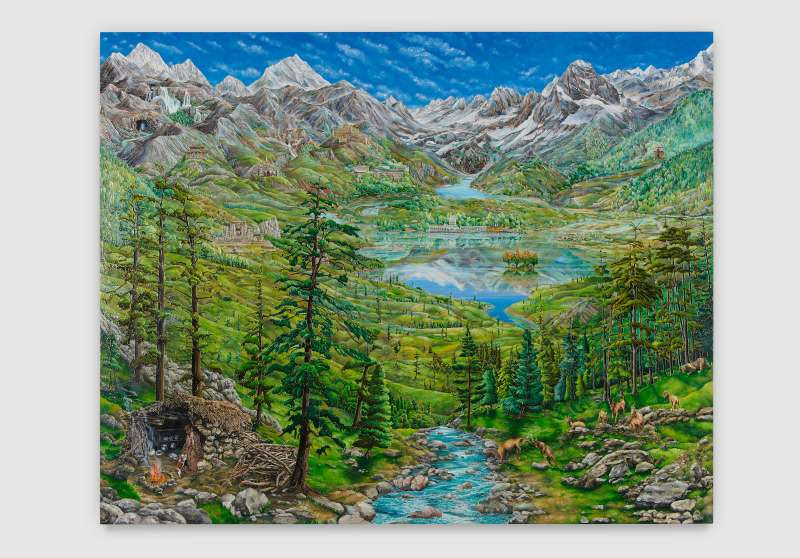 Born in Calcutta, India in 1974, Shaw grew up in Kashmir during the Civil War, but later moved with his family to London. He left his family carpet business behind after a visit to the National Gallery and an encounter with Hans Holbein's double portrait "The Ambassadors" (1533). Shaw's works are characterised by the same intricate detailing of Old Master paintings but interrupted by its saturated palette and surrealist details. This specific work's full title includes a homage to Joachim Patinir (1480-1524), the Flemish Renaissance painter of landscapes. Kashmir Landscape, in contrast to Landscape with St. Jerome (below), boasts full aquamarine hues and snow-capped mountains.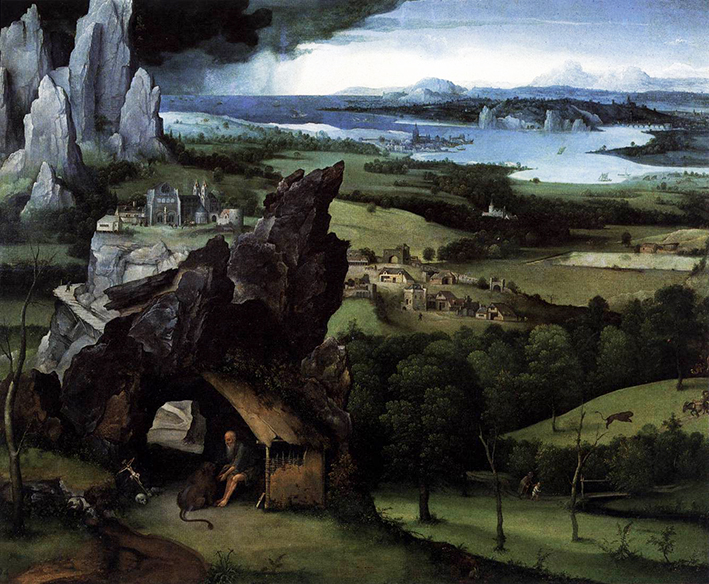 But Shaw's work also cautions the viewer from being swept up by the fantasy – in the dark recesses of caves and tunnels is the suggestion that there is something not quite right, something not quite perfect about the idyll he depicts.
In between dreams …
Similarly, Lu Song's recent body of work suggests unsettlement. With none of the full colour of Shaw's canvases, Lu's paintings are instead intimate and elusive. Executed in expressive brushstrokes, the works seem abstract upon first glance.
This body of work is centred around George Orwell's dystopian classic 1984. The paintings often visualise the murky interiors that double as both haven and ultimate prison for the protagonist Winston. The room Winston surreptitiously rents with his lover in 1984 functions as the backdrop of the character's fantasies for the future – and perhaps ours too.
From the dark corners of A Pocket of the Past emerge a gilded table and mirror, amongst what looks like leaves sprouting from mid-air. The artist's work is informed by his interest in German Romanticism, resulting in the use of thick and free brushwork that moves away from Shaw's precision.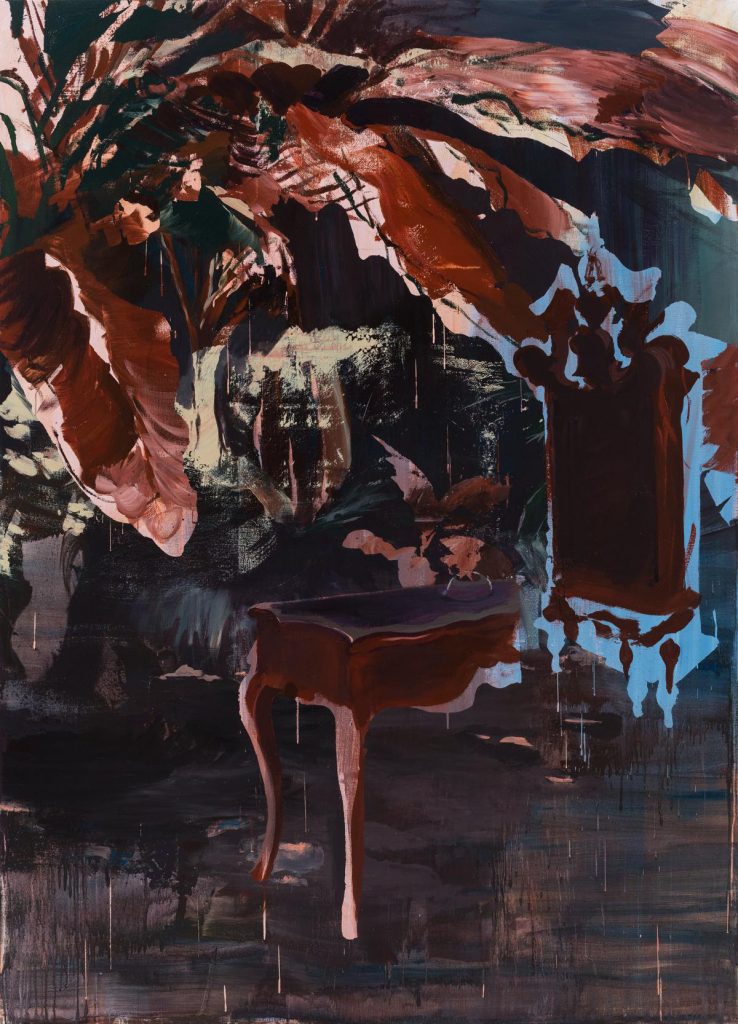 The artist has often spoken of his deep desire to bridge the disconnect between humans and nature, but it always seems just out of reach, in that liminal space between dreaming and being awake.
Descent into the uncanny
The final iteration of these dreamscapes is Kenny Scharf's nightmarish "Super-Pop" works. The oldest artist discussed here, Scharf's diverse artistic practice has morphed continuously from his undergraduate days at the School of Visual Arts in New York in the early 1980s, like 'changing the channels on the TV', as he explains in an interview with Hyperallergic. These paintings continue to play with the motifs popularised in his graffiti works for which he is most well-known for.
What connects the famous artist's work with Lu's and Shaw's is the representation of the fantastical with an unnerving familiarity. FUZZUNGLE (2019) seems to suggest a forest scene, but the underbrush populated with garishly smiling flora and fauna.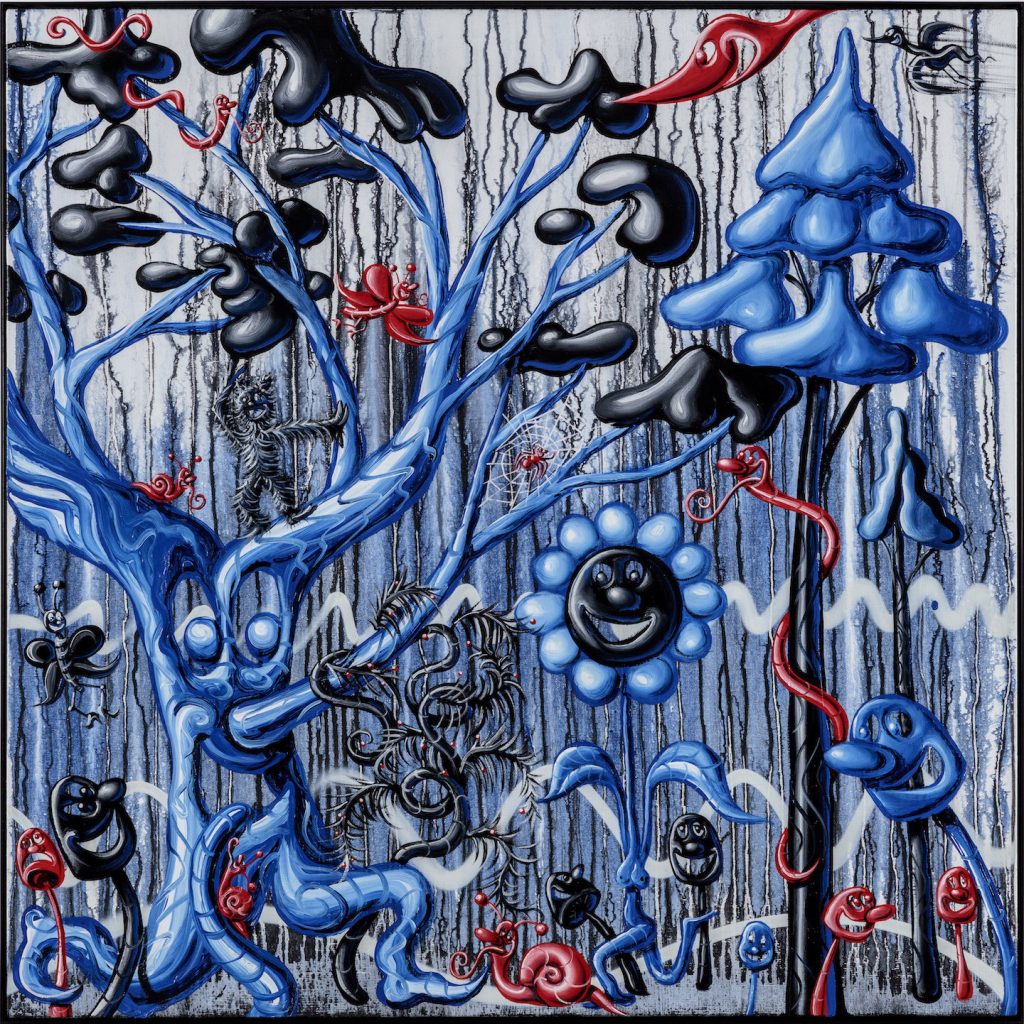 His detailed fantasy landscapes might be read with Freud's concept of the 'uncanny' in mind – something frightening because it is unheimlich, translated into English as 'unhomely'. What is so disruptive about Scharf's works is their suggestion of the real, not just in their echoing of Surrealist landscapes like in ULTRA PLANETA, but in his use of real newspaper headlines discussing climate change printed within WHAT ME WORRY? (BLUE). The red, blue and grey paintings visualise abstract notions of the non-human, the alien and the galactic, that fuse traditions of high art (painting), with the Clip-Art cartoons that live in the timeless fantasies of his works.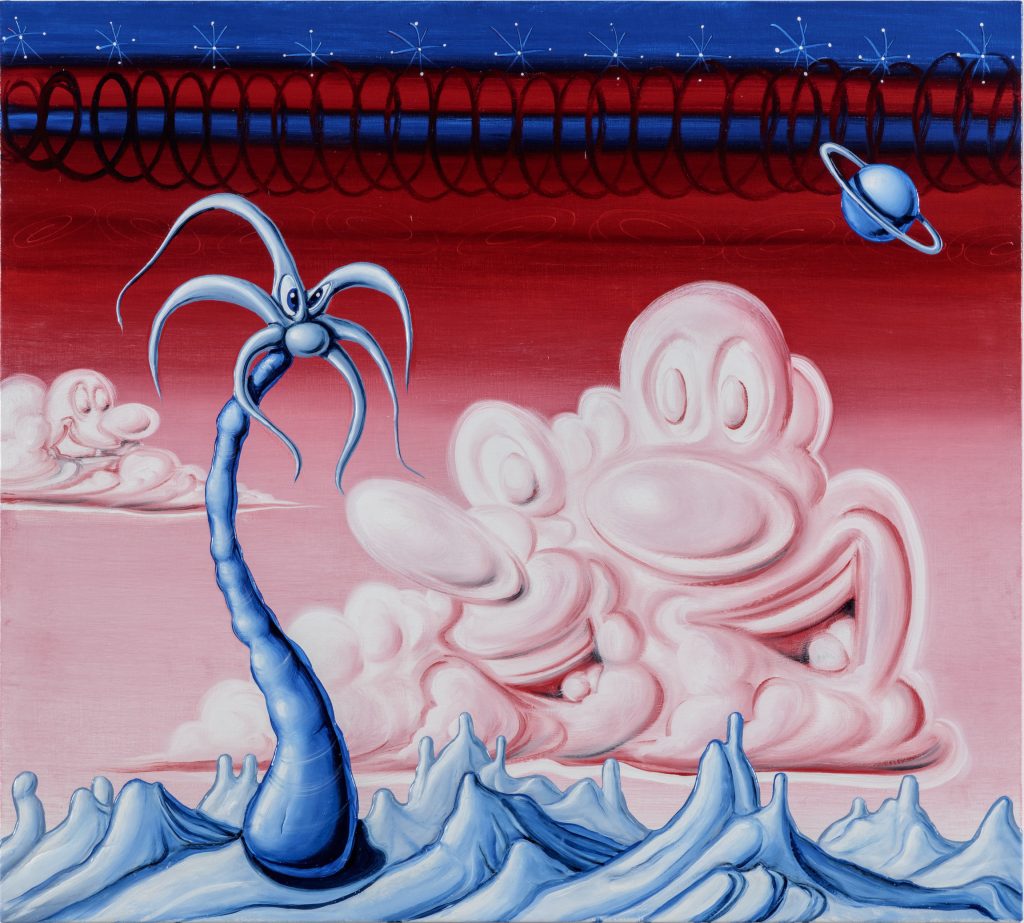 Although all three artists come from differing artistic practices, it is fascinating to read their diverse paintings in tandem with one another. Shaw's landscapes continually blend real life and fantasy, in its homage to historical landscape painting and mythological scenes. Although Lu's works in subject appear very different, the darker palettes counterpose Shaw's blinding canvases, which perhaps share more resemblance in tone with Scharf's overpopulated scenes. The works of Raqib Shaw, Lu Song and Kenny Scharf provide us a freewheeling escape from the dull monotony of daily life.