Joseph Beuys: Gespräch
Curated by Piero Tomassoni
Artvisor is delighted to present an exhibition of works by German artist Joseph Beuys (1921-1986), who is regarded as one of the most influential cultural figures of the 20th century.
A leading proponent of the Fluxus movement, Joseph Beuys has expanded his practice by placing philosophy, politics and sociology at the very core of his "anthropological art". During his life, Beuys strived to achieve artistic, political and social change by sharing his radical ideas through lectures, speeches, and symposia. His voice and writing gave shape to the energy of his thoughts, making him the last descendant of a philosophical tradition that goes from Socrates and Plato to Rudolf Steiner, the founder of anthroposophy and a fundamental figure of reference for the artist throughout his career.
This exhibition focuses on works that represent the Beuysian ideal of creativity as dialogue, as conversation and interaction amongst free and empowered people, along with the process of documenting and disseminating the results of such interactions and creative moments achieved through direct communication.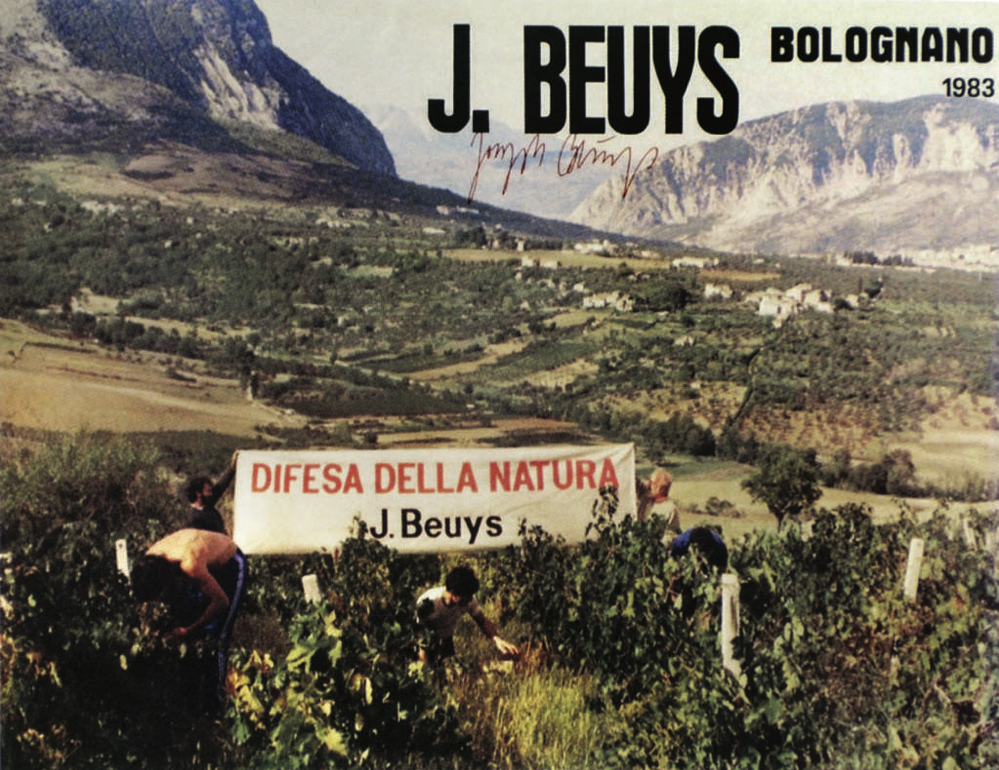 Joseph Beuys, Difesa della Natura, 1984
As it was to Beuys' art, the oral-aural tradition is central to many cultures, and is a source of inspiration for the main works in this exhibition. Field Telephones, 1972 are amongst those objects used by Beuys to illustrate in an almost didactic way the power of direct communication (other examples not included in the show are the Earth Telephone, from 1968, and the Telephone T___R, an edition made in 1974). The field telephones are encased in an artist's vitrine, a recurring display device in Beuys' art, and are reminiscent of the artist's time as a soldier during World War II, an experience which had a profound influence on the artist's use of materials and has informed many of his masterpieces.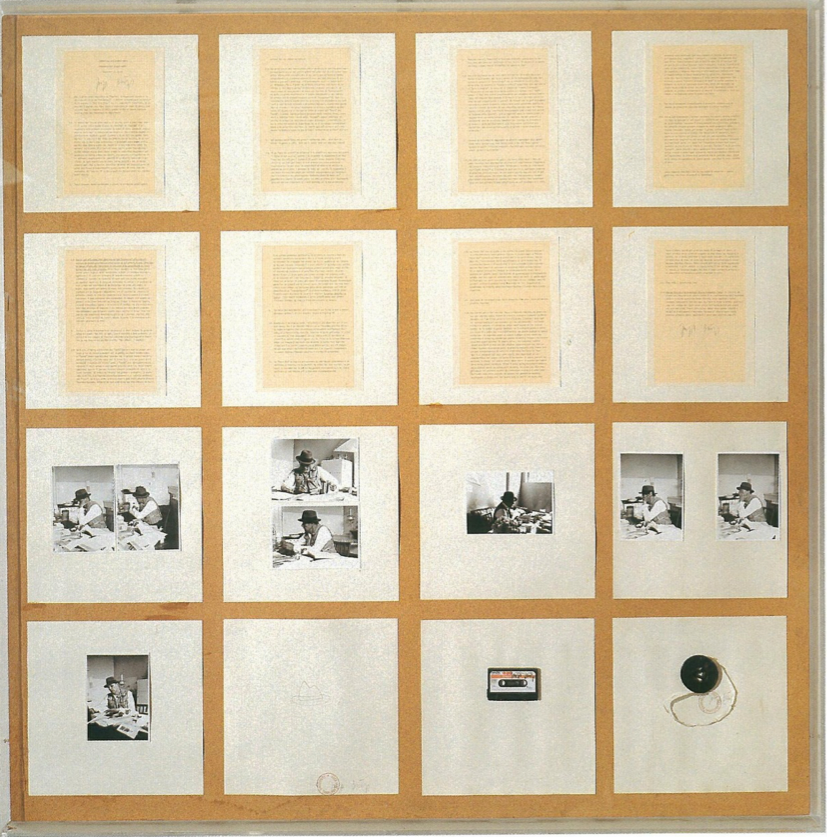 Joseph Beuys, Gespräch, 1976
Similarly, the more conceptual work Gespräch (Conversation, 1976) exemplifies the idea of dialogue and interview, with the artist portrayed working in his studio, and his work being documented in several ways: the typewritten transcript of questions and answers from several interviews; the photographs; an audio-recording; a video-recording; and the drawing of a felt hat, one of Beuys' recurring symbols. All framed in a fully transparent perspex case, indicating the transparency one must have when in a dialogue or interview. Documenting every action is, for the artist, part of the necessity "to demonstrate what each of us has done with our freedom".
As well as these two unique historical works, the exhibition includes 11 well-known editions produced between 1977 and 1984 which exemplify the key themes in Beuys' iconographic and theoretical universe, with an emphasis on the large-scale international project Difesa della Natura (Defence of Nature), as well as a series of photographs by Buby Durini documenting Beuys' work in Italy, the United States and the Seychelles.