Anselm Kiefer at White Cube Bermondsey
German artist Anselm Kiefer has created a new series of works that conclude the final part of a grand trilogy of immersive and ambitious exhibitions for his latest exhibit at White Cube Bermondsey in London. In this exhibition, Kiefer reimagines the famously experimental last novel by James Joyce, Finnegans Wake, as an immersive symphony of naturalist destruction through the mutation of the novel into a non-linear dreamscape.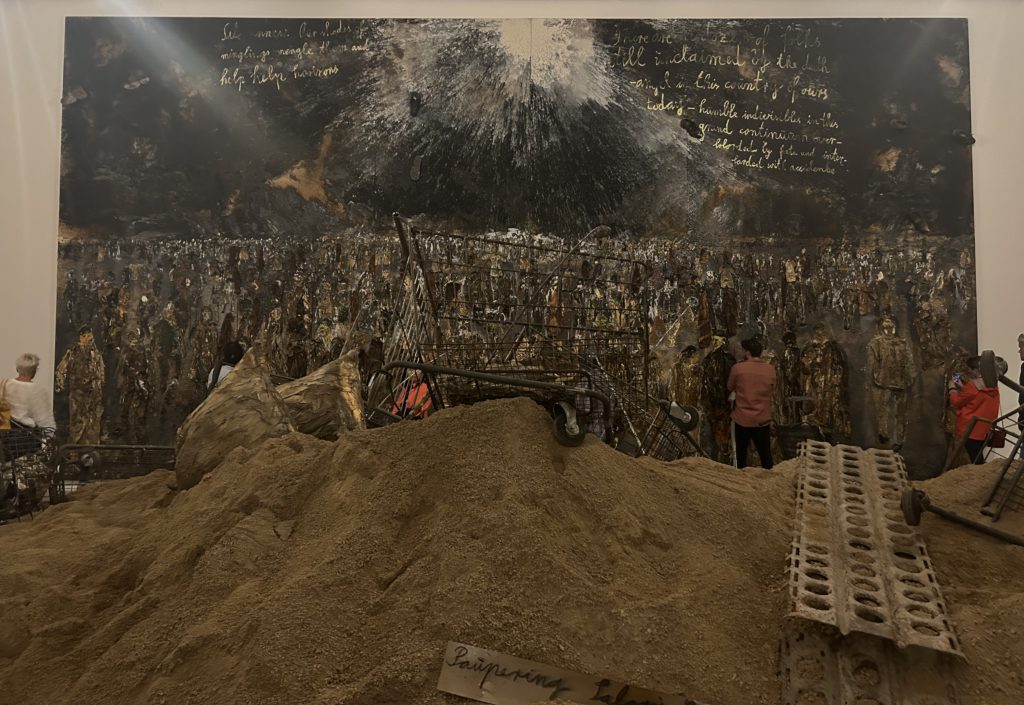 Installation view of 'Anselm Kiefer – Finnegans Wake' White Cube. Photo ©Artvisor
'Anselm Kiefer – Finnegans Wake' is an impenetrable work of wordplay, full of puns and metaphors, synecdoches, harsh realities, and deceptions. The new paintings, sculptures and installations encapsulate the enigma of Joyce's novel. Similar to the structure of the book, which encompasses all words, thoughts, and histories, the exhibit amalgamates Kiefer's works to feature motifs and materials found in his other artworks.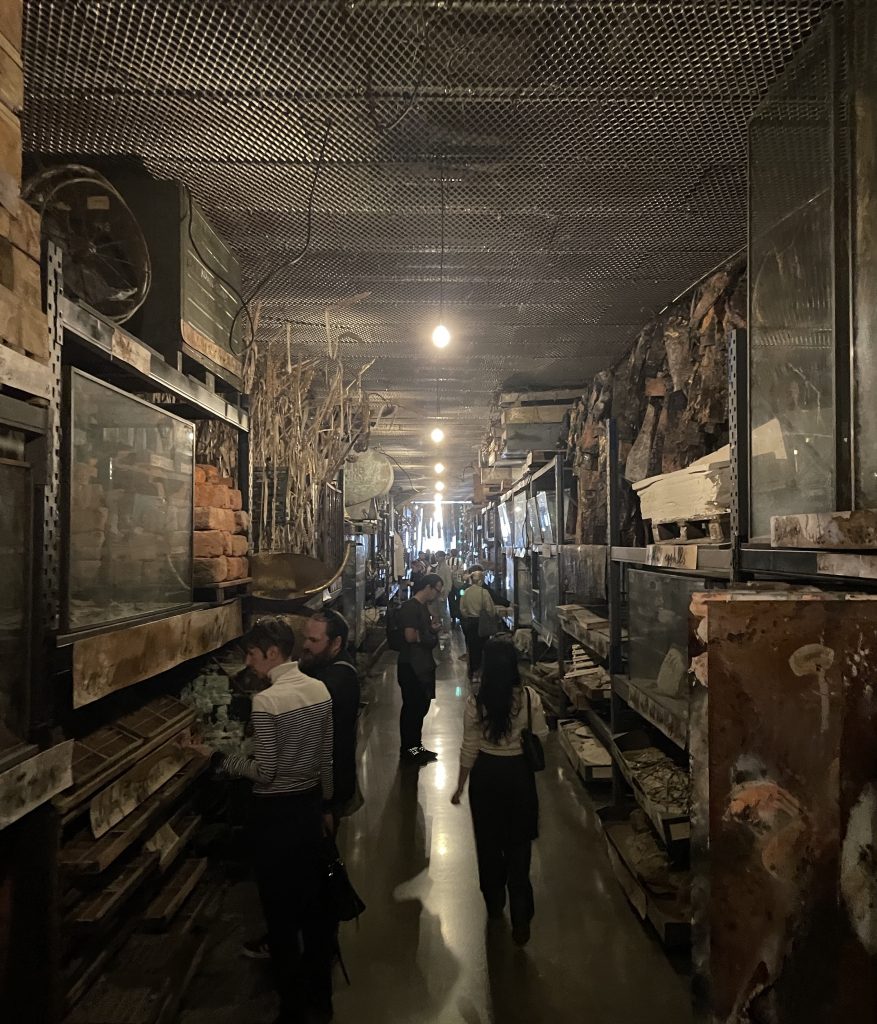 Installation view of 'Anselm Kiefer – Finnegans Wake' White Cube. Photo ©Artvisor
Visitors are challenged to decipher the towering and cramped structures of storage shelves that contain an assortment of debris of shattered glass, rusted metal, skeletal sunflowers, the DNA helix, and an ouroboros snake that eats its own tail. The atmospheric installation resembles a cabinet of curiosities, in which objects are arranged from top to bottom, filling the space with dim lighting and creating a musty ambience, replacing the aseptic gallery environment.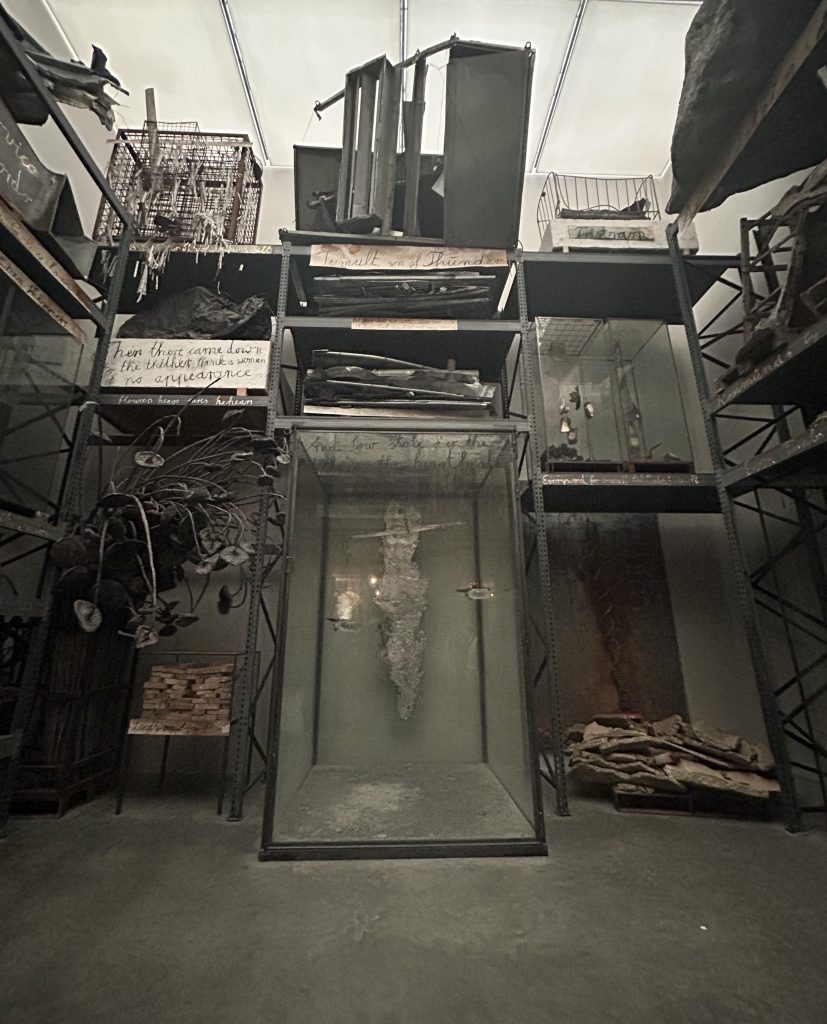 Installation view of 'Anselm Kiefer – Finnegans Wake', White Cube. Photo ©Artvisor
Each room is a universe where the artist draws viewers into a complex interweaving of poetry and apocalyptic, desolate landscapes. The first room contains a sand dune littered with shopping trolleys and a wheelchair precariously positioned at the edge, a reflection of the abandonment of humanity and an impending future dystopia.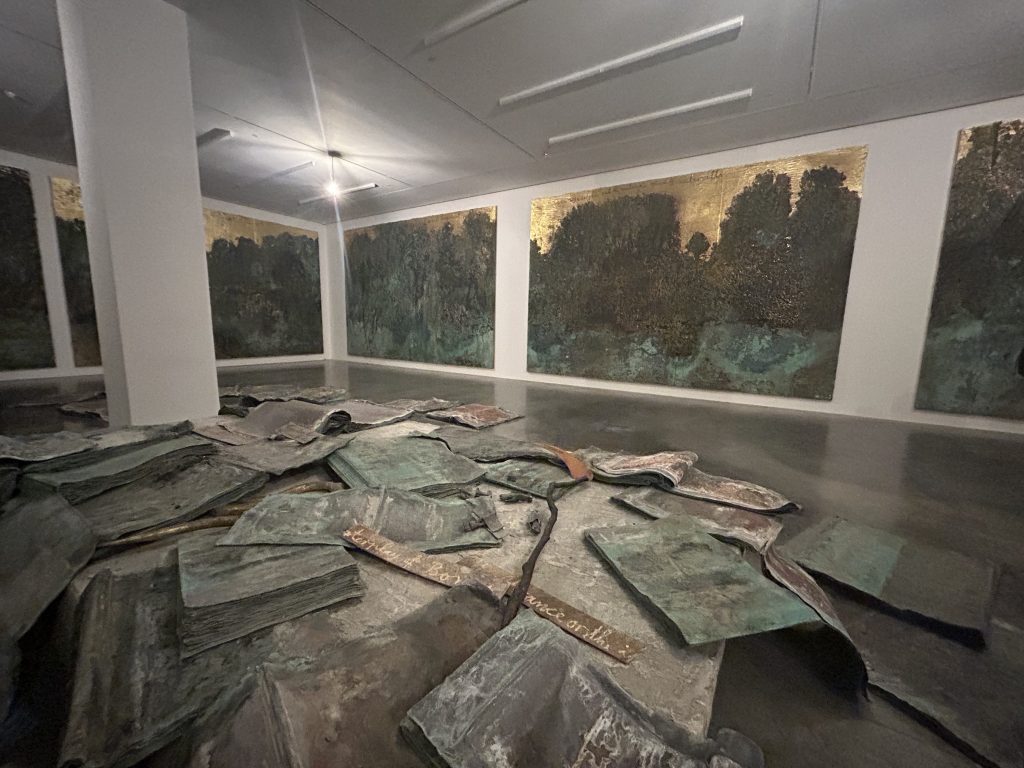 Installation view of 'Anselm Kiefer – Finnegans Wake' White Cube. Photo ©Artvisor
Across the hall, massive canvases formed out of rough and crude materials encompass the walls' entire vertical length. The pieces display fractured, brushed gold leaf and incorporate found objects like palettes and shoes that have been covered in layers of thick oil paint. Engulfed in the centre are mounds of oxidised thin steel sheets, as if pages of the book have been permanently scattered across the floor.
At the very end, the last room has been reduced to rubble, with slabs of concrete subsiding on top of each other, caving into the space. Kiefer's artistic approach of pushing materials to their physical limits creates a sense of prophetic destruction and apocalyptic realism that invites the viewer to reassess their reality.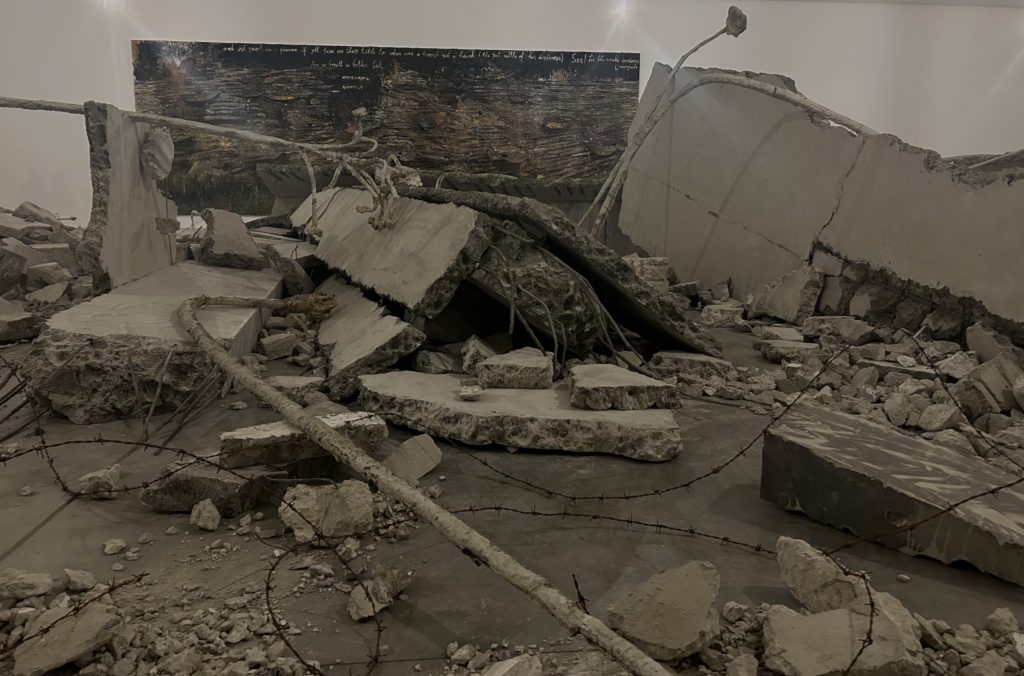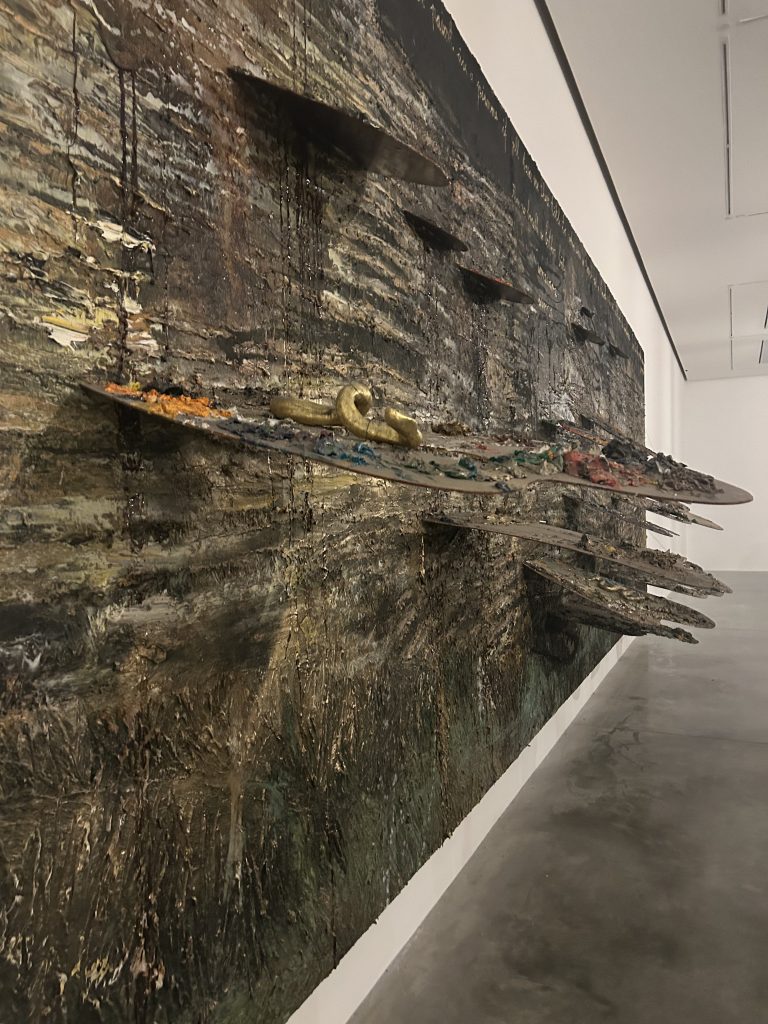 Installation view of 'Anselm Kiefer – Finnegans Wake' White Cube, London, Photo ©Artvisor
Within the haze of Kiefer's immersive world, 'Finnegans Wake' defines the narrative. In Joyce's novel, narratives are fragmented, time ruptures and dissipates. Kiefer's assortment of dilapidated structures imbues the White Cube with an eerie and disconcerting ambience. As viewers traverse the spaces, it is as if a three-dimensional adaptation of the literary work unfurls right before their eyes. Each room transports you beyond the text, highlighting Kiefer's adeptness in language through captivating and vivid visual interpretations. 
'Anselm Kiefer – Finnegans Wake' is on view from 7 June – 20 August 2023 at White Cube Bermondsey.
About the Artist
Anselm Kiefer (b. 1945, Germany) has often worked on a monumental scale, with a body of work that illustrates a microcosm of collective memory, visually summarizing a vast spectrum of cultural, literary, and philosophical references.
Kiefer's artistic oeuvre explores Germany's post-war identity and history, delving into the country's national mythology during the Third Reich. His work weaves together art, literature, painting, and sculpture, grappling with complex historical events and the ancestral narratives of life, death, and the universe. Kiefer's diverse range of imagery is matched only by the vast array of media he employs in his creations.
The artist's work has been collected and exhibited at major museums throughout the world, including MoMA, The Metropolitan Museum and the Guggenheim Museum in New York, the Art Institute of Chicago, Berlin's Neue Nationalgalerie, and the Rijksmuseum in Amsterdam.